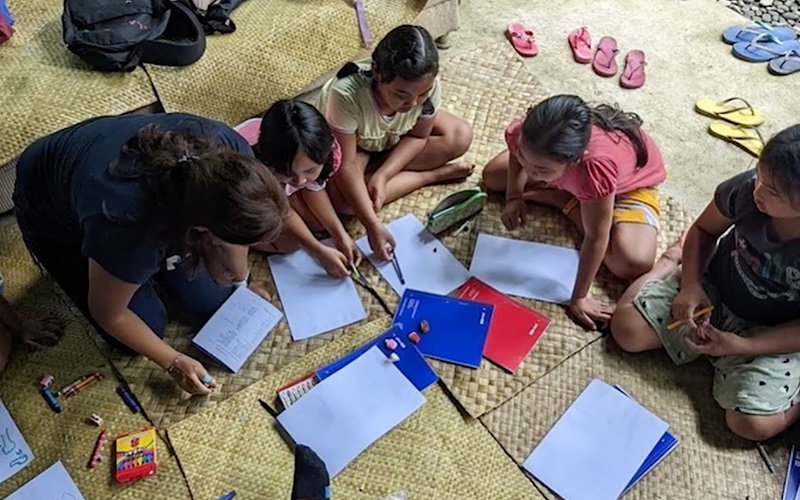 Angela Dill, a student in the Online Bachelor's in Humanities & Social Sciences program at Cal State Fullerton Extension & International Programs (CSUF EIP), works full-time and has a family. However, because of the EIP program's flexible part-time schedule, she has been able to manage her classes, even while studying abroad in Bali this past summer, earning credits toward her degree!
Through CSUF Study Abroad & Global Engagement (SAGE), Dill joined a program with Bali Institute. "Bali is a beautiful island, and the Bali Institute helped us appreciate that beauty by teaching us their history and customs and allowing us to experience them firsthand," said Dill. At the same time, she was able to learn about the realities of poverty and food insecurity that some Balinese people face. She also participated in service projects such as cleaning up beaches and planting new mangrove trees.
Overall, Dill enjoyed the experience and couldn't be happier that she joined this study abroad program.
"I never thought I could find a way to go to Bali; it just sounds like an expensive trip. But the program that the Bali Institute put together included so many delicious meals, transportation around the island, and entrance fees for sites we visited, so that lessened our actual expenses."
You can watch Dill's full interview on YouTube: https://www.youtube.com/watch?v=yHENylCY64Q
Study Abroad, a program of CSUF Extension and International Programs, is diverse, just like our students: in-person or virtual, abroad or here in the U.S. and its territories, study, internship, volunteer, or research. Explore your options! https://extension.fullerton.edu/studyabroad/
Online Bachelor's Degree-Completion Programs are ideal for working professionals like Dill, transfer students, and military service members and spouses in need of flexible class schedules. Continue your educational journey. https://extension.fullerton.edu/onlinedegrees/