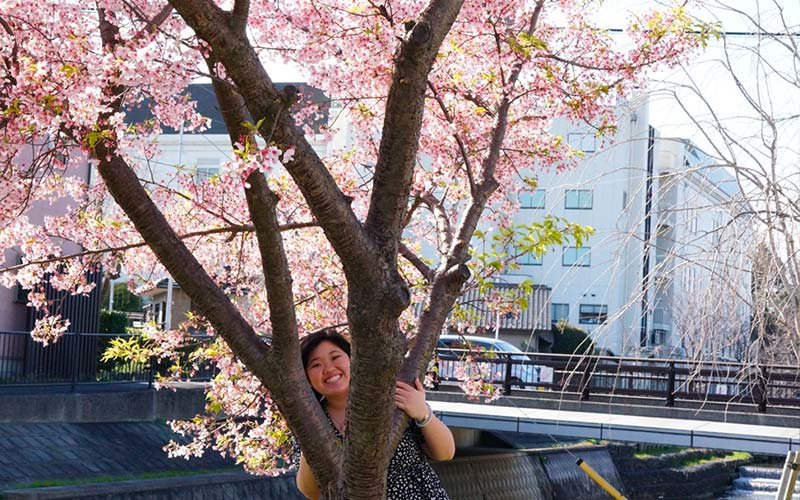 "Once a Global Titan, always a Global Titan." This statement was coined by Cal State Fullerton (CSUF) alumna Marley Uyemura. Marley began as a study abroad student in 2019. Two years later, she teaches English in Japan.
Uyemura's journey started when she joined the CSUF Study Abroad & Global Engagement (SAGE) program. She applied and was accepted to study at Waseda University in Japan for the 2019-2020 academic year. Unfortunately, in Spring 2020, she and other SAGE students were ordered to evacuate and return home due to the COVID-19 pandemic.
Despite this unexpected turn of events, Uyemura did not let this stop her.
After returning to America, she became a Global Titans Ambassador, which allowed her to speak with other Titans and inspire them to start their own study abroad journeys. At the same time, she also served as the California State University International Programs (CSU IP) ambassador for CSUF. She even became a Global Titans Buddy, where she was paired with an international student studying at CSUF and helped them adapt to campus life and American culture.
These accomplishments led to Uyemura being voted by her peers as Ambassador of the Year for 2020-2021. She graduated from Cal State Fullerton in Fall 2021.
Fast forward to today and Uyemura has been accepted into the Japan Exchange & Teaching (JET) Program, where she teaches English in the Iwate Prefecture. The skills and lessons she gained as a Global Titan helped her reach this achievement, and they will continue to help her as she begins this exciting new chapter of life.
"My experiences abroad and in the GTA Program have led me to become the person that I am today. As a student and a future educator, I like to remind myself and others that life is fun when we enjoy what we are doing. When we enjoy what we are doing, we are more driven to thrive and to soar."
Uyemura's journey is just one of many that have come from the CSUF Study Abroad & Global Engagement program. If you're a CSUF student, staff or faculty member, why not start your own journey?
Become a Global Titan today! By studying in another country, you'll gain a new perspective of life, experience new cultures, and maybe even discover a new career path, just like Uyemura did with the JET program.
Start your journey: https://extension.fullerton.edu/studyabroad/