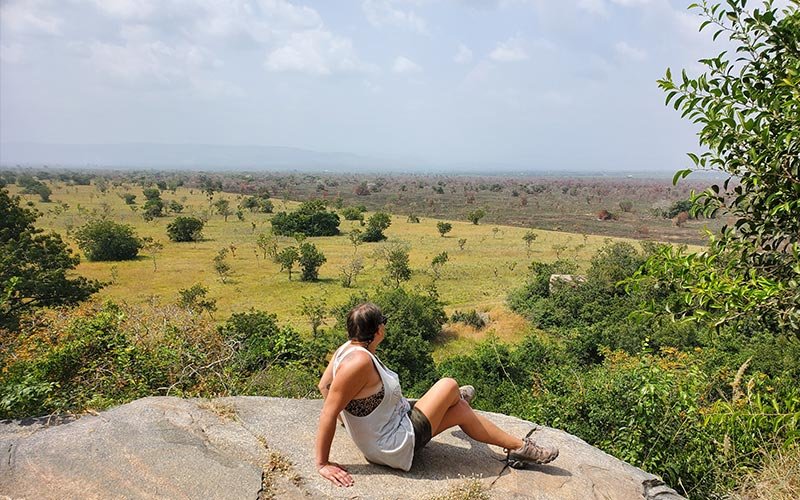 We're excited to share a story from Study Abroad & Global Engagement (SAGE) at Cal State Fullerton (CSUF)!
Meet Kristen Wilcox. For the past academic year, Kristen studied abroad in Ghana. She also has Compartment Syndrome, a condition that affects the muscles in her calves and makes it painful and difficult to walk.
Kristen was recently selected to speak on a panel at the upcoming Access Exchange Summit on June 25th, 2022. The Access Exchange Summit is an online preparatory course that educates individuals in the U.S. with disabilities on how they can study abroad and navigate disability-related obstacles.
Kristen's journey to this incredible accomplishment began with a desire to "gain international insight into media and communication." She felt that studying abroad in Africa rather than in a Westernized country would widen her communication skills and help her influence change in the world.
She also has a love for history and human culture. "Africa has always been on my list of places to go because humanity literally started there. Being in Ghana puts me in the center of the world (it is the central equator)! There's no better way to understand yourself and others than going to where it all began."
Kristen used to hold back from studying abroad because she believed that it would be too expensive. This all changed once she attended an info session at Cal State Fullerton and debunked the myth. "Little did I know that it was actually cheaper to study abroad…the school fees totaled about the same as if I stayed at CSUF," said Kristen.
"I also didn't know financial aid could be applied. Once the financial hurdle was removed, I struck like lightning on this opportunity."
Whether it was her disability or concerns about affordability, Kristen didn't let anything hold her back. She achieved her dream of traveling to Africa, gained insight for her Broadcast Journalism major, and will now be inspiring other individuals with disabilities to study abroad.
CSUF Study Abroad & Global Engagement (SAGE) https://extension.fullerton.edu/studyabroad/ is administered by CSUF Extension & International Programs (EIP). To learn more about EIP, visit https://extension.fullerton.edu/.