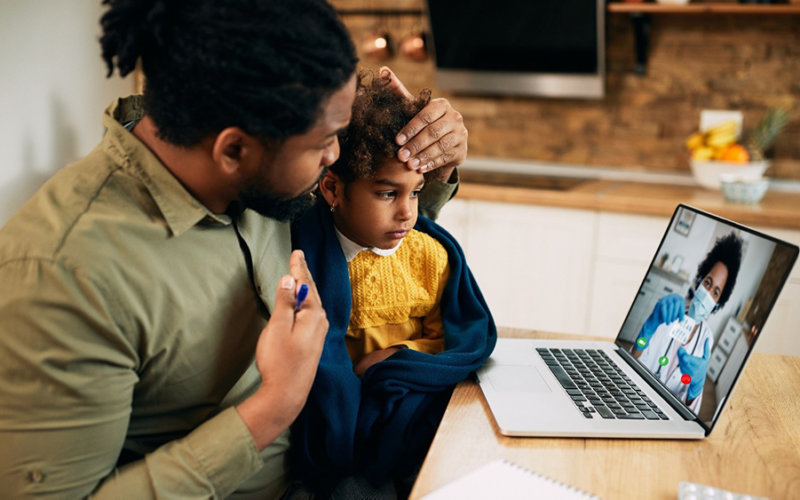 By Daniel Coats '15,'18
Five years ago, the concept of a virtual appointment with your doctor or a medical specialist seemed like something from a distant future. Today, after the COVID-19 pandemic, it has become the norm, embraced by hospitals, general practitioners, dentists and even vision care specialists.
What are the impacts of the current move to telemedicine? Cal State Fullerton Assistant Professor of Management David Cho examines the topic in his new study, "Telemedicine question response service: Analysis of benefits and costs," published in the journal Omega in September 2022. The research was co-authored by Jon Stauffer, an information and operations management professor at Texas A&M University's Mays Business School.
"The focus of our study is on patient telemedicine question response services, typically offered by home health providers in conjunction with traditional home health therapy and nursing services," explains Cho. "This could simply be a phone number or web link to request a response, or a smartphone app with other monitoring features. These services respond to various health-related questions, such as medicine dosage, minor health ailments and dietary restrictions."
During the coronavirus pandemic, as urgent care facilities were overwhelmed with COVID patients, such remote services became a way of ensuring routine health and wellness. However, Medicare and most public and private health organizations do not always reimburse health-care providers for these services.
So, Cho and Stauffer wanted to better understand the costs and benefits of these services.
Does Telemedicine Help Patients?
"Telemedicine can identify patient concerns before they escalate into more serious issues, such as readmissions," explains Cho. "These services are even more beneficial to those recently discharged."
Shortened skilled-nursing facility stays and the potential for follow-up monitoring are some of the benefits Cho notes in his paper. This in turn frees up nursing beds and services while reducing the risk of patients being exposed to other ailments in hospitals and health centers.
"Health-care systems and payers such as Medicare are increasingly looking into alternative reimbursement plans to reduce total healthcare costs," says Cho. "Improvements in patient outcomes benefit not only the patients but can be hugely beneficial for the entire healthcare system as well."
The Future of Telemedicine
"Our results show the benefits of telemedicine outweigh its operating costs in almost any scenario. This should alleviate the concerns that the payers have in providing reimbursements," explains Cho.
Cho and Stauffer hope their research will help telemedicine achieve its potential in improving patient care and outcomes. This new way of taking care of patients is here to stay and will become a valuable part of most American's healthcare needs.