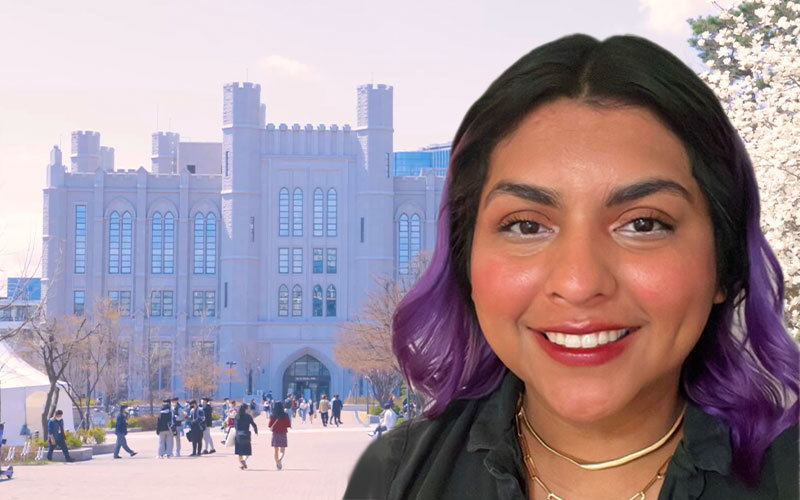 The Benjamin A. Gilman International Scholarship is a program that aims to help students in the U.S. fulfill their goal of studying abroad. For the March 2022 applications, there were 19 Cal State Fullerton students who applied.
The results are in: 15 out of the 19 applicants received a scholarship!
This incredible accomplishment can be attributed to the hard work and dedication of the CSUF Study Abroad and Global Engagement (SAGE) team. Aileen Vickory, the Outbound Advisor for SAGE, guided each CSUF student through the scholarship application process. She was excited to share some highlights of the March 2022 awards:
Total award amount:

$66,500

Average award amount per recipient:

$4,433

This year,

78.9%

of CSUF applicants received the scholarship, which is higher than the usual average of 25%

The awarded students will be going to the following countries: South Korea, Japan, the UK, Costa Rica, Mexico, Italy, and Taiwan
Genesis Acevedo, a recent Gilman International Scholarship recipient, is a first-generation college student who transferred to CSUF in the fall of 2020 and is majoring in Child and Adolescent Development. This upcoming Fall 2021 semester, she will be studying abroad at Korea University, one of CSUF's partner universities and one of the most prestigious universities in South Korea. Genesis said that she didn't know "how affordable study abroad was" until she went to a SAGE general information session and learned about scholarships she could apply for.
If you're a Titan who is interested in studying, interning or volunteering in another country, the CSUF Study Abroad & Global Engagement Office is committed to help you achieve those goals! There are plenty of resources available for whatever you need, whether it involves choosing a program, figuring out costs, or even applying for a scholarship.
According to Aileen Vickory, the SAGE Advisor, "We need to debunk the myth that studying abroad is too expensive." She provided 7 facts about studying abroad on CSU and CSUF programs and financial resources like the Benjamin A. Gilman International Scholarship:
CSUF students study abroad every semester in countries like South Korea, Ghana, Mexico, Italy, France, Germany, the UK, Japan, Taiwan, etc., and pay the same CSUF tuition as their peers who do not study abroad.

Students can use their federal (e.g. Pell grant, SEOG, etc.) and state (State University Grant, Cal Grant A/B, Middle Class Scholarship, etc.)

financial aid

towards their programs.

If students are receiving

CSU, CSUF, department, and/or ASI scholarships

(e.g. President Scholars, Guardian Scholars, etc.), they can apply those funds towards their programs.

Since students who participate on CSU and CSUF study abroad programs pay CSU tuition, if they are also receiving

fee waivers

(e.g. Cal Vet, Alan Pattee, Current or Former Foster Youth, CSU Employee, CSU Dependent, etc.), they can waive the same tuition on their programs.

There are

several scholarships

like the Benjamin A. Gilman International Scholarship that CSUF students apply for and get. On average, 1 in 4 Gilman applicants (25%) will receive a Gilman scholarship. In this last application cycle, about 79% of CSUF students who applied for the Gilman Scholarship received on average over $4,000 for their summer, semester, and year long programs.

CSUF students continue to save money even while abroad.

Living, commuting, and going to school in Southern California is expensive. Here are what CSUF students recently had to say:

A student who studied in South Korea for Fall 2021 said that she paid $1,500 for her dorm in Seoul for the entire semester.

A student currently studying in the U.K. this semester said that her mother told her they were saving about $300 a month by not having to give her gas money because she takes public transportation in the U.K.

A student who is currently studying in Spain this semester recently booked a flight to travel to Hungary (taxes and all) for about 9 Euros (less than $10 USD).

Additionally, and what is more important, is the return on investment students are getting when they study abroad. Another misconception is that study abroad is "just a vacation/travel", "just a party" or "not serious". CSUF students abroad are becoming adults. Many CSUF students commute from home and when they study abroad, many are leaving home for the first time. CSUF students abroad pay bills, cook for themselves, navigate unfamiliar situations daily, travel, learn languages, set goals, budget, problem-solve, interact with people from all over the world, and more. The first sentence of our mission statement says, "California State University, Fullerton enriches the lives of students and inspires them to thrive in a global environment." CSUF students who study abroad or participate on one of our other global engagement programs are learning to do just that –

thrive in a global environment

. In actuality, our students cannot afford to NOT study abroad.
To start your journey, visit https://extension.fullerton.edu/studyabroad/.