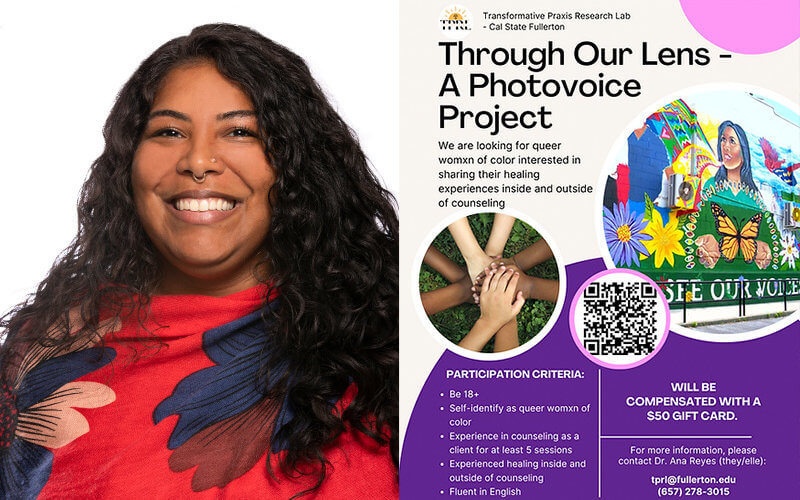 In a powerful celebration of resilience, identity, and healing, Cal State Fullerton's Transformative Praxis Research Lab and LGBT Queer Resource Center proudly present the "Through Our Lens: Queer Womxn of Color's Experiences of Healing and Liberation," a captivating collection of photographs and stories that amplifies the voices and experiences of nine queer womxn of color (QWoC). This exceptional exhibit will be unveiled in honor of National Coming Out Day, offering a unique and compelling counter-narrative of self-discovery, recovery, and healing that enriches our understanding of the diverse and vibrant tapestry that embodies the richness of the individual and collective experiences of QWoC.
"Through Our Lens" showcases a dynamic fusion of art and activism, offering a platform for QWoC to share their stories and perspectives on their own terms through the captivating medium of photography. More than a collection of photographs, the project delves into nine remarkable QWOC journeys of healing and liberation with nuanced perspective on the intricate web of cultural, societal, and personal factors that impact their lives. Through their lens, visitors will be transported into the world of these artists, bearing witness to the profound and transformative stories of healing, identity exploration, and self-acceptance.
At its heart, "Through Our Lens" is a testament to the resilience and strength of QWoC in the face of adversity. By sharing these powerful stories and images, this exhibit represents an invitation to dismantle stereotypes, challenge prejudices, and foster greater empathy and understanding within our communities.
Key Details:
Exhibition Name: Through Our Lens: Queer Womxn of Color's Experiences of Healing and Liberation
Curated By: The Transformative Praxis Research Lab
Location: California State University, Fullerton

800 N State College Blvd. Fullerton, CA 92835
In the Titan Student Union, Gabrielino room

Date: October 11, 2023
Time: 10 a.m. to 5 p.m.
Join us in commemorating National Coming Out Day by witnessing and experiencing the stories of nine QWoC. "Through Our Lens" promises to be a moving and thought-provoking experience for all who attend.
About the Transformative Praxis Research Lab (TPRL):
The Transformative Praxis Research Lab (TPRL) is an innovative and collaborative research initiative dedicated to pushing the bounds of traditional research methodologies by advancing liberatory and anti-oppressive research in counselor education. TPRL aims to co-create a space where counseling graduate students and marginalized communities can develop the skills needed to engage in transformative research. With a focus on the liberation and healing of Queer and Trans People of Color (QTPOC), [un]documented individuals, and racialized communities, TPRL strives to effect meaningful transformations in the lives of marginalized individuals and contribute to their well-being. To learn more, visit https://transformativepraxis.wixsite.com/transformative-praxi.