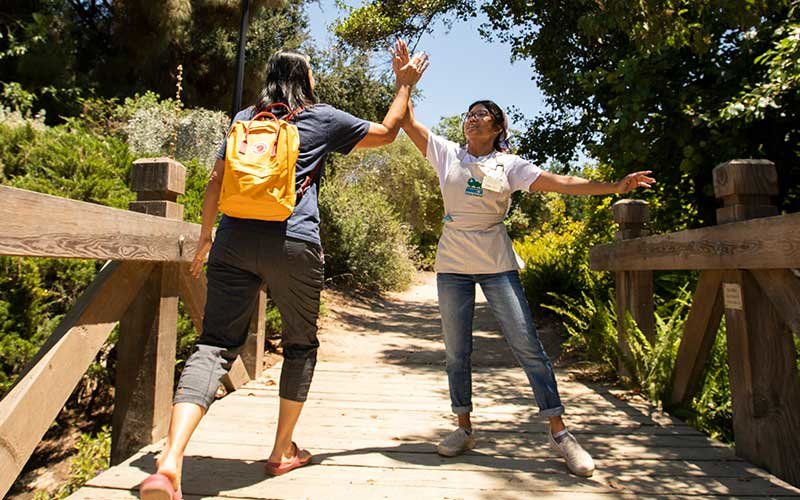 On March 9, 2022, The Fullerton Arboretum invites its friends, visitors, and supporters to donate during the annual CSUF Day of Giving.
The Fullerton Arboretum is a 26-acre botanical garden that serves students, faculty, and the broader community as an urban oasis, an outdoor laboratory for research and environmental education, and a steward of worldwide plant conservation and regional agricultural heritage. Accredited as a Level IV Arboretum, CSUF is in an elite group of just seven universities in the world to have an arboretum with this highest accreditation.
How Will My Giving Help?
Fullerton Arboretum donor contributions will help to sow seeds for the Fullerton Flower Field. This is an exciting project that will transform throughout the year to commemorate special days and events:
May 2022 Commencement: A wide variety of flowers in the signature CSUF colors of blue, white, and orange will be sown. This will make a great photo op for 2022 graduates!

Memorial Day: Red poppies will bloom.

Summer: A variety of different flowers will bloom throughout the season.

Dia de los Muertos: Orange marigolds will bloom.
What Are the Donation Goals?
Early Bird Match: All gifts, $10 – $999, that are donated before 9 a.m. will be matched 2x.

Arboretum Challenge: If the Arboretum reaches 100 donors, a generous supporter of the Arboretum will donate $1,000!

PepsiCo Dollar Challenge: Whichever area brings in the most dollars will receive a bonus prize of $5,000 (does not include funding from matches and challenges).
"Now is a great time to support us, with a donation of any amount," says Michael Karg, Executive Director of Development at Fullerton Arboretum, "allowing us to prepare the Fullerton Flower Field and take advantage of a $1,000 challenge match and various university-level giving challenges."
Greg Pongetti, Fullerton Arboretum Living Collections Curator, says that "The care and relevancy of our plant collection and its connection to our campus, community, and around the globe is directly enhanced through support from our donors and members. I hope this Day of Giving will inspire individuals to give what they can and spread the word to encourage others to give today!"
The countdown to the Day of Giving has already begun! Set an appointment on your calendar for Wednesday, March 9, 2022 so you don't miss out on your chance to give.
Donations will be made at https://titansgive.fullerton.edu/giving-day/44521/department/44536.