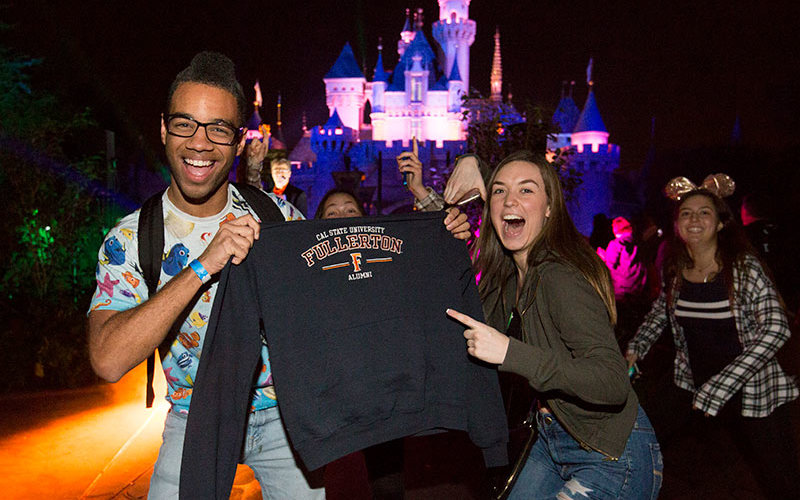 In the last 60 years, Cal State Fullerton has built a reputation as an innovative leader in education. Notable 2018 events included welcoming a new president, breaking school records with more than 12,000 students eligible to graduate in May, and sharing the talents of its students and alumni with the community.
Titan Spirit Comes Alive
Major League catcher and Titan alumnus Kurt Suzuki headlined the baseball program's annual Dinner With the Titans in January. Suzuki was an instrumental part of CSUF's 2004 National Championship squad and signed a two-year contract with the Washington Nationals in November.
Titans were out in full force Feb. 1 during Cal State Fullerton's After Dark at Disneyland Park event, part of the university's 60th anniversary celebration. Also founded in the 1950s, the "Happiest Place on Earth" has been an employer, research topic and entertainment venue for thousands of students and alumni.
Along with their families, more than 10,000 admitted freshmen and transfer students participated in the April 14 Welcome to California State University, Fullerton Day, touring campus, attending workshops, and learning about majors and campus life.
More than 12,000 students were eligible to participate in the 2018 Commencement ceremonies that spanned three days. Among the highlights were a keynote speech from Earl Lewis, former president of the Andrew W. Mellon Foundation and now professor of history and African American and African studies at the University of Michigan; a commencement rap from Rachel Herzog, business administration graduate and 2018 Outstanding Senior; and the inaugural class of graduates from the integrated B.S.-M.S. program in computer engineering.
Greeted by CSUF staff, including President Fram Virjee, approximately 2,000 students joined the Titan family on Move-In Day in August.
President Virjee and leadership welcomed students, faculty and staff members to a new academic year during the annual University Convocation. Centering on the theme, "The Day You Become a Titan," the event encouraged the campus community to make the most of their Cal State Fullerton experience.
Nearly 5,000 friends and supporters of Cal State Fullerton gathered Sept. 29 for the university's annual signature event, Concert Under the Stars, which raised more than $1 million for student scholarships and programs. Guests enjoyed an evening of spirited music and dance presented by students and alumni, including Cindy Shea, the trumpet player who founded the two-time Grammy Award-winning Mariachi Divas; Denean Dyson '11 (B.A. music) and the Long Beach-based Soul Foundation; and Erin McNally '02 (B.A. theatre arts) and Brooke Aston '02 (B.F.A. theatre arts-musical theatre).
CSUF's Center for Scholars and Student Life and Leadership launched the Titan Future Leaders Series in October to share with students the keys to leadership. The first event featured alumnus Patrick Donahue '78 (B.A. business administration-marketing), chairman and chief executive officer of Donahue Schriber Realty Group, and President Virjee.
Students, alumni and the community turned out in spades for the university's annual Homecoming 2018 celebration in December. The festivities featured two winning basketball games, food, entertainment, and plenty of opportunities to connect with Titans past and present.
An Intellectual and Cultural Center
The Lawrence de Graaf Center for Oral and Public History honored political leaders Dick Ackerman, Wylie Aitken and the late Tom Fuentes during its fourth annual "Celebrating the Legacy of Orange County's Political History" event in March.
Binod Tiwari, professor of civil and environmental engineering, delivered his Outstanding Professor Lecture on "Living With Natural Disasters" in March. An expert in geotechnical engineering, Tiwari received the university honor in 2017.
The College of Communications and the College of Humanities and Social Sciences' Center for Public Policy hosted an April Symposium on Homelessness in Orange County, with speakers from the OC Poverty Alleviation Coalition, Orange County United Way, Santa Ana Watershed Project Authority and the Association of California Cities, Orange County.
Mihaylo College of Business and Economics — led by Anil Puri and Mira Farka of the Woods Center for Economic Analysis and Forecasting — hosted economic forecasts in May and October. The spring forecast focused on "Melt-Up or Melt-Down: Prospects for Growth Amidst Growing Policy Risks," while the fall forecast tackled "Game Changers: Taxes, Tariffs, Trade and Trumponomics."
CSUF closed out its 60th anniversary celebration with a Global Relations Luncheon in June, featuring former Secretary of Defense Robert Gates on America's role in the world. The inaugural event honored Rep. Ed Royce '77 (business administration), a longtime supporter of his alma mater who retired after 13 terms in the U.S. Congress.
The fourth annual Teachers Summit in July focused on enabling teachers to personalize their learning by choosing their own professional development path and sharing different learning styles in their own classrooms.
Campus groups, led by the Office of Government and Community Relations and Associated Students Inc., hosted a variety of voter registration and education events in the fall, including three candidate forums, a midterm election panel discussion and a ballot proposition workshop.
CSUF's Society of Women Engineers won first place in the annual Pumpkin Launch, while the Institute of Electrical and Electronics Engineers student chapter took second place in the November competition.
Celebrating Our Rich Diversity
The Office of the President, in partnership with Diversity Initiatives and Resource Centers, hosted six heritage and history month receptions throughout the year. Speakers included actress Misty Monroe, entrepreneurs Ariana Stein and Patty Rodriguez, mindfulness expert Charlotte Ái Nguyễn, and CSUF faculty experts Julián Jefferies, Eric Price and Eric Tippeconnic.
Diversity Initiatives and Resource Centers, the Chicano/Latino Faculty and Staff Association and the Pilipino American Student Association hosted cultural graduation ceremonies for the university's Asian Pacific Islander Desi American, Chicanx/Latinx and Native American, Dreamers, LGBTQ, Pan-Afrikan and Pilipino American graduates.
Cal State Fullerton, in partnership with the Center for California Studies at Sacramento State and Assembly Speaker Anthony Rendon '82, '94 (B.A. political science-public administration, M.A. political science), hosted a December discussion on "The Multicultural Culinary Scene of California."