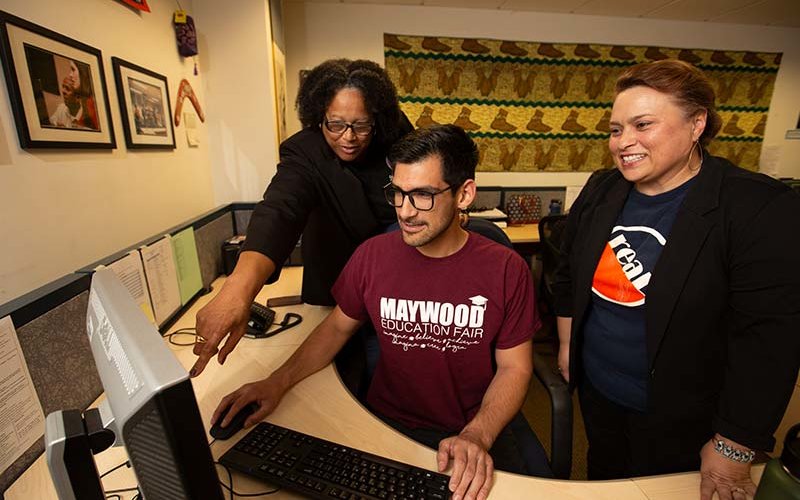 Elementary school counselor Karla I. Aguirre is known as an exemplar of service and scholarship for global learning and education.
Twenty years after earning her master's degree in social work, Aguirre began Cal State Fullerton's doctoral program in educational leadership in 2016. Over the past three years,  she has provided service to her community and the university, studied abroad in South Africa and Mexico, conducted and presented research projects on educational issues and is a research assistant in the Center for Research on Educational Access and Leadership (C-REAL).
For her breadth of accomplishments as a graduating doctoral student and commitment to promoting global learning and understanding, Aguirre is the 2019 recipient of two universitywide awards: the Extension and International Programs Award and the Outstanding Graduate Student Award from the Alumni Association.      
"During the study abroad program in South Africa, Karla developed a greater appreciation for global educational leadership, especially in the areas of special education and human rights," noted Dawn R. Person, professor of educational leadership and C-REAL director, who nominated her for the international award. "As a result, Karla strives to contribute and advance her role in an increasingly global community of educational leaders."
Maritza Lozano, assistant professor of educational leadership, the doctoral candidate's dissertation chair, added that she is "intellectually curious and takes great initiative to explore opportunities for learning." Lozano, along with Dianna Lopez, assistant dean for the College of Education, and Antonio Banks, C-REAL analyst and lecturer in educational leadership, nominated Aguirre for the graduate award.
For Aguirre, being selected for the top student awards means her and her family's sacrifices are validated.
"The university has become my extended family," she said. "These awards and this recognition shows the investment of faculty and staff members in helping to transform me into a Titan."
Aguirre is on track to graduate in August with a doctor of education (Ed.D.) in educational leadership-pre-K-12 educational leadership specialization. She will participate in the 5 p.m. Friday, May 17, College of Education's commencement, which includes the doctoral hooding ceremony.
"I am proof that public education is about justice, equity and inclusiveness. I am a role model for my students, my family, and for my brothers and sisters around the world who dream big and work hard."
How have your graduate studies transformed you?
My graduate experience has been amazing — sheer joy interwoven with cheers and tears. What's been most transformative are the relationships and opportunities, which gave me pathways for growth and development. C-REAL, in particular, contributed to my practitioner knowledge.
What inspired you most about studying in South Africa?
What touched me the most is the spirit of South Africa. I realized that the spirit, wisdom and persistence of South Africans are what breathed new life into a nation overcome with racism and oppression. It was their resolve and commitment to the true meaning of liberty and freedom that brought down apartheid.
How did studying abroad impact your academic goals?
South Africa helped put into perspective some of my life's puzzle pieces, mostly around my commitment to resist, challenge and dismantle oppression. I credit my study abroad program experience for igniting a fire in me again to complete my doctorate no matter the obstacle. Study abroad awakens and empowers, then transforms a student into a learner.  
What does it mean to you to be a global leader?
Being a global leader means you willingly seek, accept and commit to creating and building a community that is globally interdependent. It's about finding your passion, fine-tuning your voice for the cause through literature review and experiential learning, then be fierce and consistent in sharing what you've got to give to the world. Participating in a study abroad program is a great pathway to explore and discover gifts and talents to improve the human condition.