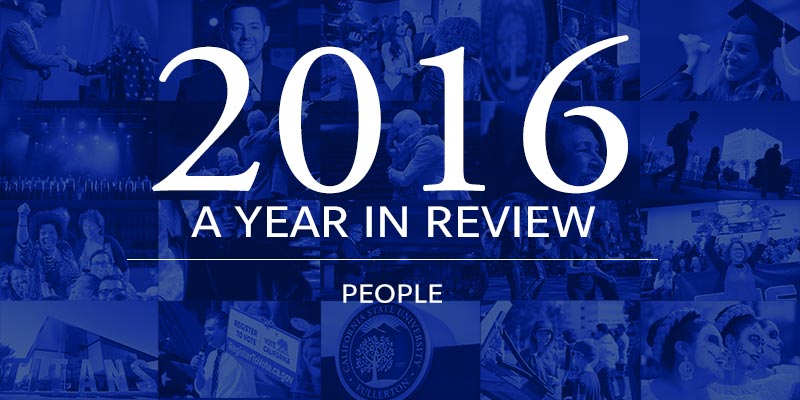 In a year full of change, surprises and achievements both on and off campus, many Titans left their mark in academia, politics, show business, and even a certain worldwide sports competition. The past 12 months saw some of Cal State Fullerton's best and brightest make their University proud.
Whether as researchers, coaches, sports experts or athletes, more than 10 Cal State Fullerton faculty and alumni lent their expertise to the 2016 Summer Olympics in Rio de Janeiro. John Gleaves, associate professor of kinesiology, a doping research expert with a focus on ethics and cycling, was appointed in April to the USA Cycling team's new advisory Anti-Doping Committee.
Titans also found their way to the political arena yet again. More than 25 alumni were elected or reelected to public office on Nov. 8. Among them, CSUF alumnus and U.S. Rep. Ed Royce delivered a tribute to fellow grad Owen Holmes, former associate vice president for government and community relations, from the floor of the U.S. House of Representatives in December. Royce honored Holmes for more than three decades of service at Cal State Fullerton.
Academic Accolades
In a campus already known for its exceptional educators, many were recognized over the course of 2016. Nancy Segal, professor of psychology and a world-renowned expert on twins, was the 2016 recipient of the California State University's Wang Family Excellence Award — one of five selected in 2016 and the 11th from Cal State Fullerton to be honored. She is scheduled to be a guest on the Jan. 11 edition of ABC's "Good Morning America," during the 8-9 a.m. hour.
Amybeth Cohen, professor of biological science, was the recipient of the 2016 Andreoli Faculty Service Award from the CSU Program for Education and Research in Biotechnology (CSUPERB).
Music professor Robert Istad, who heads the University's choral studies program, received the University's Outstanding Professor Award for superlative teaching and scholarship. Marcelo E. Tolmasky, professor of biological science, was honored with the 2016 L. Donald Shields Excellence in Scholarship and Creativity Award for his research focusing on why bacteria becomes resistant to antibiotics, while civil engineering professor Binod Tiwari was named the 2016 recipient of the Carol Barnes Excellence in Teaching Award for his academic rigor and excellence in teaching.
For his leadership and guidance as a department chair while serving on the University curriculum committee and other campuswide activities, Jason Shepard, associate professor of communications, was the year's recipient of the Faculty Leadership in Collegial Governance Award. Megan Tommerup, a lecturer in biological science, who coordinates the science education and credential preparation programs, was the inaugural recipient of the Outstanding Lecturer Award.
Cal State Fullerton joined veteran educator Irene Lange in celebrating her own milestone: five decades teaching marketing on campus. Lange, who also has served 41 years as chair of the Marketing Department, was recognized during the University Awards Program in October.
Also honored at the awards program was Stephen Stambough, professor of political science, who received the University's Leadership Award for launching the Cal State DC program to help students gain experience working in the nation's capital. The University also recognized faculty members of the College of Education's doctoral program in educational leadership with its 2016 Diversity, Equity and Inclusion Award, and the University Police Department received the Teamwork and Collaboration Award for EPIC, or Encouraging a Positive and Interactive Community, a program designed to develop and maintain open lines of communication between the campus police force and the diverse campus community.
Jason K. Baker and Rachel M. Fenning, assistant professors of child and adolescent studies, received the Alumni Association's 2016 Outstanding Faculty Service Award.
John Hickok was awarded a Fulbright Scholarship to teach library sciences in the Philippines.
A campus supporter was given special recognition in April. Margaret McCarthy, whose early vision for the DC Scholars Program helped created a notable hands-on experience for students working in the national capital, was awarded the University's inaugural Cornerstone Award.
Joshua Smith, associate professor of physics, became the inaugural Dan Black Director of the Gravitational-Wave Physics and Astronomy Center, thanks to a $225,000 gift from physics alumnus Dan Black. He and the rest of the Titan scientists involved in the research that detected gravitational waves were named in the Orange County Register's 2016 list of "O.C.'s 100 Most Influential."
And Anthony Sparks, assistant professor of communications, became supervising producer on the OWN series "Queen Sugar." Sparks received 2017 NAACP Image Award nominations for the categories of Outstanding Drama Series, Outstanding Writing on a Dramatic Series for the episode, "By Any Chance," and for Outstanding Literary Work for "Running the Long Race in Gifted Education: Narratives and Interviews From Culturally Diverse Gifted Adults," which he coauthored with Joy M. Scott-Carrol.
Campus Leadership
New deans took up tenure in four colleges beginning in January, when Laurie Roades, former associate dean for academic personnel and resources at Cal Poly Pomona's College of Letters, Arts and Social Sciences, became dean of CSUF's College of Health and Human Development.
A month later, Scott Paynton, formerly associate dean for the College of the Arts, Humanities and Social Sciences at Humboldt State University, became dean of CSUF's College of Communications.
Lisa Kirtman, a 17-year campus veteran serving as associate dean and professor of elementary and bilingual education, was appointed dean of the College of Education in June.
Geologist Marie Johnson became CSUF's dean of the College of Natural Sciences and Mathematics in July. The appointment followed on a 21-year teaching career at the United States Military Academy at West Point.
Kari Knutson Miller was appointed dean of University Extended Education and associate vice president of international programs and global engagement. The professor of child and adolescent studies had served in the interim position for two years before the formal appointment in July.
Also appointed this year as interim provost and vice president for academic affairs was Anil Puri, who had served as dean of Mihaylo College of Business and Economics since 1999, and Tonantzin Oseguera, dean of students was named associate vice president for student engagement in the Division of Student Affairs.
The National Institutes of Health (NIH) appointed Sora Tanjasiri, chair and professor of health science, to its Health Disparities and Equity Promotion Study Section of the Center for Scientific Review.
Off campus, Tenzin Dorjee, associate professor of human communication studies, was appointed by House Democratic leader Nancy Pelosi to the U.S. Commission on International Religious Freedom, an independent, bipartisan federal body responsible for reviewing the facts and circumstances of violations of religious freedom internationally and making policy recommendations.
Student Achievements
Students continued to reach higher last year in their academic endeavors. Among their accomplishments:
Presidential Distinction
Cal State Fullerton President Mildred García was named chair of OASIS — Optimizing Academic Success and Institutional Strategy — a network of 11 regional, comprehensive institutions that serve large populations of underrepresented students to collectively achieve their shared goal of improving graduation rates.
CSUF's president was also recognized among the top "Hispanic Leaders and Role Models  in Higher Education" by Hispanic Outlook in Higher Education Magazine. She also received the NASPA Region VI President's Award, a special recognition given to a college or university president who has, over a sustained period of time, advanced the quality of student life on campus by supporting student affairs staff and programs; and she was appointed chair-elect of the board of the American Association of State Colleges and Universities (AASCU).
In December, President García also made the Orange County Register's 2016 list of "O.C.'s 100 Most Influential."
"Because I believe higher education is the pre-eminent path to upward mobility in this country, I see CSUF as far more than an academically excellent institution, where culturally engaged students become globally engaged leaders," García told the newspaper. "I see it as a conduit to social justice and a bridge to the American dream."
Athletics
Titan teams left an indelible mark in their respective fields last year. The Cal State Fullerton Dance Team clinched its 15th UDA/UCA Collegiate National Championship at the ESPN Wide World of Sports Complex, competing in the Division I Jazz category.
Cal State Fullerton senior Martina Edberg had an excellent fall season, capturing medalist honors three times in four fall tournaments. Edberg was also named Big West Conference Women's Golfer of the month twice in the fall. It was her fourth career golfer of the month award. She is the only Titan golfer to ever earn the award multiple times.
In addition, seven Titans were picked in the 2016 Major League Baseball Draft. Scott Serigstad, Timmy Richards, Miles Chambers, Chad Hockin, Dalton Blaser, Dylan Prohoroff and Blake Quinn were all selected during the MLB Draft, marking the 42nd straight season Cal State Fullerton has had at least one player selected in the MLB Draft.