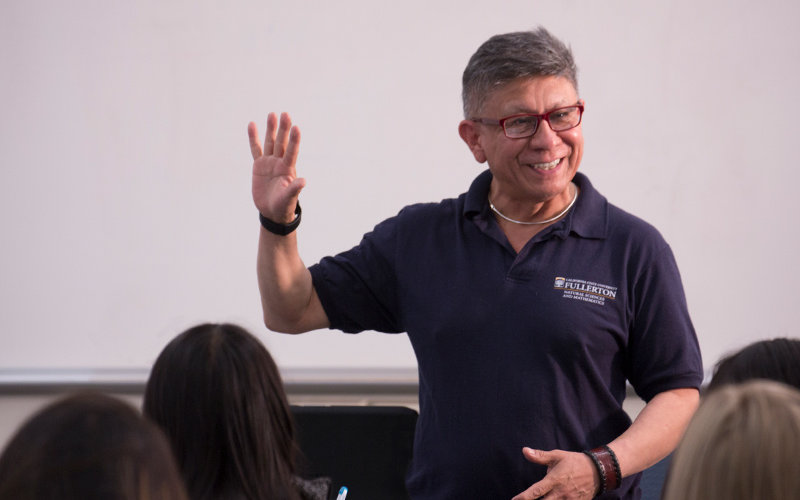 It was a year of neutron-star smashups, "Hamilton" dreams come true and many Titans making their mark in the world.
Among these were a number of faculty and staff members and administrators who were honored for their efforts in teaching, research, creative endeavors and support of students. Geoffrey Lovelace, associate professor of physics, received the National Science Foundation's CAREER Award, an honor that recognizes faculty members early in their careers who have the potential to serve as academic role models in research and education.
The California State University recognized Ruth Yopp-Edwards , professor of elementary and bilingual education, with the Wang Family Excellence Award for her extraordinary commitment to student achievement and exemplary contributions in teaching.
Susie Woo, assistant professor of American studies, was named one of 10 emerging faculty leaders in the Nancy Weiss Malkiel Scholars Awards Program, which is funded by the Andrew W. Mellon Foundation. 
Lisa Kirtman, dean of the College of Education, and Tonantzin Oseguera, associate vice president for student affairs, both received INSIGHT Into Diversity magazine's 2017 Giving Back Award for their commitment to diversity through leadership. 
Also in the College of Education, Julián Jefferies, associate professor of literacy and reading educaiton, was selected as a Fulbright Scholar  to further his research on the experiences of adolescent migrants who have returned to Mexico, while Nawang B. Phuntsog, associate professor of elementary and bilingual education, received a Fulbright-Nehru Award to conduct research on Tibetan students in India. 
John L. Hoffman, chair and associate professor of educational leadership, was honored with the "Pillars of the Profession" Award from NASPA – Student Affairs Administrators in Higher Education.
In the College of Natural Sciences and Mathematics, Armando M. Martínez-Cruz won theOutstanding Latino/a Faculty in Higher Education Award from the American Association of Hispanics in Higher Education, while Sam Behseta, was named a Fellow of the American Statistical Association. Both are professors of mathematics.
Cal State Fullerton also recognized the achievements of five faculty members for teaching, research and creative activities, and campus leadership. Binod Tiwari, professor of civil and environmental engineering, won the 2017 Outstanding Professor Award, an honor that recognizes a faculty member for outstanding achievements in all areas. 
Kiran George, professor of computer engineering, earned the L. Donald Shields Award, recognizing innovative and transformative research,  and alumna Merri Lynn Casem, professor of biological science, received the Carol Barnes Excellence in Teaching Award.
Sean Walker, chair and professor of biological science, was named the 2017 recipient of the Faculty Leadership in Collegial Governance Award, while alumna Shelli Wynants was honored with the Outstanding Lecturer Award. She is now assistant professor of online education and training.
In addition, faculty members received recognition on stage and behind the scenes.  Robert Istad, professor of music, became the artistic director of Pacific Chorale as his mentor John Alexander, professor emeritus of music, stepped down after 45 years of leading the 24-voice ensemble.
Anthony Sparks, assistant professor of cinema and television arts, a screenwriter and producer for the Oprah Winfrey series "Queen Sugar" was among the team who took home Outstanding Drama Series during February's NAACP Image Awards.
Student Affairs Administrators in Higher Education, the nation's leading association consisting of student affairs professionals in higher education, recognized Cal State Fullerton with a 2017 Promising Practices Award for its student success teams.
And President Mildred García, who left Cal State Fullerton in December to lead the American Association of State Colleges and Universities, was honored by the American Council on Education in the spring and received an honorary doctorate of laws from Pepperdine University. In November, she delivered the keynote address at the Minority Serving Institutions' Aspiring Leaders program.
García was recognized in the Orange County Register's "Most Influential 2017" list, along with Brady Heiner, associate professor of philosophy, who spearheaded the systemwide Project Rebound program; and Jocelyn Read and Joshua Smith, CSUF physicists whose work was instrumental in the first detection of gravitational waves from colliding neutron stars.
Students and Alumni Show Their Stuff
Titans still working on their degrees also received kudos for their achievements in different disciplines. Among these was a group of engineering students who won first place in the 2017 'GeoWall' competition — the third time that a CSUF team has taken the national honors. 
In the science arena, three Titans won the top awards during the CSU Program for Education and Research in Biotechnology for their projects on how plants fight viruses, parasites affect humans and student teaching. Carina Sandoval won the Glenn Nagel Undergraduate Research Award; Noopur Dave, the Don Eden Graduate Student Research Award; and Davis Hsu, the Crellin Pauling Student Teaching Award.
Five Titans would also take first place in the CSU Student Research Competition, which promotes excellence in undergraduate and graduate research, while mathematics major Trini Nguyen won an outstanding research award at the joint Mathematical Association of America and the American Mathematical Society for her project developing a mathematical model to predict the thicknesses of the tear layers of the eye. She also wrote a computer program that can quickly detect and diagnose dry-eye diseases.
Omar Chavez saw his hard work pay off as the first graduate of the University's Project Rebound program, which supports current and formerly imprisoned individuals in their efforts to earn a college degree. Chavez earned a bachelor of arts in linguistics.
Cal State Fullerton alumni had their own place in the sun — and on stage. Rubén Carbajal '15 (B.F.A. theatre arts-musical theatre) starred in dual roles in the national touring production of the Broadway smash hit "Hamilton," while José Mota '94 (B.A. communications-radio/TV/film) made history as the first Major League Baseball broadcaster to offer play-by-play and analysis in both English and Spanish, on radio and television for the same ballclub. 
Makeba Parramore  Wilbourn '97, '01 (B.A., M.A. psychology), assistant professor of psychology and neuroscience at Duke University, was named a recipient of the Presidential Early Career Awards for Scientists and Engineers, the highest honor bestowed by the United States government on science and engineering professionals in the early stages of their independent research careers.
The University also honored the seventh class of its Athletics Hall of Fame with such notables as Tiffany Boyd, Mel Franks, George Horton, Kurt Suzuki and Kathy Van Wyk. Titan baseball alum Justin Turner, who helped the Dodgers get to their first World Series, also made the Orange County Register's "Most Influential 2017" list.