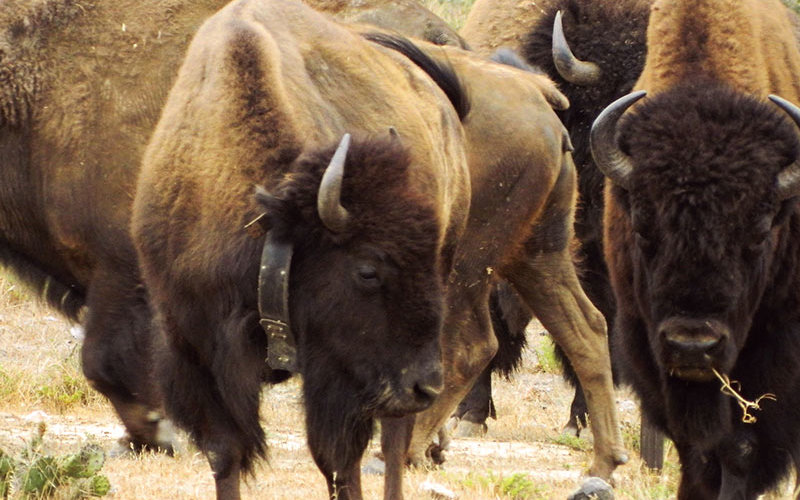 For nearly a century, wild bison have freely roamed Catalina Island and have become a popular tourist attraction. But over the years, the population of the large non-native species with shaggy brown coats multiplied.
In late 2009, Cal State Fullerton alumnus and wildlife biologist Calvin Duncan and Julie King, then-director of conservation and wildlife at the Catalina Island Conservancy, initiated the use of fertility control to maintain the bison population below 150 individuals and eliminate the need for periodic removal of bison from the island.
The application of the immunocontraception vaccine porcine zona pellucida, or PZP, to all 61 bison cows within the population at the time proved to be effective, and reproduction was halted entirely within three years, Duncan said.
In response to lingering questions surrounding the reversibility of PZP in bison, potential changes in ovulation cycles and the long-term costs of maintaining the contraceptive program, Duncan enrolled in CSUF's master's program in biology and designed a research project aimed at answering these questions.
Under the mentorship of Paul Stapp, professor of biological science, Duncan conducted fieldwork on the island for several years, which included locating and darting bison to apply PZP, attaching GPS-tracking collars to monitor breeding behavior and movement patterns and collecting fecal samples to assess hormone levels and ovulation cycling.
His research results demonstrate that PZP can be used to effectively and safely manage a large population of free-ranging bison without the need for controversial and costly relocation or lethal control.
For his outstanding graduate research, published in the Journal of Mammalogy, Duncan is the recipient of CSUF's 2018 Giles T. Brown Outstanding Thesis Award — one of the university's most prestigious student awards.
"It is not an exaggeration to state that Calvin is single-handedly responsible for the success of this massive field project," noted Stapp. "Calvin's work stands out as truly exceptional."
Duncan called Stapp an exceptional adviser and mentor whose knowledge and dedication to his students is "awe-inspiring."
"I will be forever grateful to him for his commitment to this project," said Duncan, who earned his master's degree in biology in May 2017. "This award provides additional validation of the work I put into completing this project and gives me a tremendous feeling of pride."
The Mission Viejo resident, a native of Whitecourt, Alberta, Canada, spent 14 years working on the island with the Catalina Island Conservancy, including nine years to find an effective tool to maintain a stable population of bison.
Through his thesis research, Duncan also found that consecutive PZP treatment in bison results in longer fertility control than what had been previously documented in wild horses. This is beneficial from a cost perspective in that fewer treatments are needed to maintain infertility.
Likewise, the study showed that bison, highly seasonal breeders, were capable of breeding year-round, yet, Duncan was not able to confirm that PZP is reversible in bison after multiple consecutive years of treatment. This result is critical for wildlife biologists seeking to use PZP to manage wild bison herds elsewhere, Stapp said.
In response to Duncan's recommendations, the application of PZP was halted entirely in 2016 in order to allow the bison to begin reproducing again. However, the continued drought on the island and overall poor condition of the bison are major factors in the absence of new calves, Duncan pointed out.
Duncan concluded that there is a need for more assertive management of the island's bison.
"Given the poor health of the bison, their impact on the ecology of the island as an invasive species, as well as the safety of island visitors, the study recommends that the conservancy consider dramatically reducing and isolating the population or removing them from the island entirely," he said.