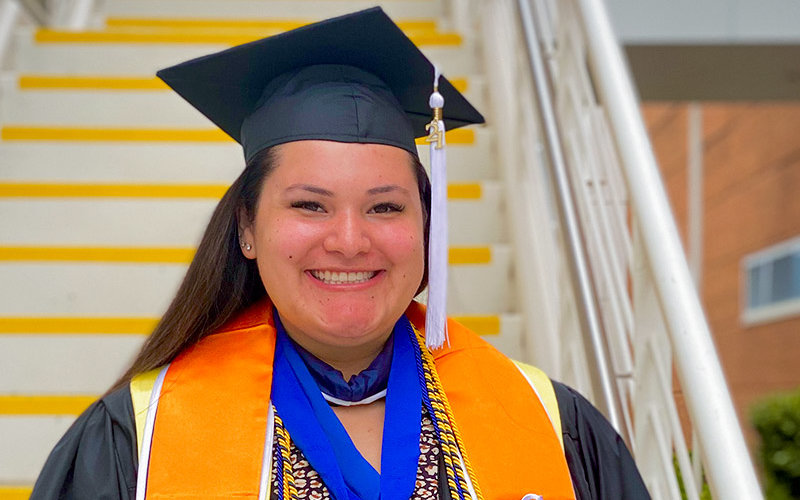 Even as a child, Michaela Thompson enjoyed spending time with older adults. She fondly remembers spending summers with her great-grandmother, making sure she stayed safe and out of trouble in her home.
When the human services alumna, who graduated magna cum laude from Cal State Fullerton in 2019, discovered that she could make a career out of working with the older adult population, she was ecstatic.
"I have tremendous interest and passion for working with our aging population," said Thompson. "Ever since I learned about the field of gerontology, I have put my heart and soul into furthering my education to be the most competent professional I can be."
Recognizing her enthusiasm for gerontology, leadership skills and strong academics, Thompson is the recipient of the Osher Lifelong Learning Institute's 2021 Outstanding Graduate Student Award.
Throughout her time at CSUF, Thompson has been active in a variety of organizations, including the Phi Kappa Phi, Kappa Omicron Nu and Sigma Phi Omega honor societies, serving most recently as president of the latter. She is a member of the California Council on Gerontology and Geriatrics and the American Society on Aging, and has volunteered with the Alzheimer's Family Center.
Amid the isolation of the pandemic, Thompson took the initiative to organize, in collaboration with Cal State Long Beach, virtual "brown bag lunches" for students to socialize and discuss aging-related contemporary issues.
While she is passionate about the elderly population, Thompson also helps other age groups, including assisting and tutoring incoming gerontology master's candidates as a graduate student mentor. For the past few years she has been a volunteer with the Girl Scouts of Orange County, an organization she feels has deeply shaped her character.
"I felt that volunteering with younger scouts would be beneficial for both the girls and me," she explained. "Scouting has taught me perseverance, determination, the importance of being involved in my community and to give 110% with anything I do."
Thompson, who is graduating with a GPA of 3.97, has indeed given her all when working internships at the Orange County Office on Aging and St. Jude Senior Services. At the latter, she participated in the Caring Neighbors Program, providing in-home assistance to six elderly clients for two semesters.
"I assisted them with tasks that they could not do on their own, as well as provided emotional support for them during each visit," she shared. "I enjoyed this internship so much that I chose to continue working with one client as a volunteer."
Also at St. Jude, Thompson helped to establish a new digital literacy program to support older adults with the use of technology — a project that took on new urgency amid the pandemic. As a follow-up to the experience, she is working with a team in the Aging Studies Department on qualitative research looking at how such digital literacy programs reduce isolation and loneliness and benefit the community as a whole.
Thompson landed an internship at one of her dream locations as well — Orange County Adult Protective Services — working in the area of elder abuse. She is considering a role there as a senior social worker to help vulnerable older adults cope with assault, abuse, exploitation or neglect.
Melanie Horn Mallers, professor of human services and assistant coordinator of the aging studies program, who worked with Thompson on her thesis, praises the "unwavering leadership" that she has demonstrated in organizations and through innovative projects and research.
The two collaborated with another aging studies student to create a unique blog that explores aging-related topics from the younger generation's point of view. Thompson's thesis, "Discrimination and Social Support in LGBT Older Adult Populations," took on the relatively unexplored area of LGBT aging.
"I am confident Michaela will have a tremendous impact on our aging community," Horn Mallers said. "Indeed, we are lucky to have her in the field."