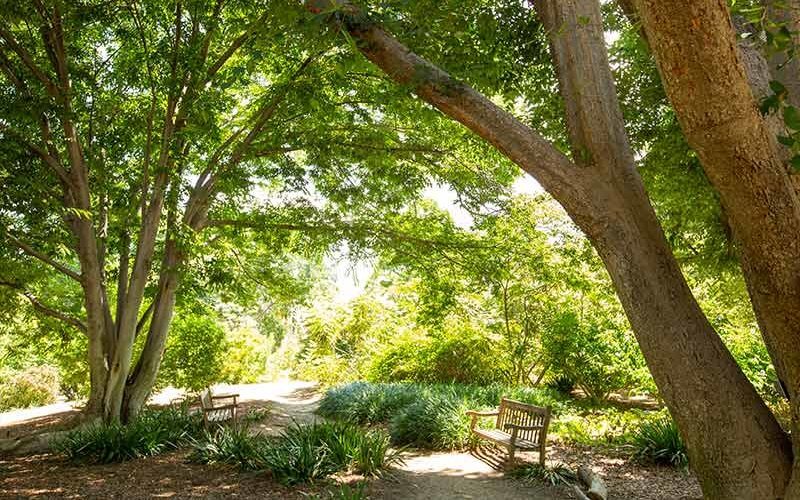 The Fullerton Arboretum at Cal State Fullerton will reopen July 7 with summer hours, after its closure since spring 2020 due to the COVID-19 pandemic.
The arboretum will be open 9 a.m. to 2 p.m. Wednesday through Sunday. On Tuesdays, the arboretum will be open 9 a.m. to 2 p.m. for Fullerton Arboretum members only.
During the closure, the 26-acre botanical garden's website continued to offer its two live camera views; virtual events; classes and workshops on gardening, cooking and composting; and plant sales online.
The arboretum's self-sustained budget relies on membership, plant sale revenue, and rental income from the gardens, learning centers and wedding areas. The Friends of the Fullerton Arboretum and the site's staff members are eager to begin taking summer event reservations for private events and business retreats in the Bacon Pavilion, the Wisteria Arbor and the pavilion's meeting rooms.
Upcoming events and opportunities to support the Fullerton Arboretum include:
For membership or donation inquiries, please contact Harriet Bouldin at hbouldin@fullerton.edu, or call 657-278-3407.
About the Fullerton Arboretum: The Fullerton Arboretum holds Level IV status, the highest level of accreditation with ArbNet. The rating is based on published research, educational offerings, managed collections and conservation efforts. The arboretum is one of 26 Level IV arboreta in the world and one of only 7 universities worldwide that have Level IV status. The arboretum recently received matching funding support from the Mysun Charitable Foundation, a nonprofit which funds land and plant conservation projects.