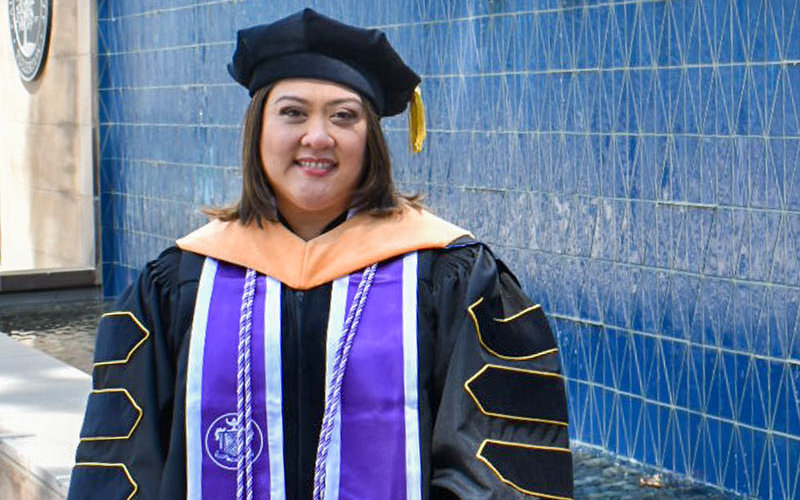 Lian Magaña '09, '19, '21 (B.S. nursing, M.S. nursing-nursing leadership, DNP) has 24 registered nurses in her family.
"I grew up surrounded by many nurses and health care workers, so it made sense to pursue a career I knew that would always be in demand and be personally fulfilling," she explained.
After achieving her bachelor's degree in nursing from Cal State Fullerton, Magaña soon realized a graduate-level degree would help further her career — so she returned to her alma mater.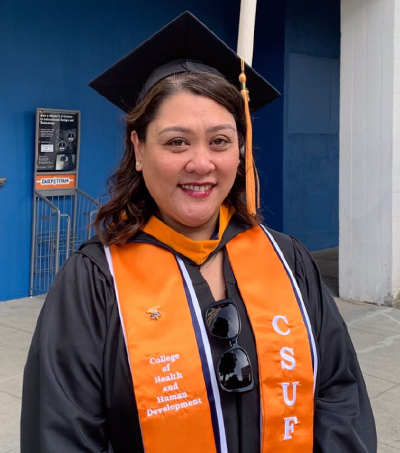 At her MSN graduation luncheon, peers and professors presented her with the award for "Most Likely to Get a Doctorate." Two weeks after that graduation, she applied for CSUF's Doctor of Nursing Practice program and was accepted.
"Once a Titan, always a Titan," enthused the Class of 2021 doctoral graduate, explaining that the university's outstanding faculty members kept her coming back. "I had familiar faces throughout my entire journey, so it was only right for me to stay where I knew I would get the most support and encouragement to succeed."
While pursuing all three of her degrees, Magaña has maintained a career with Kaiser Permanente for 22 years. Beginning as a receptionist with no degree or certification, she has since used her education to advance to such positions as pediatric staff nurse, neonatal intensive care unit parent educator, RN staff educator and assistant department administrator.
The newly minted DNP was recently appointed magnet program manager for Kaiser Downey Medical Center, responsible for shepherding the facility through the American Nurses Credentialing Center credential process. "The ANCC credential is considered the highest recognition for nursing excellence," said Magaña. "I am humbled and honored to lead the prestigious efforts for my medical center."
During the COVID-19 pandemic, Magaña trained and prepared clinical staff to work during hospital surges and led COVID-19 testing and vaccination efforts.
"I helped develop workflows that have never been in place before, under time-sensitive constraints," she shared, adding that inspiring staff to get through the pandemic was a priority for her. "When we did not know what tomorrow would bring, we had to tell ourselves that we would get through it — and we would see our patients and families get through it as well."
One surprising outcome of the pandemic has been the immense outpouring of support and appreciation from the community, shared Magaña.
"The pandemic shed a new light on nursing and uplifted our profession with tremendous respect from the community," she said. "We are in demand, we will always be essential and there will always be a future for nursing in this world."
Continuing her Titan involvement, Magaña now serves as a part-time lecturer for the School of Nursing and teaches pediatric clinicals for RN to BSN students. She advises future nurses: "Embrace every new concept and learning. Don't be afraid to ask if you don't know. You will be someone's mentor one day.
"You will laugh, you will cry and you will want to give up a million times along the way. But you won't because you already have a nurse's heart — and nurses never give up."