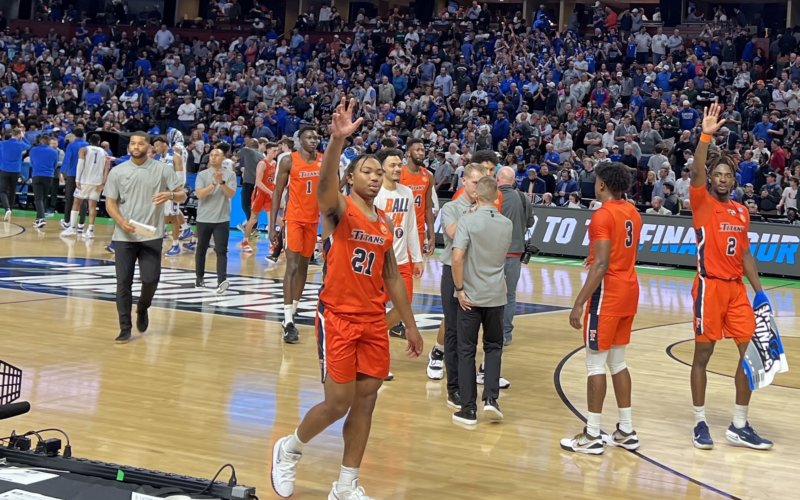 The buzzer Friday night signaled the end of one of the biggest basketball games in Cal State Fullerton's history.
The matchup for the first-round game of the NCAA Championship Tournament wasn't easy. The Titans would have to take down No 2 seed Duke, and the odds were not in their favor.
And while the final score of 78-61 didn't reflect a victory for the Titans, it showed the world that they are a gritty bunch of student-athletes determined to leave a lasting impression on their families, friends, and fans.
This season the team which was 21-10 won the Big West Championship tournament defeating Long Beach State to punch their ticket into the NCAA Championship tournament as a 15-seed.
From 7th to Big West Champs
In the beginning of the season, the Big West coaches poll predicted the team would place seventh.
The team and its coaches had different plans.
Head Coach Dedrique Taylor, the first coach in program history to lead the Titans to the NCAA Tournament on two separate occasions, believed in his team and what they could accomplish.
"We found a way to get things done throughout the year," Taylor said in the after-game press conference. "We feel sad right now, but we will look back upon this opportunity and appreciate each other and appreciate what each other has given to one another."
E.J. Anosike, the team's leading scorer, reflected on this journey and what Cal State Fullerton means to him.
"I had a pretty long journey in college, and I'm very thankful to coach for giving me the opportunity and believing in me," he said. "It (this season) was a long road, but we did it all together; the good, the bad, the ups and downs. We overcame."
Fans, Family and Friends Roar with Titan Pride
The stands at Bon Secours Wellness Arena mainly were filled with Duke supporters. Still, the Titans who came to Greenville, South Carolina, roared every time a Titan made a three, slam-dunked, or played incredible defense.
President Fram Virjee, one of the team's biggest supporters, said that this squad demonstrated the meaning of resilience.
"I am so incredibly proud of our team," Virjee said. "They came out, they left it all on the court and showed everyone what it means to be a Titan! I believe in each one of them. They epitomize the Titan Family."
Anosike's mother, Ngozi, who emigrated from Nigeria to the U.S. in 1978, said E.J is the youngest of eight siblings. The licensed registered nurse said she is proud of all of her children and that seeing her youngest reach this level has been special.
"Being here and seeing my last baby in the tournament has been very special for our family," she said. "We have been so excited ever since last week when they beat Long Beach."
Denise Crawford's son, Joey Brooks, is an assistant coach for the team. She said this is one of those life achievements for the team, coaches, and fans.
"They showed up today and battled hard," she said. "We couldn't be more proud."
Latrell Wrightsell, Sr. had nothing but praise for his son, Latrell, Jr.
"I'm happy for him and all that he has accomplished," Latrell, Sr., said. "They made it to the biggest stage, and that is huge."
A huge accomplishment indeed.