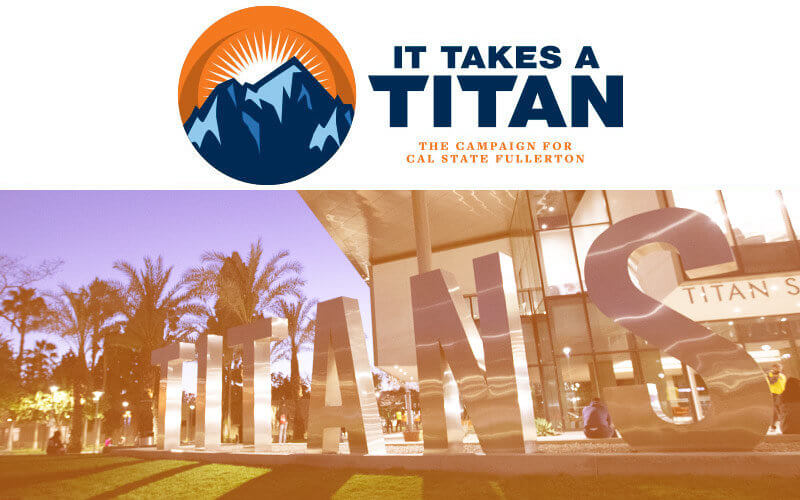 Cal State Fullerton will host its third annual #TitansGive event on Wednesday, March 9. The one-day digital fundraising event gives the CSUF family a chance to support student success, and all gifts will go toward the university's "It Takes a Titan" campaign.
Last year #TitansGive raised more than $450,000, nearly doubling the proceeds from the first annual day of giving in 2020. This year, CSUF has a goal of raising $500,000.
As Titans returned from a virtual learning environment, students have been navigating an uncertain and rapidly changing world while recovering from the effects of the pandemic. Through #TitansGive, donors can help students in a wide variety of ways, supporting the programs and colleges of their choosing. Options range from academic support and career services to mental health services and athletics programs.
For the first time, there will be an on-campus component to #TitansGive where students can stop by Titan Walk and write thank you notes to donors, meet Tuffy and get Titan giveaways. During the noon hour, there will be a dollar-for-dollar match event as well.
#TitansGive offers a series of fun giving contests, sponsored matches, and challenges this year. One of the most anticipated is the 50 State Challenge, where donors across the United States can help turn the map Titan Orange! Last year, people from 40 states donated to #TitansGive, and this year, CSUF hopes to have all 50 states participate.
"This is an amazing opportunity for Titans to help student success and to be the difference in the life of a student," said Grace Johnson, associate director, annual campaigns. "With so many different programs and initiatives on campus participating, there's a way for everyone to get involved and support something they are passionate about."
To learn more and see the giving opportunities, visit titansgive.fullerton.edu.