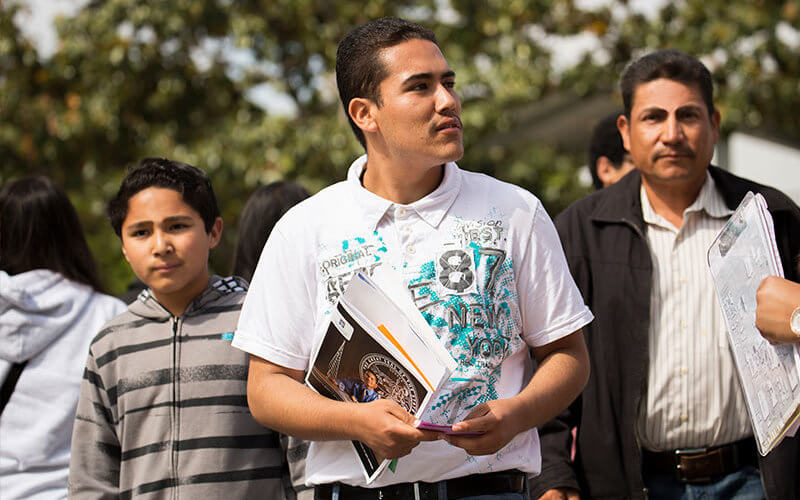 In recognition of Cal State Fullerton's strong support of first-generation college students, the university was designated a 2022-23 "First-gen Forward Institution" in February.
The designation from the Washington, D.C.-based Center for First-generation Student Success underscores the university's well-established commitment to improving experiences and outcomes for first-generation students, who graduate and build productive careers throughout the region.
Within the university, 31.7% of students are first-generation, according to CSUF's Office of Assessment and Institutional Effectiveness.
"Our first-generation students enter the university with many strengths, and they continue to push the boundaries of excellence," said Martha Enciso, associate vice president for student affairs, identity and belonging. "We are grateful for the recognition and are proud to join the 2022-23 First-gen Forward cohort."
Cal State Fullerton's focus on annually educating thousands of Orange County students who are first in their families to attend college includes such initiatives as celebrating National First-Generation College Student Week, faculty and staff support programs, and events and seminars helping students establish networks and navigate higher education. These resources include the I Am First and I Am First-I Am An Artist programs, the Abrego Future Scholars program, the California State University's Educational Opportunity Program and the federally funded TRIO Student Support Services.
Each provides financial and academic reinforcement for first-time freshmen and first-time transfer students on campus.
Confirming Cal State Fullerton's commitment to both first-generation and underrepresented students, the university is also ranked:
– No. 3 in student social mobility by Education Reform Now (December 2020)
– No. 3 in the nation for bachelor's degrees awarded to underrepresented students by Diverse: Issues in Higher Education (October 2021)
– No. 3 in the nation for bachelor's degrees awarded to Hispanic students by both Hispanic Outlook on Education (October 2021) and Diverse: Issues in Higher Education (October 2021)
– No. 5 in the state and No. 13 in the nation for enrolling transfer students by U.S. News & World Report (March 2020)
– No. 1 destination for college transfer students among all California public universities as determined by the university's Office of Assessment and Institutional Assessment (September 2019)
In 2020, Money magazine named Cal State Fullerton a Top Transformative College, and Forbes declared the university a best value among top U.S. institutions in 2019.
"The center is pleased to welcome Cal State Fullerton into the 2022-23 First-gen Forward cohort," said Sarah E. Whitley, assistant vice president for the Center for First-generation Student Success. "Through the application process, it was evident that Cal State Fullerton is not only taking steps to serve first-generation students but is also prepared to make a long-term commitment and employ strategies that foster an environment of success for this important population."
"First-gen Forward" Institutions receive professional development, community-building experiences, and early access to the center's latest research and resources. Faculty and staff will also have the opportunity to engage with peer institutions creating similar environments for first-generation students. Meanwhile, university representatives will participate in "First-gen Forward" workshops over the summer, in addition to ongoing professional development, goal setting, blog development, annual reporting and other support programs.
"First-gen Forward is an exciting opportunity for Cal State Fullerton to join a dedicated community of professionals prepared to share evidence-based practices and resources, troubleshoot challenges, generate knowledge and continue to advance the success of first-generation students across the country," said Kevin Kruger, president and CEO of the National Association of Student Personnel Administrators, or NASPA. "We commend Cal State Fullerton for their leadership and look forward to witnessing continued progress throughout their participation."
The center is an initiative of NASPA-Student Affairs Administrators in Higher Education and The Suder Foundation.