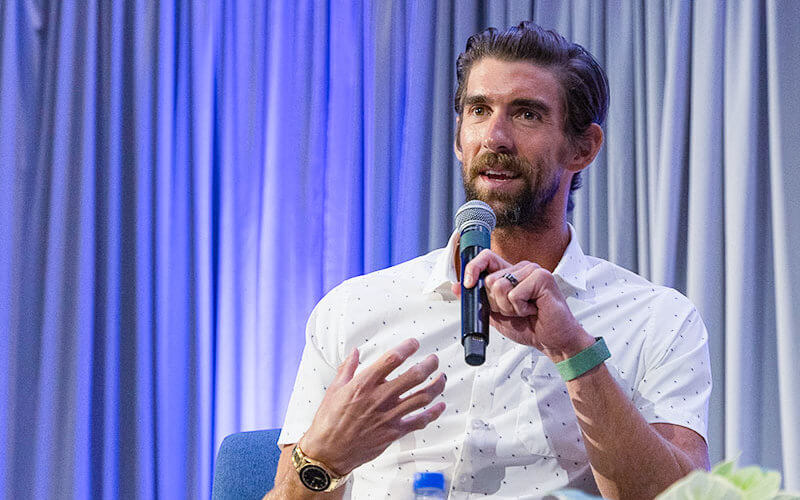 It's been six years since Olympic swimmer Michael Phelps retired from competing, but now, he's diving into another passion — mental health.
Phelps opened up to an audience of 700 students and community members about his experience as an Olympic swimmer, his struggles with mental health and the lessons he learned throughout his journey.
"I didn't have much self-love probably through most of my career. I looked at myself as an athlete and not a human being," said Phelps. "I've gone through some roller coasters and some ups and downs, and maybe learned things a little later in life. But I feel like for me: I'm OK being not OK. I'm OK being who I am."
The April 7 event marked the finale of CSUF's "Beyond the Conversation" series hosted by Associated Students Inc., Student Affairs and Human Resources, Diversity and Inclusion. The purpose of the series is to provide students with diverse narratives that encourage further exploration and thought.
After 24 years in the sport, Phelps walked away with 28 Olympic medals — 23 gold, three silver and two bronze. He set his first world record at 15 years old in the 2001 United States Spring Nationals, and he set 38 more records before his retirement in 2016. He competed in five Olympic games all across the world by the time he was 31. Sitting on CSUF's stage, the swimmer credited those accomplishments to three crucial elements: hard work, dedication and drive.
"There's a path for every single one of us. But I will say: Never give up on a dream or a goal that you have – no matter how hard it gets," explained Phelps. "As long as you're giving your everything, you're putting your heart and soul into it, you can accomplish literally everything. I had people my whole entire life tell me that wasn't possible."
As Phelps continued to add medals and accolades to his professional record, his career was marked with mental health struggles. He spoke about his experiences with ADHD and depression, and told students that one of the hardest lessons he learned was how to be vulnerable and ask for help.
"Standing in the tunnel, getting ready to walk out of the Rio Olympic Arena for the 2016 games as I'm carrying the flag for team USA, I realized I was not alone," said Phelps. "We can't do it alone. That's a fact. We can't do it alone. I tried to do things by myself. Together, we can make anything happen."
Inspired by his own experiences following the 2016 Olympics, Phelps began talking to other athletes about mental health and starting new conversations. Through his documentary, "The Weight of Gold," and his work with the Michael Phelps Foundation, the swimming champion's goal is to help people construct healthier lifestyles, mentally and physically.
"I believe the second chapter of my life outside of the pool is going to be bigger than anything I've done in the pool. I truly believe that. All the world records, all the gold medals, everything else aside. For me, having the opportunity to save a life or to help save a life, that's way better than ever winning an Olympic gold medal," said Phelps.
Phelps also left students with advice about how they can care for their own mental health. He suggested they find a routine that works and engage in self-care when possible.
While it's easy to get stuck in one's head, Phelps shared his trick to overcoming internal pressure: Don't be afraid to talk about mental health.
"Try not to obsess over everything being as perfectly as you have it in your head. I'm learning that now. I can create stories in my head, and it's not good. Understand that not everything's going to be perfect. You're going to have problems. You're going to have hard times. I want every single one of you to ask for help," said Phelps.
The interview demonstrated CSUF's dedication to talking about mental health and encouraging students to seek the help they need — a message that's especially important as the campus prepares to celebrate Mental Health Awareness Month in May.
"I would urge every one of you to do those two things: Pay attention to your mental and physical health. If we're not, we're not giving ourselves the best chance," said Phelps.