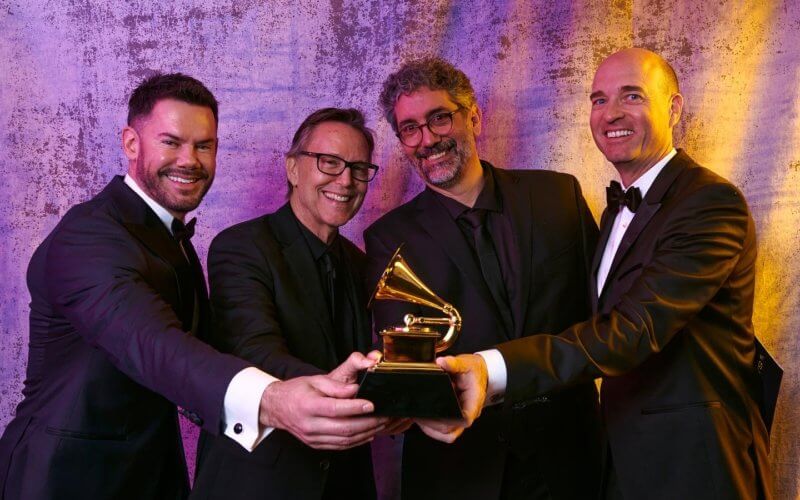 On a night that honors music's biggest stars, Cal State Fullerton music professor Robert Istad accepted his first Grammy award for the recording of "Mahler: Symphony No. 8, 'Symphony of a Thousand.'"
Istad received his award in the category of best choral performance during the 64th Annual Grammy Awards Premiere Ceremony on Sunday.
Mahler's "Symphony of a Thousand" was originally composed in 1910 and is one of the largest-scale choral works in the classical repertoire. Istad said that the piece employs an optimistic tone to express confidence in the human spirit.
"The piece is composed for an enormous orchestra, a double symphonic chorus, children's chorus and eight operatic soloists. It is rarely performed because the cost of mounting such a production is prohibitive," said Istad. "The music is highly complicated and requires professional-caliber voices to perform well."
However, that challenge did little to discourage Istad and his team from moving forward with the project, and the result was a complex musical recording that beat six other nominees in the category.
"We were nominated with many other incredible artists and did not expect to win. When they announced our names, we leapt out of our seats with joy! I cannot describe the way that experience feels — total elation," said Istad.
Of course, Istad said that this win isn't just about the music. It's about the people who made the music come alive.
"I thought about the many singers who performed with their entire souls to make this recording so special. So many of Pacific Chorale's singers are CSUF Titans, and the Grammy award is really dedicated to them," expressed Istad '01 (M.M. music-performance), also an alumnus of CSUF's School of Music.
Throughout his professional and teaching career, Istad has worked with a cornucopia of talented artists, performers and musicians. In the light of his Grammy-award winning moment, the chorus master said the award is symbolic of those relationships and the incredible music they led to.
"I've dedicated my entire life to bringing people together in harmony. Lifting up singers — everyone from students to seasoned professionals — to achieve their very best is my life's great passion. In some way, this Grammy recognizes the very special artistic and spiritual bond I share with those amazing people," Istad said.
Aside from being the director of choral studies at CSUF, Istad also works as the artistic director of Pacific Chorale, a music program based in Orange County that hosts its performance season at the Segerstrom Center for the Arts. He's also collaborated with the Pacific Symphony Orchestra and the Musica Angelica Baroque Orchestra.
"For him, this win is a well-earned and much-deserved testimony that he has achieved the highest level of professionalism in his life's calling as a choral conductor," said Edward Fink, interim director for CSUF's School of Music.
In 2016, Istad was recognized by the campus community as the Outstanding Professor of the Year for his passion and dedication to music — characteristics that helped him earn a spot on the 2022 Grammys stage. The golden award is not just a victory for Istad, but also a win for CSUF's School of Music and the students who learn from him every day.
"He is a genuinely warm and compassionate person. He cares deeply for his students, his colleagues, the School of Music and the university," added Fink. "We pride ourselves on the three pillars of our school which are 'artistry, community, distinction.' It is because of the hard work and professionalism of faculty members like Dr. Istad that we are able to achieve such excellence in our school."