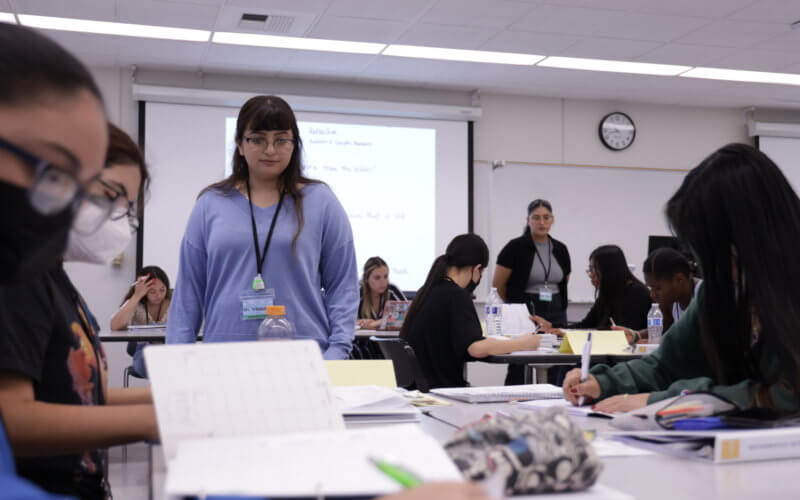 On this warm summer afternoon, instead of sitting in the classroom and figuring out math problems, high school girls scurried about the campus courtyard next to Langsdorf Hall working in teams to solve algebra problems.
The activity made math fun.
The students ran, laughed and screamed, and with sweat on their foreheads, completed the problems associated with the math challenge. One problem, for example, required the students to solve the area of a rectangle with sides (3+5i) and (3-5i).
Once solved, the students raced to Titan math instructors to check the answer, and if correct, followed by the prompt to yell, "I love math!"
This math exercise is what Cal State Fullerton's Project MISS is all about — to get high school girls excited about learning math, while improving their algebra II and precalculus skills through engaging problem-solving activities.
Project MISS — Mathematics Intensive Summer Session program — returned in-person in early July. The program, in its 33rd summer, has been offered virtually the last two summers due to the COVID-19 pandemic.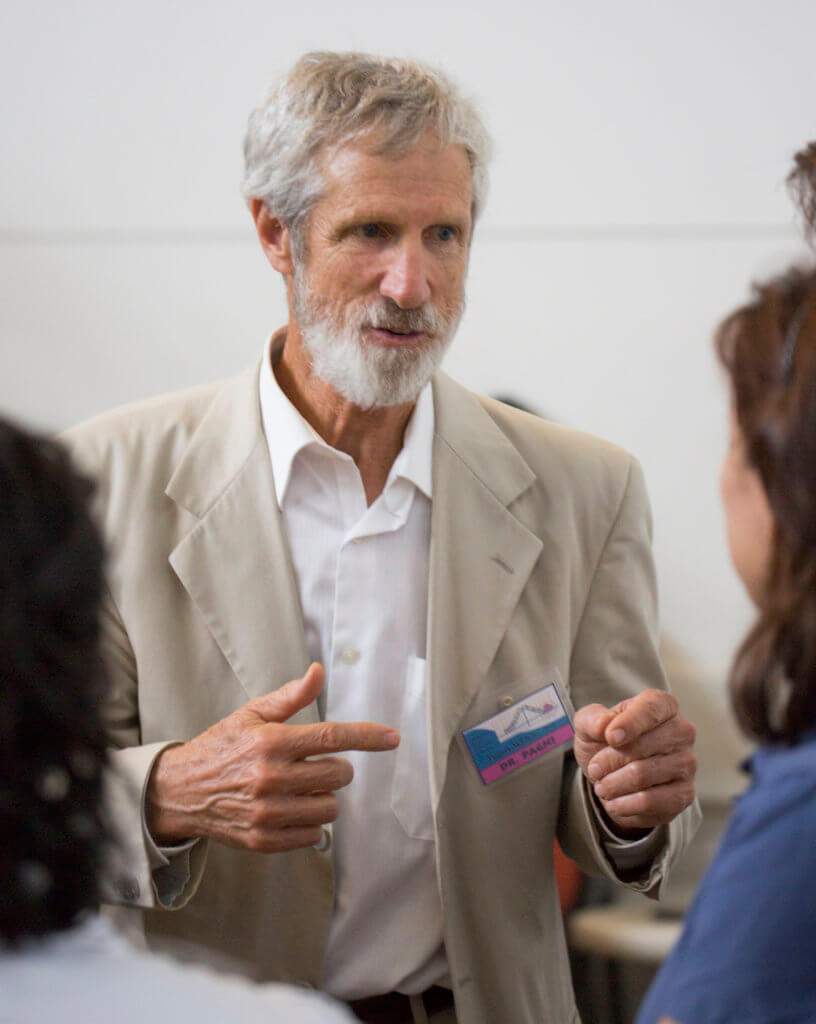 The virtual setting, however, made it difficult for students to participate in interactive team building like the outdoor math challenge that is important to the program, said David L. Pagni, Project MISS director and CSUF's 1993 Outstanding Professor.
The math enrichment program helps young women prepare for their next course in high school math, and for college studies and careers in STEM (science, technology, engineering and mathematics).
This summer, 40 students from 23 high schools in Orange, Riverside and Los Angeles counties are enrolled in the four-week commuter program. Classes are held from 8 a.m. to 3 p.m. Monday through Friday in Langsdorf Hall and continue until July 29. Fluor Corp. female engineers were guest speakers on July 14 and shared their math success stories and exposed students to various career choices.
Preparing for College, STEM Careers
Math is key to any STEM college major and Project MISS provides students a safe and nurturing environment to hone their math skills and knowledge, noted Pagni, professor of mathematics.
"Students gain confidence in doing math and collaborating on math problems and projects," Pagni said. "They get the opportunity to share their results with peers and support each other in their endeavor to succeed in math."
Instructors are alumni who have finished CSUF's credential program in mathematics and tutors are current students or recent math graduates — and all are female.
"I believe that young girls, like those in Project MISS, need support from other women who can relate to their stories and show them that they can pursue a STEM major — if that is their passion," said Molly Avila, an algebra II instructor. "The program exposes students to STEM fields and concepts in a way that helps them see that they can be successful."
Avila, a 2021 graduate who earned a bachelor's degree in mathematics with a concentration in teaching mathematics, recently completed the credential program to teach high school math. Project MISS is giving her the opportunity to gain classroom experience to land a teaching position.
Yessenia Villalobos, who graduated in May with a bachelor's degree in mathematics, is one of the tutors in algebra II. She plans to begin the credential program in August to become a high school math teacher.
As a tutor, she works alongside the instructors to help plan the activities and lessons for the two classes to accomplish.
"The reward, for me personally, is to help the girls advance and succeed in their mathematics classes when they return to school," said Villalobos, a first-generation college graduate.
"I hope to be an inspiration to young girls attempting to pursue a career in STEM, and specifically, in mathematics."