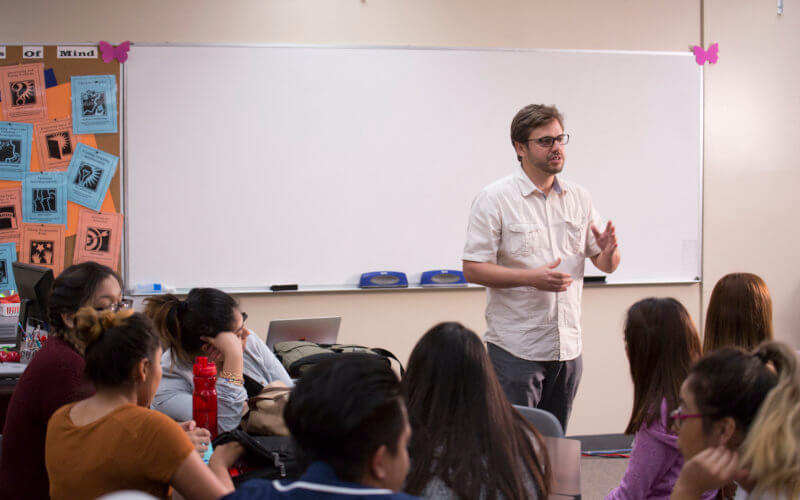 As a first-generation Mexican American, Ana Zermeño Campos grew up speaking Spanish at home with her immigrant parents and four siblings. From grade school to high school — and now in college — she learned all subject matter in English.
"When we started school, we were introduced to a culture that was very different from the one we were used to, as well as a language our parents always struggled to comprehend," Zermeño Campos shared.
But now Zermeño Campos, a first-generation bilingual student and child and adolescent studies major at Cal State Fullerton, created a mathematics lesson plan in Spanish through Project AMIELA.
Project AMIELA partners bilingual faculty mentors with bilingual students in their discipline to co-design a lesson plan delivered in a language other than English. This effort is a way to promote a plurilingual campus where Spanish and other world languages are heard, spoken and learned through different subjects.
With the support of a new $67,000 award from CSUF's Scott-Jewett Fund for Student Success and Innovation, the project is expanding across disciplines and majors, as well as languages spoken on campus, such as Vietnamese, Korean, Mandarin, Farsi, Hindi and Pashto. It is one of 11 campus programs receiving support this year from the $40 million Scott-Jewett gift to the university.
Julián Jefferies, associate professor of literacy and reading education, and Fernando Rodríguez-Valls, professor of secondary education, are coordinating Project AMIELA. The project's name means "Learning My Language in My Discipline in Spanish," or "Aprendiendo Mi Idioma en la Asignatura."
"We want to empower plurilingual students to use their linguistic repertoires fully. We designed this program to value and embrace the plurilingual skills many undergraduate students bring to CSUF," said Rodríguez-Valls, originally from Spain.
Zermeño Campos created a lesson plan as part of a math course for elementary teachers with mentor Armando Martínez-Cruz, professor of mathematics. She gained insight on developing mathematical terms and concepts in Spanish, added Zermeño Campos, who aspires to become an elementary teacher.
"We are building learning environments where students' identity is recognized, and learning includes students' culture, language and family contexts," said Martínez-Cruz, born and raised in Mexico City and whose work includes mathematics teacher education. "Powerful learning occurs when teaching methods include students' home language, which is part of their identity and a meaningful asset."
To date, faculty members from biological science, business, engineering and mathematics have worked with 56 students to develop lesson plans in Spanish — from learning about infectious diseases to discussing gas prices.
Since the project started in spring 2020, it has been funded through California State University's Mathematics and Science Teacher Initiative, which limited the scope to working with Spanish-speaking faculty members in STEM (science, technology, engineering and mathematics) disciplines, Jefferies said.
The goals of this project are to include the plurilingualism students bring to their disciplines, create a pipeline of future plurilingual educators, and increase the number of students who enter the job market empowered by their language skills in languages other than English.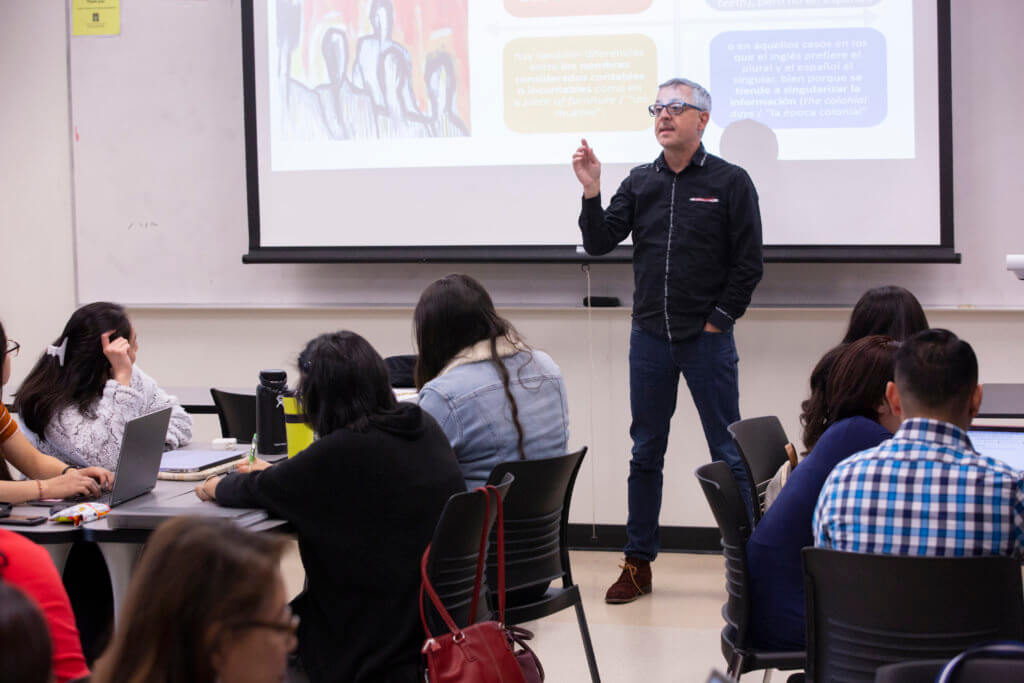 Plurilingualism reaffirms the idea of language fluidity — of a person's ability to use more than one language in communication and interaction, Rodríguez-Valls explained.
The project was inspired by Proposition 58, passed in 2016 to give California public schools more control over dual language programs and develop multiliteracy pathways for students in pre-K to higher education, Jefferies noted. At the same time, schools are seeking to hire plurilingual instructors who can teach disciplines in languages other than English.
"As students learn their disciplines in more depth, stretch their linguistic repertoires and practice the academic register of their home languages, they become motivated to become bilingual teachers," relayed Jefferies, who immigrated to the U.S. from Argentina and is a first-generation college student.
Zermeño Campos shared that she struggled navigating between two languages and cultures as a child — and wants to change that as a bilingual teacher.
"I hope to give my future Spanish-speaking students the ability and confidence to learn any subject in the language they feel comfortable with," said Zermeño Campos, who plans to enroll in CSUF's combined teaching credential and master's in education program after she earns her bachelor's degree in May.
"Project AMIELA gave me the opportunity to refine my understanding, skills and knowledge in two languages," she said. "It really puts into perspective how much impact it can have on younger students like the ones I hope to teach in the future."