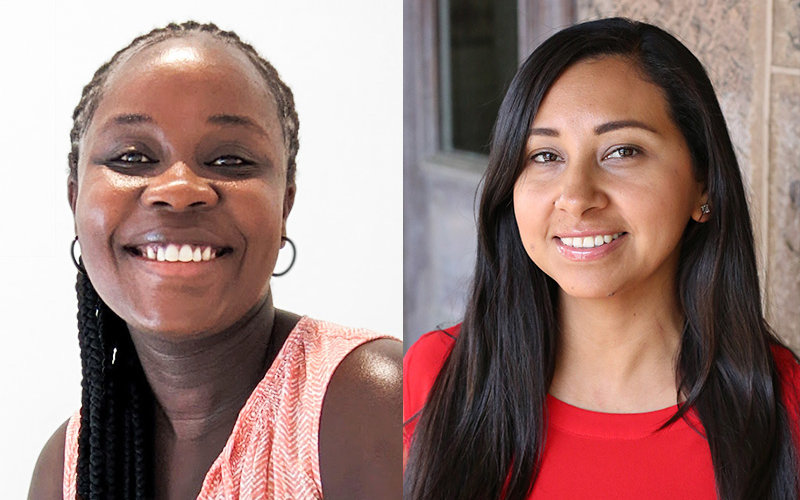 This past summer, Cal State Fullerton's Abigail Amoako Kayser was busy delving into the Ghanaian education system. Lucia Alcalá is preparing to embark on a six-month journey to Mexico to investigate how Yucatec Maya communities have navigated the lasting effects of the COVID-19 pandemic.
Chosen for their academic merit and leadership potential, Amoako Kayser and Alcalá were recently selected as Fulbright U.S. Scholars to Ghana and Mexico, respectively.
The Fulbright Program is the U.S. government's flagship international educational exchange program. For over 75 years, Fulbright has provided more than 400,000 participants with the opportunity to exchange ideas and contribute to finding solutions to shared international concerns. The program offers grants to students, scholars, teachers and professionals, both for U.S. citizens to go abroad and for non-U.S. citizens to study in the U.S.
Delving Into Ghanaian Education
Amoako Kayser, assistant professor of elementary and bilingual education, carried out her research over the course of three months at the University of Ghana-Legon — her host institution — and in elementary and middle schools in Accra.
"One aspect of my work looked at the educational experiences of Ghanaian girls, specifically the barriers they faced in pursuit of their educational aspirations and how they overcame them," explained Amoako Kayser, who is a Ghana native herself.
"I also investigated the Ghanaian history curriculum in the fourth through eighth grades," she said. "I remember in school growing up, Ghanaian history seldomly included slavery or the experiences of African Americans. I also wondered why the contributions of Ghanaian women didn't get the same recognition as the contributions of Ghanaian men.
"I examined what voices and perspectives were being elevated, left out or erased," Amoako Kayser continued. "I asked questions such as 'What was the connection between decolonization in Africa and the civil rights movement?' and 'Was the curriculum whitewashed, and if so, how?'"
Amoako Kayser hopes to synthesize her findings in a children's picture book that details a more complete story of Black and Ghanaian history. As part of her Fulbright award, she also served as a guest lecturer for preservice teachers at the University of Ghana-Legon.
Exploring Yucatec Maya Communities
No stranger to studying Yucatec Maya communities, Alcalá, associate professor of psychology, has investigated how children learn to help as they participate in family and community activities. Now, she will head to Quintana Roo, Mexico, to examine a new facet of these Indigenous communities.
"The goal of this project is to examine the impact of the COVID-19 pandemic on Yucatec Maya children's learning processes during and after the stay-at-home orders," shared Alcalá, who grew up in a small town in southern Mexico. "I will also evaluate the recovery actions taken by these communities as they rebuild normalcy and deal with the pandemic's long-term economic aftermath."
With her findings, Alcalá is aiming to develop a Maya theory of learning to understand children's learning opportunities.