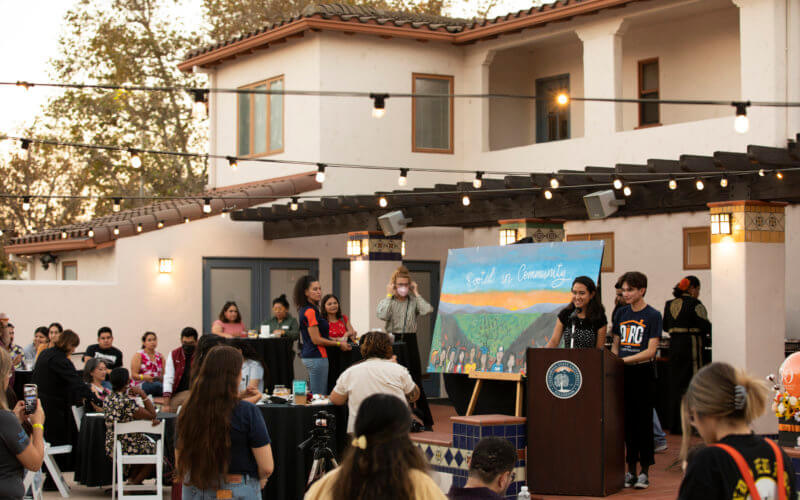 Beneath the glow of twinkling lights and surrounded by music from Grammy award-winning group, Mariachi Divas, Cal State Fullerton's Latinx Community Resource Center celebrated its 50th anniversary with toasts to the past, present and future.
"Cal State Fullerton is a Hispanic-Serving Institution in name, but I truly believe that we are making that title more meaningful by building community and championing Latinx representation in more ways than one," said Tonantzin Oseguera, vice president for student affairs.
As the oldest cultural and identity based center on campus, the LCRC was first established in 1972 as the Mexico and Southwest Collection Center. In 2008, it was renamed the Chicana and Chicano Resource Center before adopting its current title, the Latinx Community Resource Center in 2020.
In her toast to the past, alumna and former center volunteer, Lesley Aguirre '20 (B.A. theatre arts) shared how the name changes exemplify the community's dedication to growth and inclusion.
"Being involved in the center grounded me in my roots. It helped me embrace my culture and grow into it. I started speaking Spanish to my peers, learning about my history and embracing parts of myself that I had hidden in a box for too long," shared Aguirre.
Eddy Francisco Alvarez Jr., assistant professor and department vice chair for Chicana and Chicano studies, shared the historical struggles of the center and the community resilience that kept the doors open for future generations.
In 1983, the resource center almost closed, but with the help of the CSUF community and outside partners, a full-time coordinator was hired to help keep the center open.
"The history of this center shows the importance of this space to the community. Name changes reflect evolving perspectives on inclusion, demographics and the needs of students," said Alvarez. "We must remember the critical space that is represented then and what it will continue to represent in the future. We have a lot to celebrate."
Cindy Shea, founder of the Mariachi Divas and CSUF alumna, attended the event and shared: "I was always meant to be a Titan. Every music instructor I had was connected to CSUF in some way. I attended summer camps here, and when I applied to college, I filled out one application. I am passionate about teaching new generations because of everything I was taught while I was here."
"These centers are important because they give us a voice. They help us feel seen. They give us a home away from home and the support that we need to take the next steps," added Aguirre. "I would not be standing here today as a queer, first-generation Latina with her master's in education, without my roots and my growth from being involved at the center. And, I know I am not the only student who feels that way."