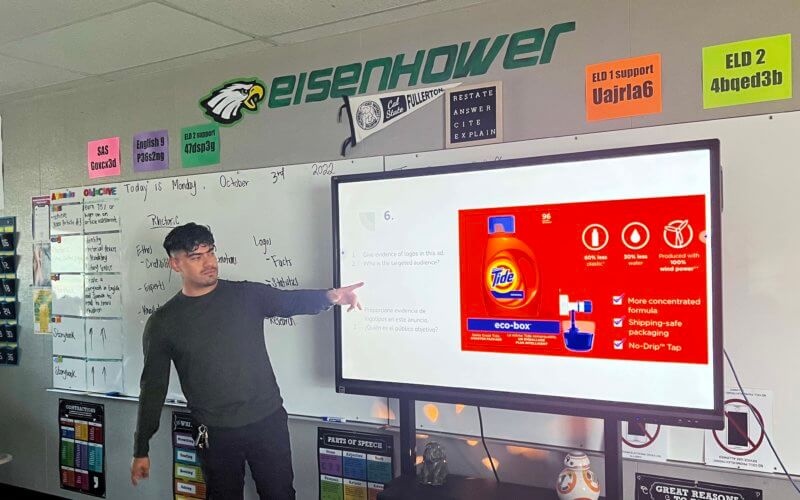 As a first-generation student at Cal State Fullerton, Mark Bibian lacked guidance and mentorship to help him navigate the obstacles that came with higher education.
In his sophomore year, Bibian '18 (B.A. English) set his sights on becoming an English teacher and discovered the Men of Color in Education program — a community that seemed to offer just the kind of support he had been looking for.
Housed in the SchoolsFirst Federal Credit Union Center for Careers in Teaching, the MCE program recruits and supports Latinx and Black undergraduate men toward earning a bachelor's degree, teaching credential and ultimately becoming a teacher for social change.
"There are many hurdles to overcome as a future teacher, but especially for men of color. Because there are so few men of color in teaching, it is hard for this population to even see themselves in the field," shared Aimee Nelson, director of the SchoolsFirst Federal Credit Union Center for Careers in Teaching.
"The MCE program is helping to address this shortage by encouraging Black and Latinx men to consider a career in education as a means of giving back to the community," said Nelson. "Ideally, once our students become teachers, we want to bring them back to CSUF to support the next generation of male teachers of color."
To prepare students for the profession, the program offers advising, mentoring, career counseling and a learning community, in addition to knowledge of various teaching workshops, jobs and opportunities within the College of Education.
"I attended workshops where other men of color in education would speak about their experiences and what it looked and felt like to be a man of color in teaching. This was first-hand information that I would not gain in any credential program," shared Bibian.
For Bibian, who is of Mexican descent, the MCE program felt like a second home.
"It allowed me to be part of a community of people who looked like me, shared many of the same experiences, and could help me navigate difficult times," he said. "It also gave me a network of young men I could, and still do, communicate with and reach out to for advice."
Bibian now teaches ninth-grade English at Eisenhower High School in Rialto and, as an alumnus of the MCE program wanting to give back, serves as a mentor to budding teachers of color at CSUF.
"It feels good to help others who may feel the same way I did when I was an undergraduate," said Bibian. "Many students have questions about the requirements for the credential program, but others just need to vent about the application process."
Bibian is also pursuing a master's degree in reading and literacy education at CSUF and expects to complete his graduate program this fall. While he plans to continue teaching English, he has his eye on other goals, including becoming a literacy coach or teaching for higher education.
Reflecting on his experiences in the MCE program, Bibian recalls one piece of advice that stuck with him: to find a community in the workplace. "A community is essential to making the workplace feel more familiar, especially when you're teaching alongside people who may look and think differently from you," he said.
The MCE program currently has 20 members, and to date, has graduated 25 members. Students of all class levels can join the program at any point in their educational journey.

To learn more about or join the MCE program at CSUF, visit the program's web page.