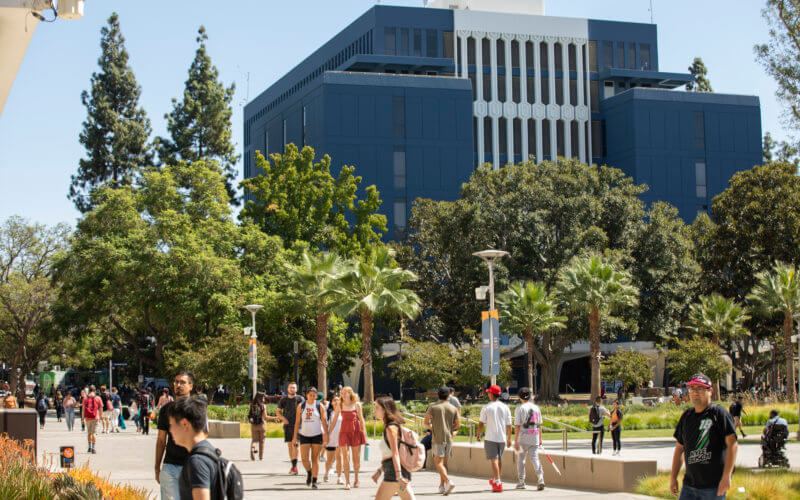 Cal State Fullerton secured $34.8 million in grants and contracts during the 2021-22 fiscal year, breaking the campus' previous record of $31.5 million in 2019-20.
Strategic incentives and training programs for faculty, expanded since 2019, were key to this year's success. Examples include the Faculty Grant Writing Mentorship Program, Advanced Grant Writing Academy, and Office of Research and Sponsored Projects Innovative Research Grant.
"As a result, we saw both an increase in the quality and quantity of proposals submitted," said Binod Tiwari, associate vice president for research and sponsored projects.
Looking ahead, Tiwari said his team will focus on three areas of growth: proper staffing and professional development, increased incentives and trainings for faculty and staff, and improvements in such infrastructure as data management and reporting.
"We have initiated efforts in all three of these areas. Although we have made significant progress, we still need to accelerate our effort to enhance cross-disciplinary collaborative research and creative activities," he said.
"Moreover, our research institutes and centers can play significant roles in bringing in large grants to CSUF. Efforts will be made to identify and engage those centers for research grant proposal development and submission."
Among the largest grants and contracts received during the 2021-22 fiscal year were:
$2,990,794 from Small Business Administration for Small Business Development Centers (Michael Daniel, director of the Small Business Development Center)
$1,438,395 from UC Berkeley for Title IV-E Social Work Training Program 2020-22 (Mikyong Kim-Goh, chair and professor of social work)
$1,370,000 from Sonoma County Junior College District on behalf of Santa Rosa Junior College for 2022 Career and Technical Education Survey (Laura Gil-Trejo, director of the Social Science Research Center)
$1,337,600 from U.S. Department of Education for CSUF GEAR UP East (Tonantzin Oseguera, vice president for student affairs)
$1,215,370 from National Science Foundation for project titled "Designing and Testing Remote Services to Support Formerly Homeless Persons in Permanent Housing" (Anand Panangadan, associate professor of computer science)
$1,119,979 from U.S. Department of Education for GEAR UP 2018-25 (Joshua Bilbrew, director of GEAR UP)
$1,000,000 from U.S. Department of Education for Project Regional Alliance in STEM Education Refined (Megan Drangstveit, director of Project RAISE)
$968,302 from U.S. Food and Drug Administration for project titled "Co-Creation of Digital Tools to Enhance Young Adult Minority Participation in COVID-19 Trials" (Joshua Yang, professor of public health)
$955,542 from Tustin Unified School District for Titan After School Education and Safety – Tustin 2021-22 (Dawn Macy, director Center for Internships and Community Engagement)
$742,500 from Mellon Foundation through Salem State University for Digital Futures Consortium (Jamila Moore Pewu, assistant professor of history)