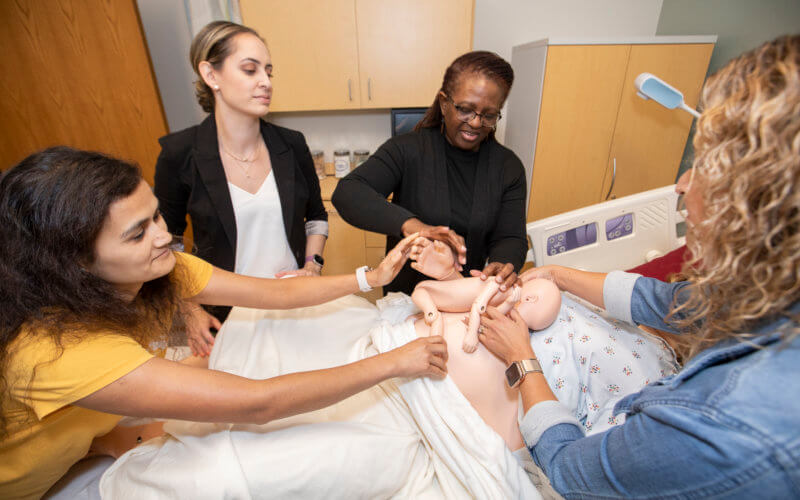 To empower aspiring midwives from diverse backgrounds, Angela Sojobi, an assistant nursing professor at Cal State Fullerton, established the Midwifery Mentoring and Belonging Program.
The program aims to support Black, Indigenous, People of Color (BIPOC) students in the midwifery program by pairing them with BIPOC certified nurse midwives from throughout California who can guide them through their educational career and help them transition into the midwifery workforce.
"When you're in graduate school and you feel alone and you question whether you belong because there aren't as many BIPOC students, having somebody to say, 'I've been through that. I know how you feel,' really helps," explained Sojobi.
The Midwifery Mentoring and Belonging Program began at UC San Francisco in 2019. Encouraged by the program's success, Sojobi worked to establish the same organization at CSUF.
This fall is the program's first semester on campus, with four mentor-mentee pairings. Sojobi sees potential for that number to increase as the program gains exposure.
Along with being new to CSUF, this is the first midwifery mentoring and belonging program to be established in the California State University system, giving Sojobi and her students the perfect opportunity to lay the foundation for future success.
In the short term, Sojobi said she wants to see more mentorship pairs at CSUF, but in the long term, she wants to see this program change the landscape of the midwifery industry by training more BIPOC midwives and extending mentorship to other CSUs.
Historically, women from marginalized populations experience higher rates of infant mortality and disparities in health care, explained Sojobi.
"Some patients want health care providers who look like them. They want to feel like the people taking care of them understand them. Increasing the number of non-white midwives will increase birth equity and birth outcomes while also encouraging more women to seek care earlier," said Sojobi.
"I am disheartened by the lack of South Asian and Muslim representation in the midwifery sphere," said graduate student Umara Chaudhry. "I want to gain a sense of belonging in the world of midwifery and learn from someone with similar values who I have a sense of shared life experience with."
"I'm from Nepal, and I didn't have anyone that I could reach out to if I had questions or concerns. When I heard about this program, I felt like this was the support I needed," shared graduate student Pratima Subedee. "Professionally, I also want to see more representation of minority groups in the midwifery workforce, and this program paves the way for that in the future."
In addition to finding individual success, the mentees said that this experience is a good opportunity to work with their communities, learn how to provide equitable health care and create meaningful connections to the industry.
"As a second-generation Latina, I want to learn more about the racial and ethnic disparities in pregnancy related morbidity and mortality among Hispanic and Latina women. I want to be an advocate for this population and strive for birth equity," shared graduate student Yajaira Paredes.
Graduate student Evelyn Arias added, "As a Latina, it's important to uplift our Hispanic community and encourage BIPOC members to join together, to motivate one another and to learn from each other's experiences."
Sojobi leads the project with co-investigator and assistant nursing professor, Kristina Fortes, and program coordinator, Elena Ramirez.
The program is funded by a 2-year grant from the California Health Care Foundation which will support them through September 2023 with $70,000 a year.