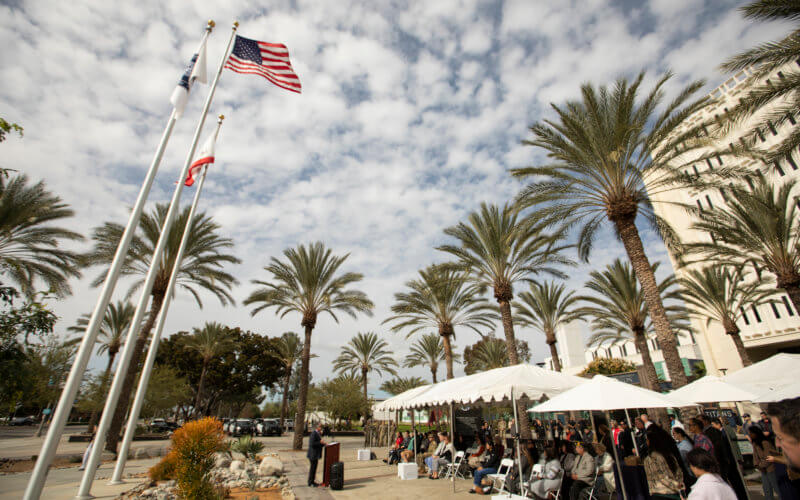 With a cloudy sky overhead, ROTC cadets raised the American flag in front of Cal State Fullerton for Veteran and Military Appreciation Month, a strong reminder to the veteran community that "We are proud to serve those who have served us."
"We can never repay what you have done for us, what you have done for our country with the service that you have provided, but it is an honor to come together to recognize, celebrate and support you," said President Fram Virjee.
Throughout November, the Veterans Resource Center will host events and programs to celebrate the veteran and military-connected community and encourage students, faculty and staff to learn about the different support systems and resources available for veterans and military-connected people on campus.
"At Cal State Fullerton, we don't just honor veterans on Veterans Day. We thank our military-connected veterans and families every day of the year. We take the entire month to show our military and veterans, through events and programming, the gratitude that we have for their sacrifice," said Virjee. "This flag raising is a symbol of what we feel in our hearts all year round."
Cameron Cook, director of the Veterans Resource Center, encouraged people to learn more about how veterans help shape the campus community with their unique experiences, courage and dedication to inspiring change.
"They are in our classrooms. Some of them are sitting quietly in the back, minding their business and learning how to evolve on their own. Others are taking initiative of their college experience in a different way and engaging with the university community, trying to leave this institution better than they found it, just like they tried to do with the world when they raised their right hand in oath," said Cook.
Cook said that beyond being a resource center, the VRC is a community where students can find support and learn how to navigate this new chapter in their lives.
James-Anthony Burandt, president of the Student Veterans Association, shared how the VRC helped him adjust his personal goals after his service in the Marine Corps.
When he spoke at last year's flag raising, he wanted to change the world. Today, he approached the podium with a new outlook: "I realized that I cannot change the world without working on myself first," said Burandt.
He said that throughout his service, he learned to survive with the bare minimum, but after transitioning back to civilian life, he realized that he wanted more for himself and his fellow veterans.
"We are thriving. Veterans have so much to offer. Their experiences are invaluable," said Burandt. "Our military-connected population who have been influenced by a parent, sibling or loved one serving in the military are some of the hardest and most resilient people I know."
"They take those intangible lessons that they learned during their military time and apply them to their civilian lives: leadership, discipline, integrity, sacrifice and most importantly, service. These contributions are most evident right here on college campuses and at Cal State Fullerton where many of our veterans are still facilitating their transition home," said Cook.
Lt. Col. Scott Sparrow, commander of the CSUF ROTC program, reminded attendees that although thanking veterans for their service is much appreciated, another way people can show their appreciation this month is by giving back to their communities and voting in the upcoming general election on Nov. 8.
Visit the Veterans Resource Center website to learn more.