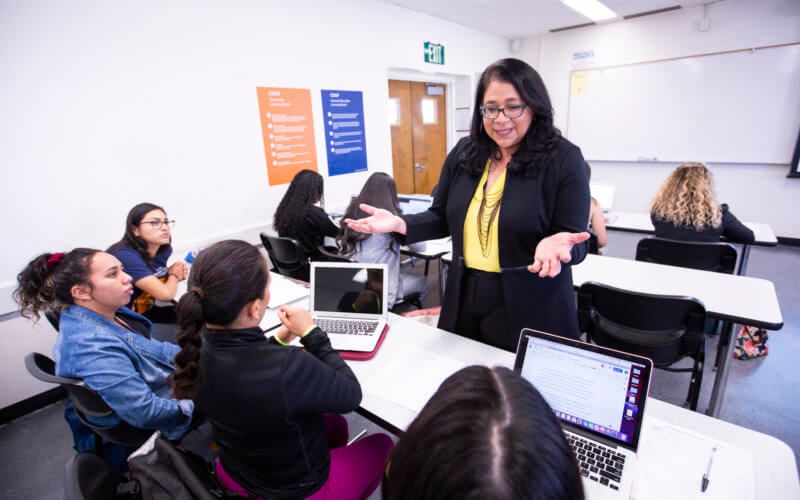 With the possibility of a triple pandemic this winter, Cal State Fullerton public health expert Mojgan Sami said that individual health care will be critical to helping people recover, vaccinate and protect themselves, but that focus on individuals needs to include a new conversation about how to prevent another pandemic in the future.
"The future of health is collective. It's about recognizing the interdependence of one another on each other's health and well-being," said Sami, assistant professor of public health. "The future of health requires us to understand that doctors will not save humanity from ourselves. Health begins much more upstream than we think it does."
Faced with cases of respiratory syncytial virus (RSV), influenza and COVID-19 in the United States, Sami said that people need to start thinking critically about the future of public health as they protect themselves from this wave of illness.
Redefining Health
When people think of health, their first instinct is to focus on individual behaviors. They might think about dieting, exercise routines and yearly checkups with the doctor, but Sami specified that the narrative on health needs to shift from a narrow focus on individualism to collective care and planetary health if the goal is to create a healthier future.
"The former, late director general of the World Health Organization, Lee Jong-wook, once asked, 'Why do doctors treat people for disease and then send them back to the conditions that made them sick in the first place?'" shared Sami. "It is those conditions that we must address to improve our health and wellbeing. That is the essence of public health."
By shifting people's understanding of health to focus more broadly on the conditions of life, Sami said that scientists and scholars can begin to seriously analyze the root causes of disease and illness and find preventative solutions before people get sick.
"We have to recognize that climate change is one of the greatest threats to human health in the 21st century, as noted by the World Health Organization. If we don't collectively act on the science to prevent ecological destruction, we are harming ourselves. We need to have this conversation now because the future of our planet and our health rests on reframing the values that guide our lives, our well-being and our communities."
Climate change impacts health in direct and indirect ways. Increases in greenhouse gasses impact air quality and an increase in air pollution is linked to a variety of health conditions, including asthma and other respiratory illnesses, heart disease, dementia and obesity.
In the United States, health care tends to "treat" disease rather than focus on preventing it, explained Sami. By reallocating focus to preventive measures for the drivers of disease, Sami said that people could create conditions for a healthier future for everyone.
Although this method of thinking is not new in the public health field, it is new to the general public. She explained that "health is all around us," and to create a healthier future, health care needs to start upstream with policies and systems like infrastructure, transportation, sustainability projects, housing and agriculture.
"We put all our resources into downstream health care — doctors and medicines — and that's important. We saw with coronavirus how important that is, but that's not addressing the root causes of our vulnerabilities which lie in the structures that we've created on this planet to manage our lives."
In the long term, Sami said that this approach includes healing humanity's relationship to the planet and taking action to prevent ecological degradation because "if we don't recognize that all of us are tied up together, we risk the destruction of our planet. The planet doesn't need us. We need the planet."
CSUF Prioritizes Community Health
While that goal may seem decades away from being reached, Sami clarified that CSUF has already started to prioritize upstream health by funding infrastructure projects that place campus members' health and wellness at the forefront.
Some of these projects include increasing access to green spaces and shade structures, adding solar panels to the Eastside parking structures, planting low-water landscapes and installing electric vehicle charging stations.
"We've been treating campus as a living laboratory for understanding the intersection between physical infrastructure and our health and well-being," said Sami. "We've done an amazing job around campus integrating sustainability design to adapt our infrastructure to be cognizant of the fact that we are entering a new phase of climate change impacts."
She said that the CSUF has not only created physical spaces for change, but the Office of Research and Sponsored Projects has also played an instrumental role in creating intellectual spaces for cross-disciplinary collaboration.
"It is in those spaces that we can reframe how we think about the big problems of our world, whether it's a pandemic or an economic recession or the need to adapt infrastructure to mitigate greenhouse gas emissions," added Sami. "Our future depends on scientists and communities working together to create healthier, more equitable and just societies."