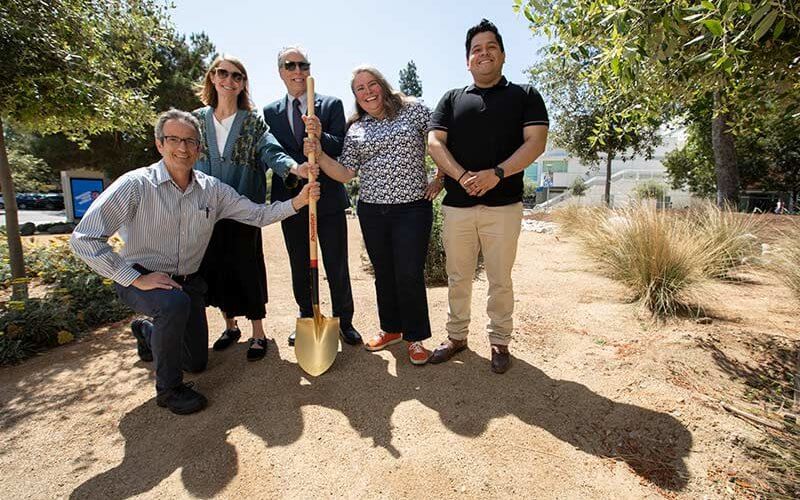 Cal State Fullerton recently broke ground on a new campus garden that will serve as a tool for hands-on student learning. The ceremony was part of Cal State Fullerton's 12th annual Earth Month program in April.
Located between the Humanities and Social Sciences Building and Gordon Hall, the garden will be cared for by student organizations, academic departments, service-learning classes and other campus groups. Each group will be responsible for planting, weeding, watering and harvesting crops of their choice on a semester-to-semester basis.
The Center for Sustainability will oversee the maintenance of the garden. Meanwhile, the Fullerton Arboretum and Urban Agriculture Community-based Research Experience (U-ACRE) — a program that teaches about food insecurity, nutrition, environmental justice and sustainability through hands-on research — will provide technical support, seeds and compost to ensure successful growing seasons.
"I think it's wonderful that Cal State Fullerton has become a part of the growing number of universities to establish campus gardens and help students learn how to make sustainable food systems," said Michael Lotito, chief engineer and associate director of plant operations.
John Bock, professor of anthropology and director of CSUF's Center for Sustainability, has been a longtime advocate of creating the campus garden. Bock led the effort to establish the garden, chaired the organizing committee and obtained funding for the community project.
"We are celebrating the resiliency of our community and new beginnings," Bock said. "The CSUF campus garden is a place of inclusion, learning and service."
The garden, originally set to debut in April 2020, was put on hold a few times due to the COVID-19 pandemic. At the ceremony, Sheryl Fontaine, dean of the College of Humanities and Social Sciences, thanked students for supporting plans to build a garden through years of uncertainty.
"Thank you for carrying the idea of a campus garden through the years it took to find space and to find a way here," Fontaine said. "And then, when a pandemic sent us home just before the ribbon was to be cut, thank you for not giving up. Thank you for reminding us about our responsibility as temporary caretakers of the Earth and for the feeling of hope that a garden invokes."
Stephanie Ramirez, an anthropology graduate student and U-ACRE fellow, said the garden will improve campus sustainability and provide learning opportunities.
"This is a more accessible way for students on campus to participate and learn where their food comes from," Ramirez said. "I think this is a huge milestone for the campus and hopefully other schools see this and implement a garden at their universities as well."