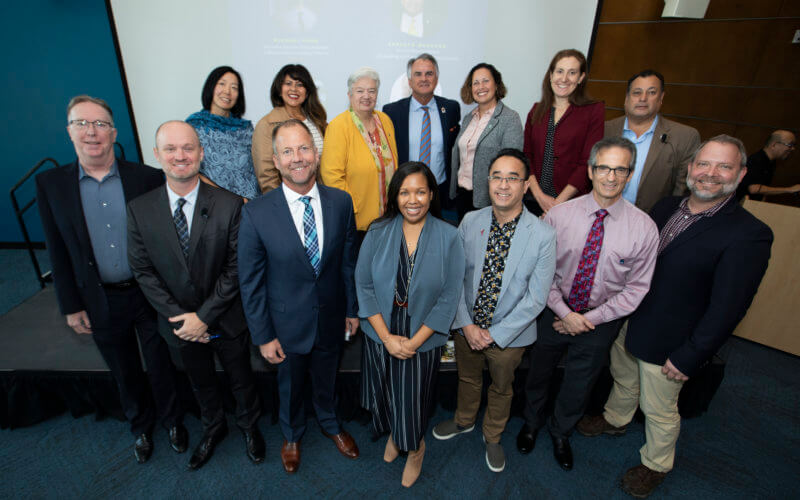 More than 100 people packed the room at Cal State Fullerton's first Energy and Sustainability Summit, held Oct. 26.
The summit, sponsored by Edison International, featured three panels of industry experts discussing statewide climate goals, how different sectors are pursuing new ways to enhance sustainability and how community partners are preparing the workforce to achieve a clean energy transition in Orange County.
Cal State Fullerton President Fram Virjee welcomed the crowd and described some of the activities that are taking place.
"We are honored and excited to be launching what we expect to be an annual summit," said Virjee. "As many of you know, this work of sustainability is not new to Cal State Fullerton. Titans have long been in the business of sustainability."
Virjee noted that this year, CSUF earned STARS Gold Rating in recognition of its sustainability achievements from the Association for the Advancement of Sustainability in Higher Education (AASHE). Some of the reasons include:
609 classes identified as sustainability course offerings
112 students who participated in the first Sustainability Literacy Assessment
259 faculty/staff engaged in sustainability research
A 27% reduction in Scope 1 and Scope 2 greenhouse gas emissions (these are direct emissions as well as indirect emissions from the generation of purchased energy)
653,961 square feet designed and built completed under CALGreen
28% of total annual food and beverage expenditures on plant-based foods
80% of cleaning/janitorial products that meet sustainability standards
Many divisions are paperless and 86% of all office paper on campus contains post-consumer recycled content
175 vehicles in the campus fleet supported by alternative fuel
16% of students and 19% of employees use alternative transportation
1,444 tons of materials were composted, recycled or donated
40 additional water refill stations were installed across campus
The university's water usage reduced 34% from the baseline year
"I am so proud of our efforts," Virjee said. "The purpose of California's 2030 climate goal, and its further goal to become carbon neutral by 2045, is to put us on an accelerated path to saving lives, preserving our environment and improving the quality of life for all Californians.
"Just this year, there have been over 6,800 wildfires in California burning over 366,000 acres of land and destroying over 800 structures.
"Some of these megafires are lasting more than a month. Coastal communities are experiencing flooding and erosion and 94% of California is in a state of severe drought.
"By continuing on this path, we will witness more and more families lose their homes to fires and floods. The price of food will continue to rise and/or become unavailable as vegetation continues to be stressed and water supplies run exceptionally low. Increasingly, more toxic substances will be found in the air we breathe and the water we drink.
"These are just some of the many reasons why we must set and pursue aggressive goals and timelines."
How Are Local, State and Federal Partners Helping to Meet Climate Goals?
The first panel, moderated by Caroline Choi, senior vice president of corporate affairs for Edison International and Southern California Edison, described how efficiency is key to changing human behaviors.
In 2006, California set an ambitious goal for itself to reduce greenhouse gas emissions back to 1990 levels by 2020, which many thought would be impossible. But with the right resources, the state was not only able to meet this goal but was able to surpass it — four years earlier than expected.
California is now looking to reduce emissions by 40% below 1990 levels by 2030 as well as becoming carbon neutral by 2045. Again, many are questioning whether these targets are attainable and if the state has made enough progress in finding more sustainable sources of energy.
"This can be accomplished through private/public partnerships, development of more renewable energy, and more emphasis on water conservation," said Fred Jung, mayor of the city of Fullerton.
Transportation also plays a key role.
"We need reliable transportation," said Susan Sonne, a Buena Park city council member. "This is the only way to get people to give up their cars."
"The way to solve climate problems is hyperlocal," said Michele Martinez, commissioner from the California Transportation Commission. "In Orange County, we need to focus on how to transform our community to help solve problems."
Electric vehicles were discussed as an alternative to focus fuels. But Alison Linder, senior regional planner from the Southern California Association of Governments, warned that electric vehicles alone will not solve all problems.
"We also need to look at how these cars are made, where were they made, what materials are necessary to make them and how we will dispose of batteries," she said.
How Are Different Sectors Pursuing Sustainability?
The second panel, moderated by Aja Renee Clark, senior manager of technology engagement for Southern California Edison, focused on enacting policies and asking how students can help.
"It's never too early to start asking questions," said Andrea Marr, vice president of Willdan Industrial and Costa Mesa mayor pro-tem. "Who do you buy from? Where do the products we use come from? For students, there are internship opportunities available to help develop plans and projects for clean energy."
"At Cal State Fullerton, we've conducted energy audits, implemented projects that have resulted in more than $3 million in energy savings and more," said Michael Lotito, chief engineer and director of plant operations at the university. In addition, CSUF has developed a climate action plan road map, launched the first campus community garden, and food waste reduction and green office programs.
Kurt Brotcke, director of strategic planning at the Orange County Transportation Authority, has spent seven years working with local cities to develop bike lanes that can connect with existing transportation hubs. OCTA has more than 220 projects under development, many focusing on linkages to other areas such as minimizing water pollution.
The popular 7 Leaves Café has adopted multiple operational changes that help save energy such as induction cooking, providing hubs to charge electric vehicles outside of the cafes and using solar panels.
"About 75% of our 40 locations in California have switched to induction cooking," said Newton Hoang, marketing and IT director for 7 Leaves Café. "We're seeing about a 17% reduction in energy bills."
How Are Community Partners Preparing the Workforce?
The third panel, moderated by Mike Karg, executive director of development at CSUF, focused on how universities (and Cal State Fullerton, in particular) can help. Karg pointed out that CSUF has taken steps to enhance STEM programs, focusing on training the workforce of the future. For example, the College of Engineering and Computer Science has grown by 147% over the past few years and 70 people (students, faculty) are involved in the Orange County Sustainability Decathlon, as well as several other projects focusing on energy and sustainability.
"There isn't just one solution," said Michael Boomsma, senior vice president of education and facilities at Cordoba Corp. "We need people who are willing to stretch and can adapt. It's not just a matter of tech skills but those who can adjust to a constantly changing environment."
"Our goal is to make Cal State Fullerton's engineering program a major powerhouse," said Garrett Stuckhoff, associate professor of civil and environmental engineering. "In addition to the Orange County Sustainability Decathlon, we are seeing more projects focused on energy and we want to be part of the solution to these issues. Our undergrads have a wonderful opportunity to be conducting research. We want to focus on the bigger picture — what will we need 10 years from now and beyond."
Ernesto Medrano, council representative of Los Angeles and Orange Counties Building and Construction Trade Council, emphasized the importance of apprenticeships and relayed that there are many jobs in the energy sector.
"We are excited about working in the energy industry," he said. "And don't forget about the trades — those who can perform piping, electricians, solar panel installers … they are going to be critical partners."
"As we transition to clean energy, higher education institutions, like ours, will need to pivot as well in terms of what and how we are educating our students," Virjee said. "We need to be responsive to the needs of the new and emerging workforce. At CSUF, we are already doing this."