Biochemistry major Ryan West is working on a medicinal chemistry project to develop therapeutics that can be used in the treatment of Alzheimer's disease, a progressive neurologic disorder.
Specifically, West has developed environmentally friendly chemical reactions for synthesis of small molecules that can influence multiple biological pathways at once for the treatment of the disease.
"This experience is giving me invaluable training and is helping me discover what is important to me, and where I want to end up," said West, a Cal State Fullerton senior graduating in May. "The prospect of creating drugs that are more accessible to populations disproportionately affected by disease is very important to me."
West, who plans to graduate next year and pursue a career as an academic researcher in drug design and development, works under the mentorship of Stevan Pecic, assistant professor of chemistry and biochemistry. She is a scholar in the university's Maximizing Access to Research Careers (MARC) training program for students seeking careers in biomedical research.
West recently presented her Alzheimer's research at national scientific meetings, including the American Chemical Society spring 2022 conference, Society for the Advancement of Chicanos/Hispanics and Native Americans in Science (SACNAS) – National Diversity in STEM Conference, and the Annual Biomedical Research Conference for Minority Students (ABRCMS).
For her work, West won outstanding undergraduate research awards at SACNAS, held in Puerto Rico in October, and at ABRCMS, held earlier this month in Anaheim.
"For me, this is the culmination of all of the work I have been doing for the last year and a half. I have been in the lab, reading literature, asking questions, presenting and writing nonstop. This recognition is a great way to celebrate that work."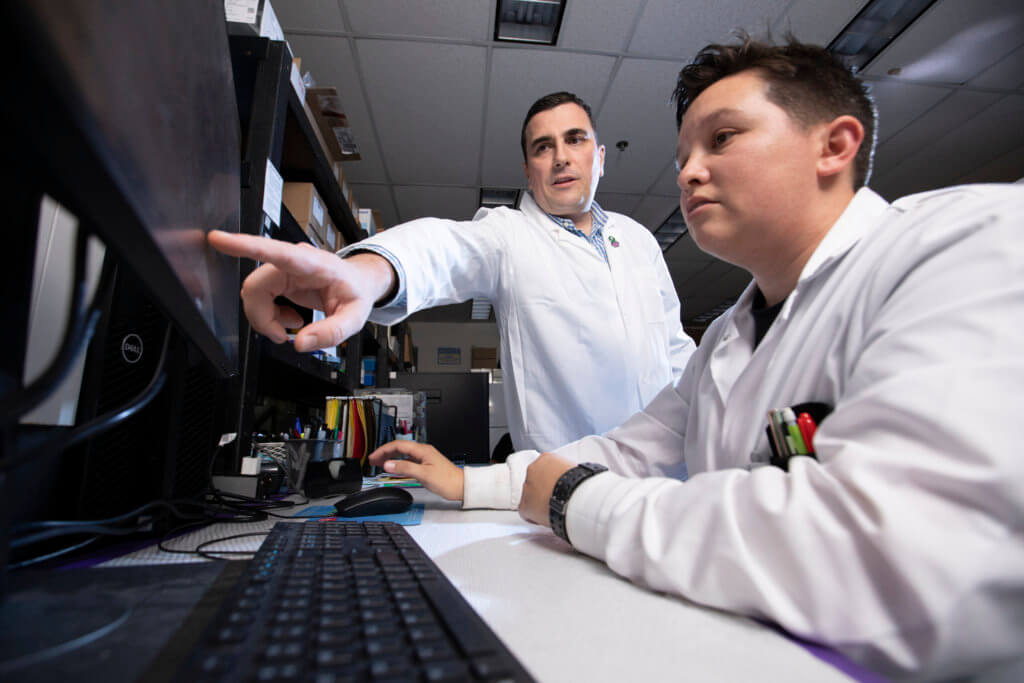 Searching for a Cure
Alzheimer's disease, which kills more people than breast cancer and prostate cancer combined, is increasingly becoming a health crisis, Pecic said. Moreover, Alzheimer's and dementia deaths increased by 16% during the COVID-19 pandemic.
Managing Alzheimer's disease represents a unique challenge to health professionals. To date, there are only four drugs approved by the U.S. Food and Drug Administration, with donepezil being the most commonly used, Pecic explained.
However, these drugs are associated with several adverse effects and are used for the treatment of only mild to moderate symptoms in the early stages of Alzheimer's — without altering the disease's progression.
"In my lab, we are using a modern medicinal chemistry approach called multi-target directed ligands, or a polypharmacological approach. We are investigating small molecules specifically designed to simultaneously interact with several biological targets involved in the development of Alzheimer's disease," Pecic said.
So far, the researchers have discovered several compounds that have the potential to be further evaluated as potential drug candidates in preclinical settings. This year, Pecic and his students, including West, authored two papers highlighting their research, including one publication with international collaborators who are experts in the field.
Pecic was first introduced to Alzheimer's disease research during his doctoral studies at City University of New York, and worked again on it as a postdoctoral scholar at Columbia University Medical Center. He and his students started on the Alzheimer's disease project in fall 2019, but work was interrupted because of the COVID-19 pandemic.
In addition to West, Pecic currently has one graduate student and three undergraduate students working on different aspects of the project. Additionally, eight students in his "Medicinal Chemistry Laboratory" class also are involved as a part of the newly developed "Course-Based Undergraduate Research Experiences" (CURE) program in the Department of Chemistry and Biochemistry.
The goals for students in Pecic's lab are to master medicinal chemistry skills, such as drug design, synthesis and purification, biological evaluation of drugs in enzyme inhibition assays, and to learn how to use basic molecular modeling tools.
'Nontraditional' Student Empowered to Become a Scientist
West, 34, identifies as LGBTQ+ and is a first-generation Mexican American. She is a self-described nontraditional student who didn't start college until age 28 and is the first in her family to pursue higher education.
After high school, West entered the workforce to support herself and her daughter. After working multiple jobs over nine years, she turned to college "to reach my potential to give my daughter the life she deserved."
West started at Santiago Canyon College as a nursing major and worked with patients with Alzheimer's disease. West's nursing faculty mentors noticed her aptitude for research and encouraged her to explore STEM research.
She changed her major to biochemistry, and in 2019, participated in CSUF's Project RAISE summer research program for community college students. The undergraduate research experience reinforced her passion for the drug design and development fields.
West, who transferred to CSUF in spring 2021, relayed that the mentorship of Pecic and MARC program faculty gave her "power over her future."
"I feel fortunate to be at Cal State Fullerton and to be surrounded by people who genuinely care about my future. Dr. Pecic has helped me network, challenged me, and pushed me to new and uncomfortable opportunities.
"My hope is that as I move forward with my research career so that I can advocate for other LGBTQ+ scientists of color navigating their own scientific journeys."