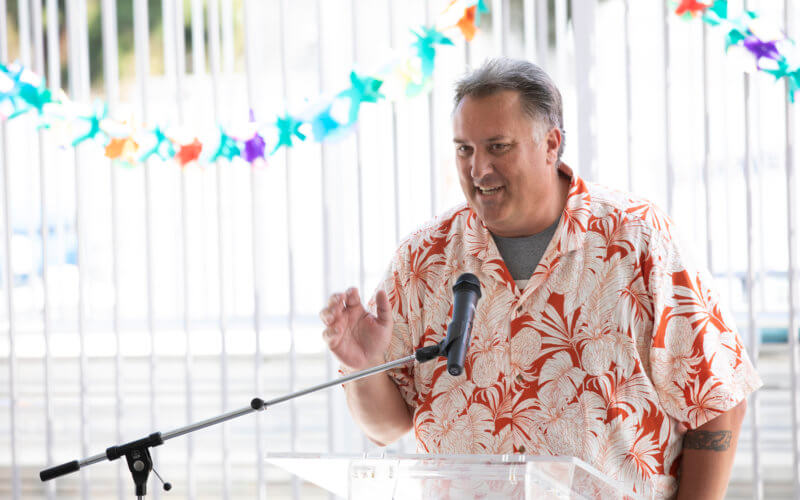 Cal State Fullerton women's water polo will make a splash in the spring as the first-ever team to compete on campus, and the men's team will follow suit in the fall with its first season on campus in 37 years.
At the helm of this new athletic program is head coach Kyle Witt, who has been hard at work since joining the Titan Athletics team in July. He has been tasked with building the teams and program from the ground up.
Despite the challenges of starting from scratch, Witt said that the past few months are evidence that this program has the drive and support it needs to be an elite competitor in the Big West conference.
"The program is new to Cal State Fullerton, but we have the human resources and financial support to help. People care so much and want this program to succeed," said Witt.
In preparation for next year's opening seasons, CSUF Alumni hosted a "Conversation with Coach Kyle Witt and President Fram Virjee," where attendees had the opportunity to meet the coach, learn more about the sport and how they can be a part of the Titan fansbase next semester.
"We have a great academic university. We have a great Division I track record, and there's absolutely no reason why, in a couple of years, we can't be at the top competition-wise," said Virjee. "Titan water polo belongs here. It should never have left, and I'm so glad it's back."
Joining the Big West Conference
CSUF water polo will compete in the Big West conference, and both teams will play about 30 games during their seasons, while also participating in tournaments and double-headers.
They'll compete against Big West opponents like UCI and Cal State Long Beach as well as high-profile competitors in the Pac-12 conference like USC and UCLA.
"The Big West is the second best conference in the country right behind the Pac-12, so we're going to have some elite level athletes here. Once we're competitive in the Big West, we'll be competitive on the national stage," said Witt. "We want a fighting team and if we're putting that product out there, the wins will start coming too."
Witt said it's unclear how long it will take for the program to build a strong reputation in the conference, but based on the progress he's seen so far, he's confident that both teams are moving in the right direction.
With about 30 players on the women's team and 24 players on the men's roster, Witt said he's also looking for future players who are hardworking, driven and ready to give their all to each play.
Hosting campus visits and fielding inquiries from interested players, he said CSUF is in the perfect position to train professional water polo players, especially with its new Aquatics Center.
"Orange County is the home of water polo. It's like building a hockey rink in Canada. You're off on the right foot right away," said Witt. "I've already had people email me about wanting to play."
The women's home opener on Feb. 4 against Chapman University is a great opportunity for fans to experience the sport live and cheer on the Titans.
"Go ahead and yell and have a good time. You're out there to enjoy the sport and support Cal State Fullerton and cheer for us."
To learn more about Titan water polo and their 2023 seasons, visit the Titan Athletics website.
Get to Know Coach Witt
Although Witt has been on the sidelines coaching for over a decade, his connection to water polo goes back generations in his family. His father played for UCI, and his uncle competed for CSUF's men's water polo team in the 1960s.
Witt's older brother also competed, and after jumping in the pool to play with him, the head coach was hooked. He went on to play professionally in high school and college before starting his coaching career.
He served as the head coach of water polo at Loyola Marymount University for 13 years, leading the team to a Western Water Polo Association championship in 2010 and two consecutive Golden Coast Conference championships in 2014 and 2015.
When asked what attracted him to Cal State Fullerton and to building the water polo program, he said, "I think people are crazy to not want to be at a place like this and have an opportunity in their coaching career for something like this. This is so much fun."