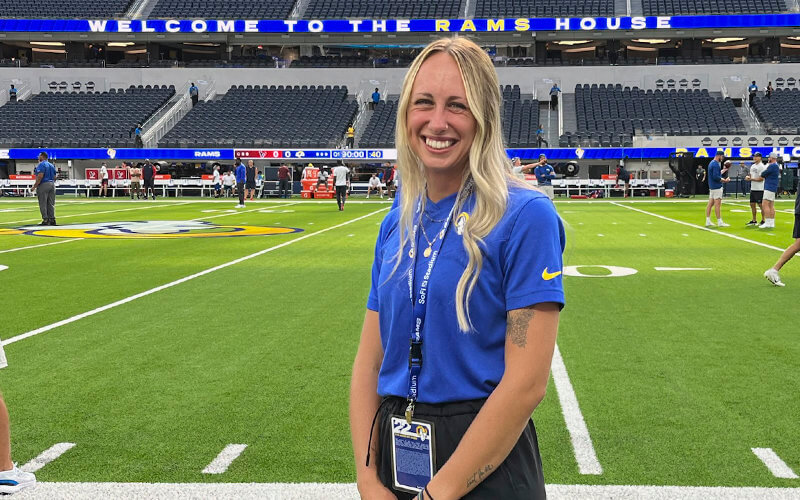 The daughter of a high school track and football coach, Lane Fishburn grew up on the sidelines.
After earning her bachelor's degree in kinesiology from Cal State Fullerton in 2020, Fishburn traded one sideline for the next.
She moved from hometown football fields to SoFi Stadium where she took the field with the Los Angeles Rams as an athletic training intern.
One of six students in the internship program last year, Fishburn assisted with player rehabilitation and physical therapy, set up equipment and participated in learning labs with the Rams athletic training team — all while she completed her master's degree in athletic training at CSUF.
From CSUF to SoFi Stadium
Fishburn attended Modesto Junior College in Northern California before transferring to CSUF, where her love for sports inspired her to pursue a student aide position in the athletic training clinic.
"The biggest thing that stood out to me when Lane was an aide was her desire to learn more about the athletic training profession and that she was excited to be in the clinic each day. She really took initiative to ask questions and learn from the staff during her time as an aide," said Justin Hostert, an assistant athletic trainer at CSUF.
Kyle Burnett, another assistant athletic trainer at CSUF who worked with Lane, shared, "I know that she continues to push herself to be the best athletic trainer she can be. She has the ability to communicate effectively with staff, student athletes and her fellow classmates and apply the knowledge she has learned into her everyday practice."
Fishburn, who joined the Los Angeles Rams athletic training team in July 2022, said she is grateful for every moment, from living at a hotel during training camp to working 10-hour shifts.
"The team always took time to make sure that we were learning something. I went into it with the idea that I would be doing mostly grunt work because I was an entry-level intern," shared Fishburn. "That was not true at all. They were really good about encouraging us to engage and work on athletes when they were in the clinic."
She shared how CSUF taught her to think critically, adapt to new situations and apply her education in a professional athletic training environment.
"The athletic training program prepares us to work in the clinic," said Fishburn. "My mentors helped me understand what the career would really look like: You're going to have long days. You're going to work hard. They taught me and helped me become a better leader."
Growing Up on the Sidelines
"My dad was in the army for a long time. When he would come back from service, he was a teacher and a football and track coach. I was always on the sidelines because I loved watching him coach, and I loved being in the action."
When she wasn't watching from the sidelines, Fishburn was an athlete herself, playing water polo, swimming and dancing. Her athletic career was injury-free, but after her brother tore his anterior cruciate ligament playing high school football, Fishburn realized that she wanted to do more than just treat athletes.
According to the California Athletic Trainers Association, California is the only state in the U.S. that does not require athletic trainers to be board certified to be hired. After seeing firsthand how this policy affects students, Fishburn wants to be an advocate for better high school sports care.
"This is something that needs to change because you need a medical professional there, especially with high-intensity sports," explained Fishburn. "High schools are allowed to have an uncertified 'trainer' on the sidelines. It makes you question 'How much can you trust this person when they're evaluating your child?' That's how I felt when it came to my brother."
Standing beside NFL players on the sidelines, Fishburn's passion for advocacy remained a strong part of her identity and mission. One of her favorite moments from her internship happened when she spoke with Rams safety Nick Scott about her goal to change this policy in high schools.
"I told him that it's important, and we need people there for the safety of the kids and the schools. I would want to go to the state board and advocate for those policy changes, and he offered to be a professional advocate if I needed one," said Fishburn.
Finding a Future in the NFL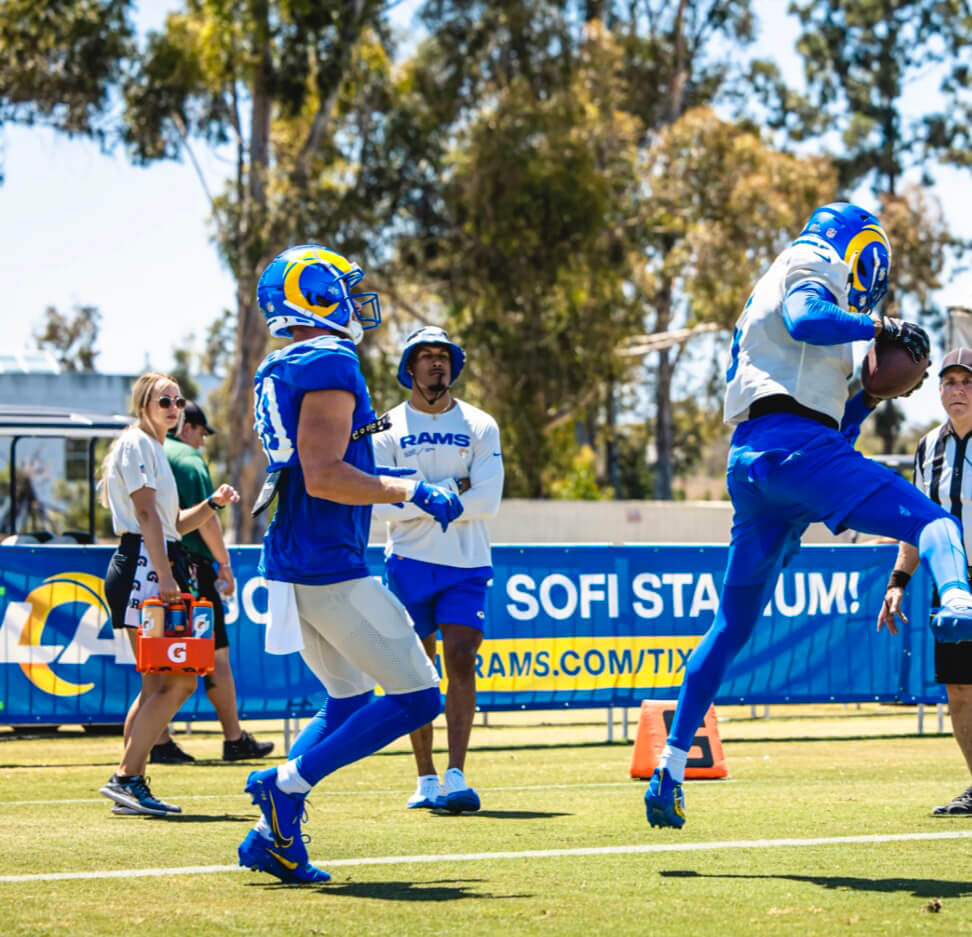 After three months of traveling with the team, the Rams tapped Fishburn to return through December as a volunteer athletic trainer to work the team's home games this season.
She said she's happy to have found a supportive community of players and staff who respect her work.
"With athletic training, you're with your patients 24/7. You know their whole life story. You become the person who knows them the best. Not only do I get to help these players and do something that I love, but I get to guide and know them on a personal level. I'm not just treating another number. I'm treating a human being."
After completing her master's program this past December, Fishburn plans to apply for the Rams' two-year athletic training fellowship.