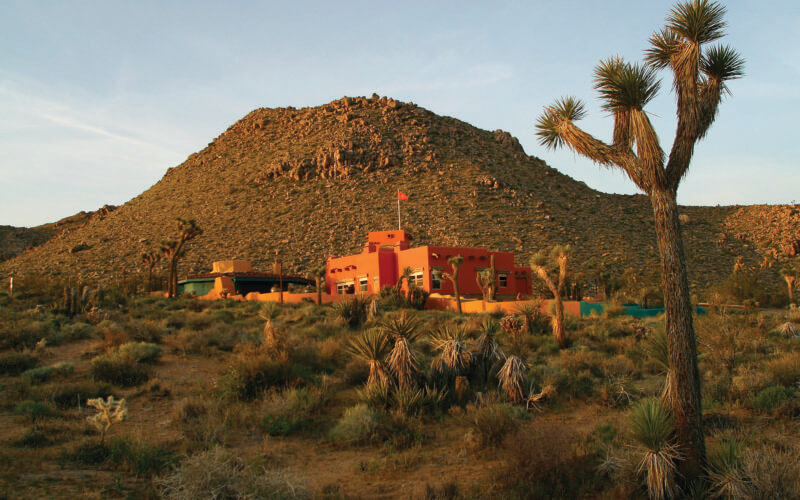 In the late 1970s, Cal State Fullerton alumnus Brian Rennie started climbing the towering, rugged rock formations at Joshua Tree National Park.
Rennie, who earned a bachelor's degree in biological science in 1970, is an avid outdoor enthusiast with a passion for the natural world — especially the desert.
By the mid-1980s, Rennie bought a 5-acre parcel next to the entrance of the Southern California high-desert national park, near Palm Springs. He wanted a place where he could camp under the stars and climb during the day.
An expert-level rock and mountain climber, Rennie has reached the summit of some of the world's tallest mountains: the Matterhorn in the Alps, Mont Blanc in Europe, Aconcagua in Argentina and El Capitan in Yosemite National Park. He's climbed Mt. Whitney, California's tallest mountain, 34 times.
In 1994, Rennie built a 2,500-square-foot Santa Fe pueblo-style home on the Joshua Tree property. The house is perched at the base of a rock-covered hill and surrounded by Joshua trees. On occasion, wildlife like bighorn sheep, roadrunners and bobcats visit the property.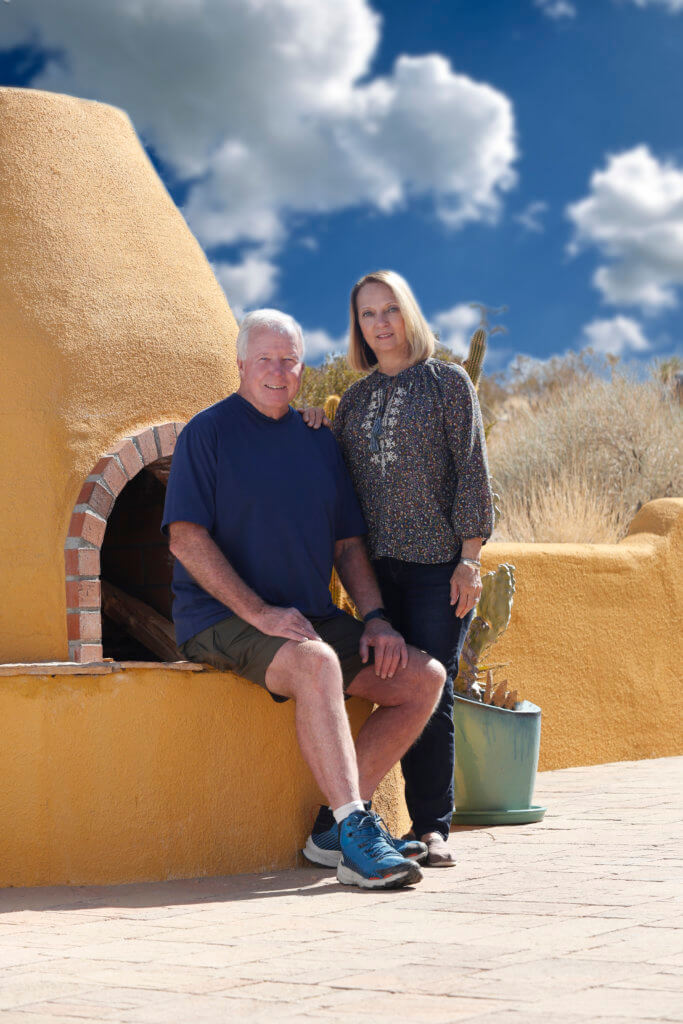 After they married in 2003, Rennie and his wife, Lori, made frequent trips from their home in Placentia to Joshua Tree, where they would spend the weekend hiking and climbing. He introduced her to the great outdoors. Together, they've hiked many trails, including the Machu Picchu Trail in Peru and the Haute Route in the Swiss Alps.
The couple permanently moved to their desert oasis in 2013 and relocated Rennie's successful commercial photography business, Benchmark Studios, to the property.
Now, Rennie and his wife want the desert estate preserved in all its vast beauty and turned to Cal State Fullerton to protect their legacy. The couple has pledged a planned gift valued at $4 million to support desert science studies, conservation and climate change research.
Their gift is part of CSUF's first-ever comprehensive philanthropic campaign, launched in March 2020. The "It Takes a Titan" public campaign, which ended in December, has raised more than $270 million.
The bequest includes 20 acres of desert land, their architecturally unique residence and funds to maintain the property. The couple also made two previous in-kind gifts of equipment to the College of Communications and College of the Arts.
"I learned to love the desert through my years of rock climbing in Joshua Tree," Rennie said. "The house could be used by the university for events, a base station and for research. Lori and I are in total agreement with this gift.
"We were seeking the right organization to respect the land and the desert as much as we do, and to continue to utilize it in a way that supports our intentions," he continued. "We feel confident that this will happen through our gift to the university."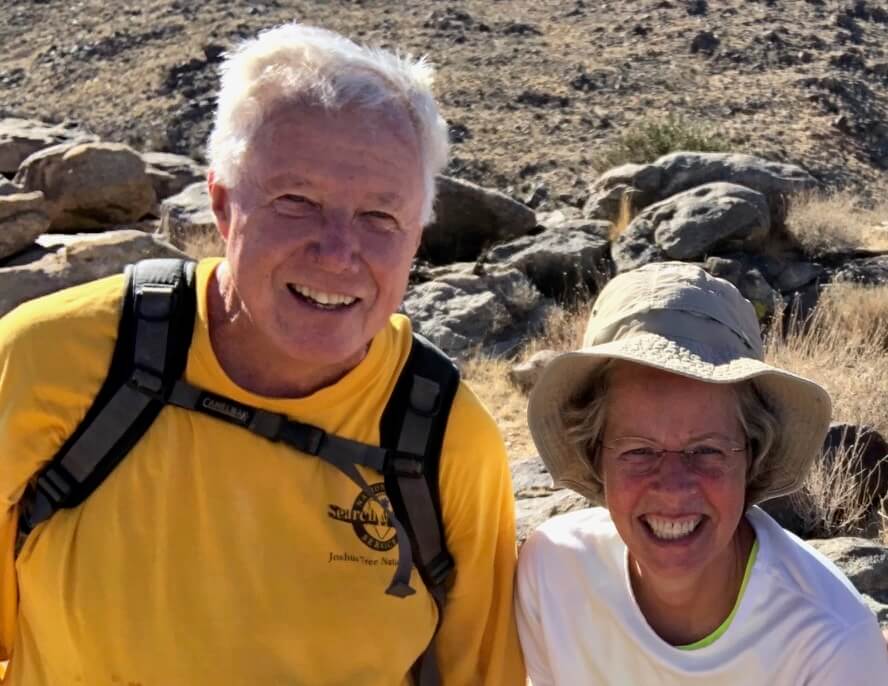 The donation is structured to support faculty and student travel, research fellowships, field camps or specific initiatives that expand the College of Natural Science and Mathematics' programs in the Mojave Desert and in desert science.
Marie Johnson, the college's dean, expressed gratitude for the philanthropic investment: "This gift will allow our faculty to expand their research efforts in desert environments, which in turn will create impactful learning experiences for our students.
"We often say our university aspires to be a steward of place. Brian and Lori's gift will allow us to fulfill that aspiration by creating the conditions for deep, meaningful engagement with desert ecosystems and our arid Southern California environment."
From Studying Biology to Photography
During Rennie's college journey, he studied marine science under the mentorship of the late Donald Bright, who taught biological science and served as a department chair.
Rennie, a private pilot and flight instructor, flew Bright to Mexico and other places to conduct research. He worked on various projects, including researching the impacts to marine life in building Dana Point Harbor.
While in college, Rennie worked nights and weekends for a Fullerton photographer processing color prints in a darkroom and took photos for the Biological Science Department.
Instead of pursuing a marine biology career, Rennie started a photography business in Anaheim.
"Looking back, it was the best decision I made in my life. I grew the business from nothing into one of the largest creative studios in Orange County," he said. "We not only did commercial photography, but TV spots, brochures, ads and eventually websites."
Now retired, his clients included such companies as Morgan Stanley, Carl Karcher Enterprises (Carl's Jr.), Aluminum Company of America (Alcoa), auto manufacturers and many others.
"Clients relied on me to bring them creative photography and advertising," he said.
While Rennie has stepped back from his photography career, Lori continues to work on client projects, such as website design.
Rennie's CSUF education taught him how to think globally and learn independently — skills that helped him to become an accomplished business owner for over 50 years.
"When I decided to change direction on my career path in biology and pursue a commercial photography career, I had to get up to speed on how business works. I taught myself accounting, sales and everything else that is necessary in owning a business," he said.
"In those days, there was no internet or YouTube to do the research; it was through books and asking business mentors. Studying science provided me with the tools to learn and make decisions logically."
As for the couple's gift to the university, they hope it will inspire and spark students' curiosity to study how all life in the desert is interconnected.
"I have always been in touch with nature, not only through my biology research, but by backpacking and climbing all over the world," Rennie said.
"Having climbed some of the world's most significant mountains and being in these remote places, makes you understand how insignificant we are as individuals but how great our impact is as a society."