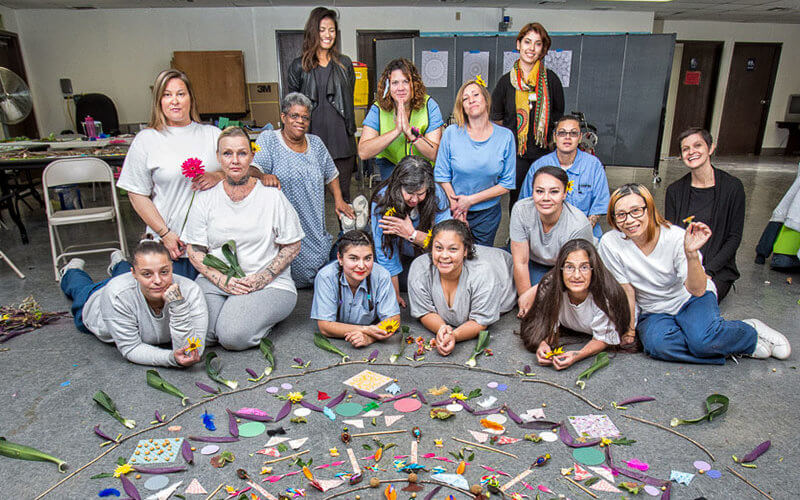 For young artists at Cal State Fullerton, the Prison Arts Collective is much more than a class. It serves as a gateway to the future, empowering students to be change makers and social justice advocates.
Led by Mary Anna Pomonis, assistant professor of art, the Prison Arts Collective is a grant-funded program that partners with local prisons to provide art classes, supplies and creative workshops to people who are currently incarcerated.
"It's a wonderful way to give back to the community. It's life-changing to have the ability to express yourself and document how you're feeling. A lot of the participants draw to help themselves heal," said Pomonis.
Alongside San Diego State University and Cal Poly Humboldt, CSUF's Prison Arts Collective program is one of three university chapters in Southern California. Pomonis and her students believe that "art is a human right," and they teach participants at the California Institution for Women in Chino, California, to use artistic creativity as an avenue for personal growth.
From painting murals to working on technical art skills, the program provides participants with an array of opportunities to create masterpieces that reflect their stories, their futures and who they want to be. This semester, the organization partnered with a Los Angeles skateboard company, California Locos, to provide the women with 20 blank skateboards to paint in honor of Women's History Month.
"Art is complete freedom to express yourself and make a statement," said Shima Roohani, a junior art student and intern in the program. "​​It's something that incarcerated individuals have a right to. We provide an outlet for these amazing people and we support them and give them the voice they deserve."
From Students to Teachers
At the helm of every art lesson are students from Pomonis' art and social justice class. The student teachers are responsible for writing lesson plans, gathering supplies and teaching courses.
"There are a lot of fears and misconceptions about what incarcerated women are like. People assume the worst, but when you go into these spaces, you just find people who are trying their best," said Kimberly Ruiz, a computer animation and game art student who has been working with the program for over a year and a half.
Nathan Wong, a senior graphic design student added, "I've developed a great empathy for the situations these women are in and a deeper understanding of what goes on in their daily lives. Their enthusiasm and appreciation for our visits make it all worthwhile."
The importance of community takes a front seat in all of their lessons, as they emphasize the role of art in shaping more positive futures for everyone.
"When incarcerated people get out, they're coming back to our homes, to society and to our neighborhoods. We need to make sure that those people are taken care of while they're incarcerated because if we don't, we're doing a disservice to our communities by not giving them the care that they deserve," said Jasmine Young-Lynch, a junior art student and teaching intern in the program.
Fostering Creative Futures
When Young-Lynch started college, she wanted to be an art therapist, a mental health professional who helps people process their emotions and heal from past traumas through the art-making process. Despite her passion for helping people, she didn't know if that dream was possible.
"After joining the collective, I realized that there are opportunities to do the type of work I want to do," said Young-Lynch, who wants to continue helping incacerated individuals as a professional art therapist.
For other students, like Roohani and Hunter Ivanjack, a senior entertainment art major, the program has also served as a firsthand look into their future careers as art educators.
"I was planning on pursuing a career in the animation industry. Since that first lesson, I have made a shift in my career goals from animation to art education," said Ivanjack, who now wants to teach high school art. "I realized my true purpose through this work."