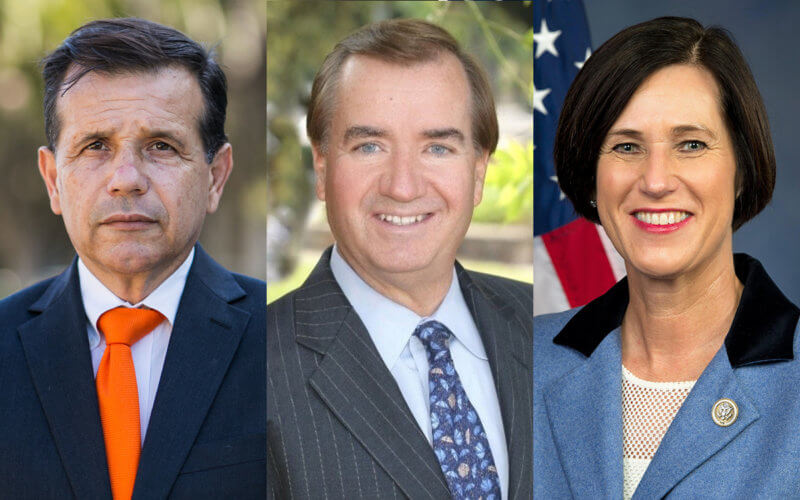 Three political leaders were recognized at the Lawrence de Graaf Center for Oral and Public History's 8th annual "Celebrating Orange County's Political Legacy" event held March 16 at the Summit House in Fullerton. About 150 attendees gathered to highlight accomplishments from both sides of the political aisle. Dick Ackerman, California State Senator (ret.), served as master of ceremonies.
This year's honorees were:
Miguel Pulido '80 (B.S. engineering-mechanical engineering), former mayor of Santa Ana
Ed Royce '77 (B.A. business administration-accounting, finance), U.S. representative (ret.)
Mimi Walters, U.S. representative (ret.)
The center began recording the stories of retired elected officials and political leaders of Orange County in fall 2013.
"By capturing these individual narratives and highlighting their backgrounds, motivations and strategies, the interviews tell a broader and more nuanced version of Orange County's political past," said Natalie Fousekis, director of the center and professor of history. "These are people looking back on their lives as public servants — why they got involved, what it meant to them to get involved, what issues motivated them to get involved. Future generations will be much richer, and have a better understanding of our history, because of the stories we recorded this year."
Established as the Oral History Program in 1968, the center maintains the largest regionally focused oral history archive in California. Boasting 6,400 recorded interviews, related transcripts, photographs and other materials, the center's mission is to collect the important individual stories of Southern California while educating students in the research methods of gathering, interpreting and presenting them to the public.
Ed Royce
"I have a deep appreciation for those who support Cal State Fullerton. Many of us here tonight had to work our way through college. Because CSUF was affordable and offered a high-quality education, it provided a way for me to earn a degree that enabled me to move on to my career. As a representative, I have had 38 interns from Cal State Fullerton working in my office. I have always been grateful for my partnership with the university."
He recalled: "I decided to run for elected office at a young age and I remember one of my friends coming up to me, all excited, because he'd seen the name 'Ed Royce' on a ballot.
"'Ed, your dad is running for office! That's great. He's a wonderful man!'
"'That's not my dad. It's me!'
"And that was the start of my life in politics."
Royce served in the House of Representatives for 26 years, representing California's 39th District and serving as chair of the House Foreign Affairs Committee from 2013 to 2019. During his time in office, Royce crossed party lines to build bipartisan consensus and move legislation. His leadership as chair of the House Foreign Affairs Committee advanced human rights, free and fair elections, economic development, women's empowerment, and security around the globe. Royce also served as a senior member on the House Financial Services Committee.
He earned his degree in business administration, with an emphasis in finance and accounting, from CSUF.
Today, Royce serves as the policy director at Brownstein Hyatt Farber Schreck.
Mimi Walters
"My first election was as junior class president in high school. Of course, nobody ran against me. I grew up in a family that discussed politics so I have always been interested in being an elected official ever since I worked as an intern in Washington, D.C.
"I've learned many important lessons through the years — do what you're comfortable doing, smile and stay on message. Always be prepared just in case a president calls on you to speak in a public setting. And don't lie on your resume."
Mimi Walters grew up in Laguna Niguel and began her 22-year career as an elected official in 1996 as a member of the City Council. In 2004, she was elected to the California State Assembly and in 2008, Walters was elected to the California State Senate. In 2015, she was sworn in as a member of the U.S. House of Representatives (CA-45) and served until 2019. Prior to her career in public office, Walters was an investment executive with Drexel Burnham Lambert Inc. and Kidder, Peabody & Co.
While serving as a public official at the local, state and federal levels of government, Walters focused her attention mainly on fiscal, health care and energy issues. She was vice chair of appropriations in the California State Senate and served on the influential House Energy and Commerce Committee in Congress. In Congress, Walters served as a member of House leadership working on key issues ranging from legislation, policy and messaging for House Republicans.
Currently, Walters is building an energy company, Leading Edge Power Solutions LLC, with her husband, David. In addition, she is a member of the board of directors of B. Riley Financial Inc. and Eos Energy Enterprises Inc.
Miguel Pulido
"As a city council member, a nonpartisan position, I learned to work both sides of the aisle. I got involved in politics because the city was going to condemn the muffler shop my family owned in Santa Ana and I couldn't understand why. People told me, 'You can't fight city hall.' It was a David and Goliath story and from that successful fight, I decided to run for city council. This is the city where I live. I want to help and so I started knocking on doors and visiting local businesses to drum up support. That launched my career in politics."
First elected to the Santa Ana City Council in 1986, Miguel Pulido went on to serve 13 terms as mayor, from 1994 to 2020. Under his leadership, property values doubled, overall crime decreased by 80%, aging infrastructure was improved and the city experienced a rebirth of community spirit with a strong prioritization of arts and culture.
As mayor, Pulido represented Santa Ana on various state and regional issues, such as transportation, serving on the Orange County Transportation Authority board, where he led an effort to promote local street and road improvements and advocate for transit alternatives. He also secured Federal Empowerment Zone status for some of the city's most disadvantaged neighborhoods, delivering federal funds to build capital, increase employment and provide much needed services to residents.
Pulido also advocated for after-school programs, such as Project Pride, and sought to improve city parks and recreation programs through state and federal grant opportunities. Additionally, he formed the Mayor's Task Force on Arts and Culture, which was instrumental in the development of the Artists Village in downtown Santa Ana. He placed an emphasis on education, bringing in Cal State Fullerton's graduate arts program and facilitating the relocation of the Orange County School of the Arts into Santa Ana.