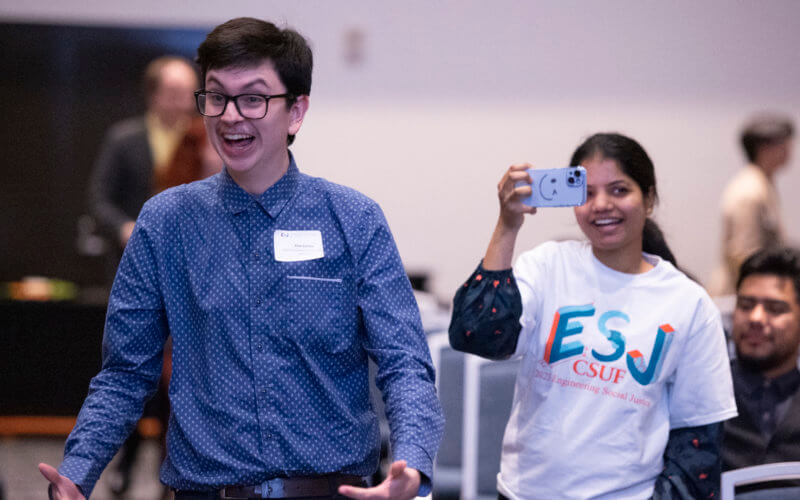 Finding solutions for those facing food insecurity, removing barriers to health care for transgender individuals and improving accessibility for people with disabilities are the top three winning student project ideas in Cal State Fullerton's inaugural "Engineering Social Justice: A Design Challenge."
A total of 14 engineering and computing student teams pitched their ideas to address social injustice at the March 16 competition.
With the prize money, the top three teams and their faculty mentors will further develop ideas into solutions. The winning teams are:
First prize, $6,000 — "Bag/Get" by Open-Source Pantry Solutions;
Second prize, $4,000 — "TranscendCare: A Comprehensive Engineering Solution to Transgender Health Care Disparities" by Team Unicorn; and
Third prize, $2,000 — "OpenDoors" by Access Squad.
"The Engineering Social Justice competition enabled our students to translate their learning to solutions that reduce societal inequities," said Susan Barua, dean of the College of Engineering and Computer Science. "It is important that engineers and computer scientists understand and pay attention to how we can make a difference in society. The engineering systems we design and the technology solutions we develop must empower people."
Winning Teams Identify, Address Social Injustice
Bag/Get — Open-Source Pantry Solutions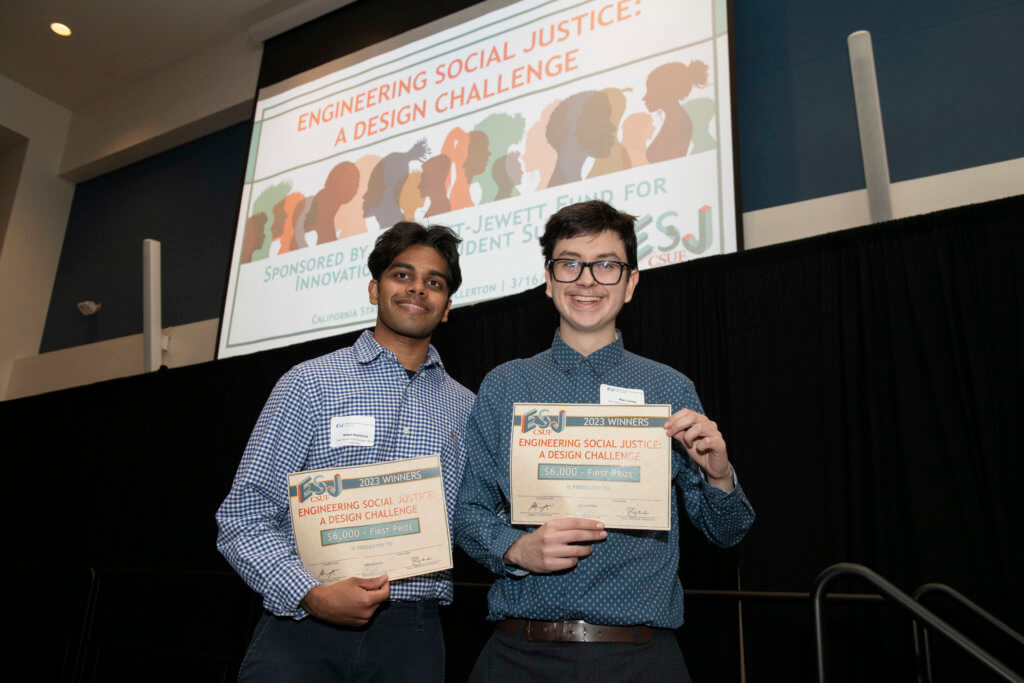 Project idea: Bag/Get is a software application that integrates analytics-generating inventory management software with a user-facing application. It allows individuals to find pantries, walk-in hours and book appointments, as well as access immediate and up-to-date information on those pantries and their current inventories of food. It creates an ecosystem of collaboration between users, pantries and food banks.
Community need: Pantries often do not receive the products their community specifically needs due to a lack of data and inadequate communication with their food providers. They often face hurdles in keeping track of their inventories digitally and distribution of their food stock because of the complexities inherent to using software.
Solution: Given that over 50 million Americans in 2021 (USDA and Feeding America) turned to food pantries and programs for supplemental nutrition, deploying Bag/Get builds an ecosystem between involved parties. The project aims to destigmatize the act of receiving food assistance.
Next steps: The team plans to develop a minimum viable product (MVP) — a new product that is introduced in the market to get the attention of the consumers — and get feedback. The prototype would contain core features that pantries need for user access, inventory management, and generating and exporting analytics.
Team members: Rohan Kunchala and Alan Cortez, both computer science majors, and
Cesar Rojas, computer engineering major
Faculty mentor: Kanika Sood, assistant professor of computer science
Quote: "The lack of real-time communication and cohesion between food providers and pantries, as well as the dismal state of information and access surrounding pantries and users was brought to our attention here in Orange County. Cities like Santa Ana and Westminster, and college campuses throughout the county, are prime areas to deploy and test our software so we can better work with these underserved communities."
TranscendCare: A Comprehensive Engineering Solution to Transgender Health Care Disparities — Team Unicorn
Project idea: myEgg is a personal digital assistant to connect transgender individuals with gender-affirming health care services. It is a small, discreet and secure hand-held device that notifies users when they are near a trans-safe location, alerts them when it is time to take medications and more.
Community need: Despite an overwhelming need, the gender-affirming health care market is underserved. The team conducted interviews with transgender and LGBTQ+ youth and concluded that a secure hand-held device would be the best option.
Solution: myEgg directly combats the issues and barriers related to access to health care for transgender and LGBTQ+ individuals. The device will help individuals locate and access health care, connect with the community, securely store health care data, and prioritizes physical and mental well-being.
Next steps: The team plans to develop a prototype of the myEgg design and test the product with focus groups of transgender individuals to gather feedback.
Team members: Emily Crowl, Kirsten Ochoa, Felix Murray, Oscar Cisneros and Daniel Truong, all computer science majors
Faculty mentors: Jin Woo Lee, assistant professor of mechanical engineering, and Paul Salvador Inventado, assistant professor of computer science
Quote: "Our project's ethos is the protection of transgender individuals across the United States through convenient and impactful software. By creating a pocket-sized safe space for transgender individuals, we can alleviate some of the burgeoning challenges to this community and begin to uplift and affirm them through health care."
OpenDoors — Access Squad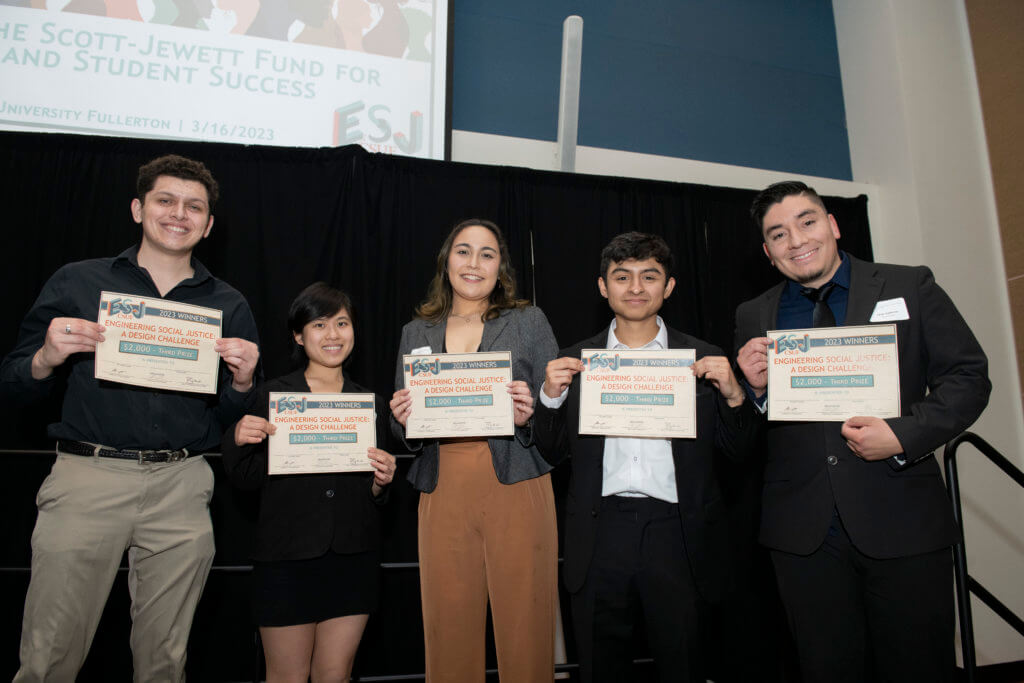 Project idea: To serve as an access guide for consumers with disabilities to empower these individuals.
Community need: The team's research found that nearly one-third of today's buildings are inaccessible to those with visible and invisible disabilities. The disabled community needs better access to buildings that are not ADA compliant.
Solution: The team is creating a web application that helps spread awareness of buildings that are not ADA compliant. The team's hope is to incentivize businesses to change their building layouts and processes to accommodate individuals with disabilities.
Next steps: Plans include integrating the federal business ADA database into the team's software to inform disabled communities nationwide on businesses accessible to them; test the application with the disabled community; and soft launch the project by the end of the year.
Team members: Katherine Chen, Stephanie Pocci, Alejandro Ramos, Nolan Delligatta and Cesar Gutierrez, all computer science majors
Faculty mentors: Jin Woo Lee, assistant professor of mechanical engineering, and Paul Salvador Inventado, assistant professor of computer science
Quote: "OpenDoors aims to empower disabled voices, encourage public spaces and businesses to improve accessibility and foster a more inclusive society. OpenDoors' reviews will also ensure businesses are held accountable for being accessible for our entire disabled community as mandated by law."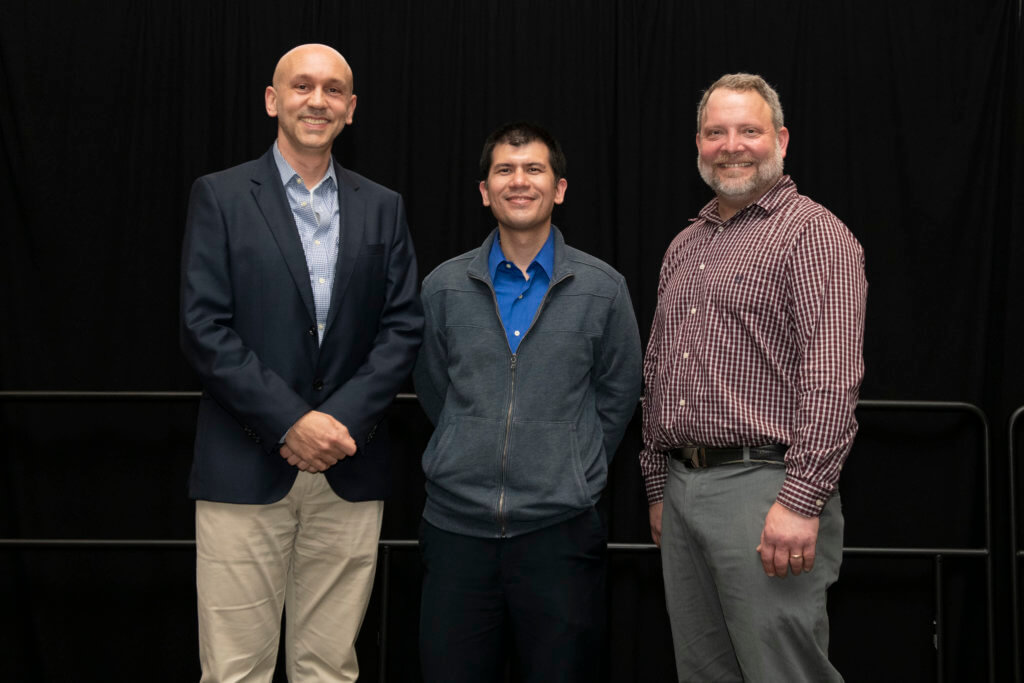 The competition was supported by the Scott-Jewett Fund for Student Success and Innovation. Faculty members Garrett Struckhoff, Kristijan Kolozvari and Paul Salvador Inventado of the College of Engineering and Computer Science organized the competition.
Industry judges were Xyla Foxlin, engineer, entrepreneur and YouTuber, and keynote speaker; Joshua Rojo, structural engineer at Degenkolb Engineers; Google software engineer Joshua Caleb Dy; and Thea Merritt, owner and founder of Eco Now. CSUF's Mojgan Sami, assistant professor of public health, served as the faculty judge.
"It is amazing to see our engineering and computer science students use their superpowers to alleviate some of the most difficult challenges of our time — whether it's addressing hunger, health disparities, climate change or disability access. These students give me hope for the future," Sami said.