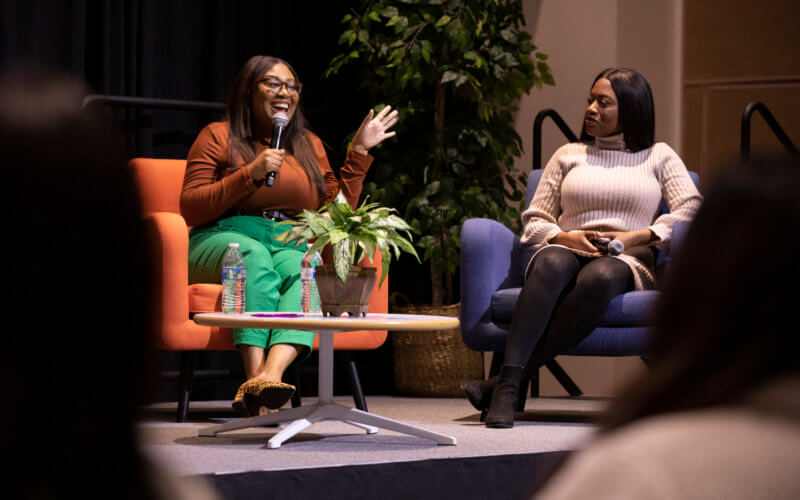 Daughters of Haitian immigrants, Maika and Maritza Moulite grew accustomed to consuming television and books that did not reflect their rich identity. With the art of storytelling coursing through their veins, the sister-writer duo sought to change the narrative with their book "One of the Good Ones," which they discussed during their Feb. 24 visit to Cal State Fullerton.
Each year, members of the campus community choose a book that explores themes of diversity, equity and inclusion and. "One of the Good Ones" was selected for CSUF's One Book, One CSUF program this year.
While writing their book, the Moulite sisters tapped into their Haitian roots and underscored the importance of social justice surrounding police brutality.
"We talk about Blackness not as a monolith, but seeing the diaspora through the legacy of slavery, or seeing the ways that we have this hybridity with cultures that we came with and ones that we had to adopt," Maika said.
The book centers on protagonist Kezi Smith, a teen social activist who was killed after attending a Black Lives Matter rally. Smith's sisters, Happi and Genny, all exposed to intergenerational racial trauma, embark on a journey to honor Kezi by using a heirloom copy of "The Negro Motorist Green Book" as their roadmap.
The Moulite sisters pride themselves on their Haitian heritage, as Haiti was the first Black republic to fight and gain its autonomy.
"As Black people, as people of color, Indigenous folks, sometimes when you come into a space it's not always created with you in mind. You have to think outside of the box to make that space for yourself," Maika said.
The sisters said that the publishing industry needs refinement. Book censorship over people of color creates a singular, dangerous narrative of their identity.
"It's really important to me as a Black woman, as a Black writer to do this act of writing because it is a form of resistance. When people read, you're able to put yourself in someone else's shoes in a way I'd argue you don't do when you see things through a visual medium," Maika said.
Maritza emphasized that reading diverse books expands the reader's worldview. Peeking through a window is similar to understanding one's unique identity and stepping through a sliding glass door allows a reader to jump in and out of a character's journey.
For students aspiring to become authors, the sisters advise finding a virtual or in-person writing community. The sisters added that the biggest lesson is to "shoot your shot" at any given moment in time and to write a book that speaks volumes to one's own authentic story.
"Our grandmother, when she came from Haiti, stopped her education at sixth grade because of the very real reality that she needed to work and help support the home," Maika said. "For us to be where we are now, the children of immigrants getting our doctorates and working at a think tank, that is a testament to where we've been, where we're headed and where we'll continue to go."
Watch Maika and Maritza Moulite's complete Fireside Chat on YouTube. To learn about CSUF's commitment to equity, diversity and inclusion, visit the Titans Together website.