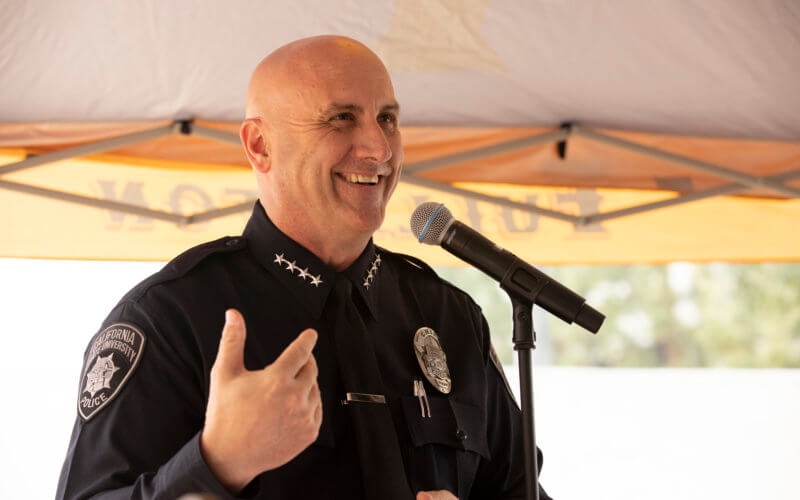 University Police Chief Anthony Frisbee knew he was in the right place when he arrived at Cal State Fullerton on March 1 and found a community dedicated to student success.
"We are all working toward the same mission of supporting students, faculty and staff. All of our campus partners come together to make a difference, from counseling and psychological services and health services to student affairs, the provost's office and more," said Frisbee at his official swearing in ceremony on March 10 at the Golleher Alumni House.
With over 30 years of public service experience, 19 years in law enforcement and a passion for higher education, Frisbee said he's been amazed by the collaboration and community he's seen on campus, and although it's early in his Titan career, he's confident that "together, we can make a difference."
Frisbee's focus remains on implementing transformative policing practices that foster equitable and inclusive environments to serve a diverse campus population. His commitment to mental health support and transparency will be guiding principles as he works with campus partners to provide students the support they need.
With his family present at the ceremony, Frisbee shared his personal connection to serving students.
"Like my nieces and nephews, our Titans are our future. They're our future artists, our future engineers, our future leaders. That's why it's so special to be here in this position working with campus partners to serve our Titan family," said Frisbee.
The national search for a university police chief began last spring. Among a diverse pool of highly qualified candidates, President Fram Virjee said that Frisbee's dedication to serving higher education communities through campus partnerships and excitement for engaging with students on a daily basis made him "the universal choice of the campus."
"He knew how important it is to be entrenched in the everyday life of the community," shared Virjee. "I am confident that under his leadership, the department will not only continue to serve as a leader in the California State University system with its outstanding campus outreach programs and safety initiatives, but it will reach even greater heights."