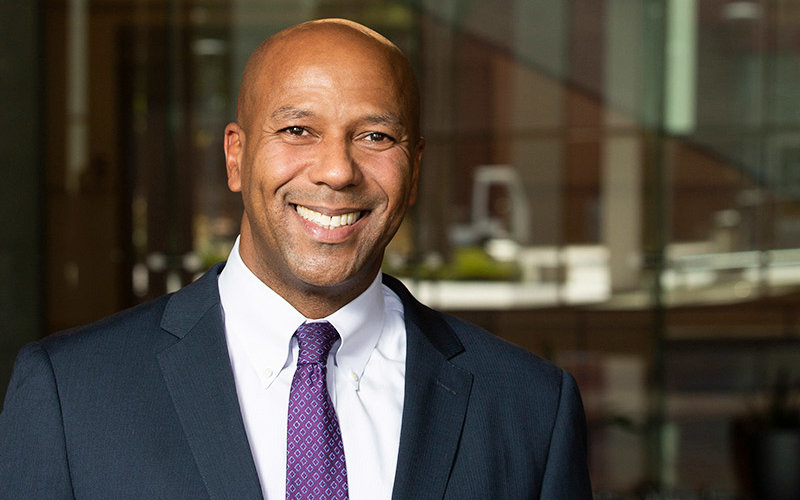 Arnold Holland has been appointed dean of Cal State Fullerton's College of the Arts, effective April 3.
Holland has served as interim dean of the college for the past two years. Prior to that, he served as associate dean for the college.
Holland joined the university's faculty in 1998 after receiving his M.F.A. in visual communications from Virginia Commonwealth University and his B.F.A. in graphic design from Arizona State University. He also received his Ed.D. in higher education leadership from CSUF.
Throughout the years, Holland has served on numerous university committees including the Academic Senate, departmental personnel committee and WASC (Western Association of Schools and Colleges), to name a few. He has held memberships and leadership positions in such professional art associations as the American Institute of Graphic Arts, Organization of Black Designers and the National Council of Arts Administrators.
"I am committed to connecting the campus with the surrounding communities through partnerships that enhance student learning, address local needs and encourage students to be active citizens," he said.
One way to achieve that goal is the modernization of the visual arts facilities. Planning for the project started six years ago, and construction began in August 2022. The modernization project is expected to be completed in September 2024. The new facilities will add more than 122,000 square feet for offices, classrooms and creative spaces. New additions will include gallery spaces, renovated classrooms for digital art concentrations, graduate art studios, upgraded lecture halls and indoor and outdoor seating.
Currently, the College of the Arts serves more than 2,600 students in 61 areas of concentration.
"We not only want to serve the students in our college, but we want to increase awareness of the arts across campus," Holland said. "Every year, our college's students, faculty and staff work together to produce a wide range of exceptional concerts, exhibitions, lectures, workshops and performances, drawing more than 40,000 visitors to campus, and to art galleries, both on and off campus."
In his announcement to the campus, Provost and Vice President for Academic Affairs Amir Dabirian noted that Holland's ongoing commitment to students, knowledge of the college and experience as interim dean, makes him well-suited for this role.
"He has always worked collaboratively with colleagues to ensure that students get the most out of their college experience. By bringing people together to focus on key issues and priorities, the college will continue to thrive," Dabirian noted.
"The College of the Arts is an essential part of our campus's cultural fabric and the surrounding community. We provide transformational experiences for our students, the community and beyond," Holland said. "It is truly an honor to be able to lead this college into the future."