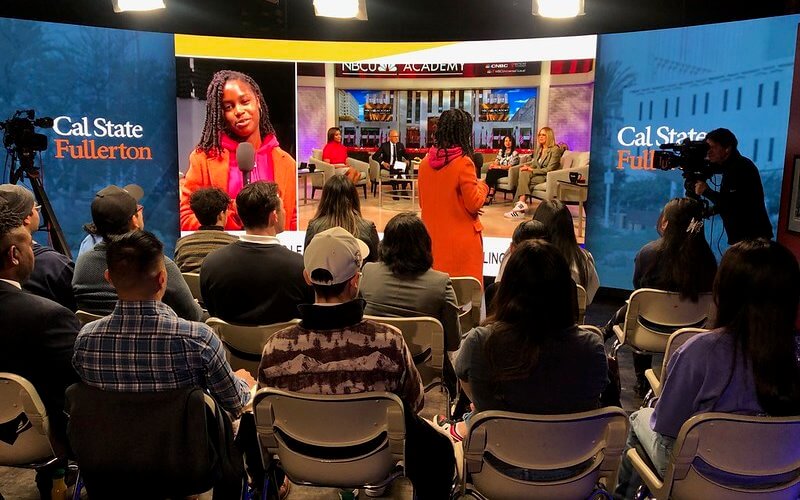 "What helped you land a job at NBCUniversal?" Cal State Fullerton communications major Andrea Casillas had the opportunity to pose this question to a panel of NBC executives during the virtual NBCU Academy Next Level Summit in late March. The summit featured several notable journalists, including Lester Holt and Gadi Schwartz.
"What brought me here was a leader, a mentor and the importance of networking," responded Rose Gonzalez, senior director of integrated marketing strategy for NBCU. "Network, talk to people and keep those contacts because typically how you get these roles is through people you know."
Casillas is part of the NBCU Academy fellowship program, designed to advance training of diverse journalists. Cal State Fullerton's College of Communications was the only four-year university in California selected for the NBCU Academy collaboration in 2021.
The $500,000 two-year grant from NBCUniversal supports $250,000 in scholarships for students; $200,000 to support faculty and classes in which NBCU journalists participate as guest speakers; and $50,000 in equipment, including digital editing and production tools for multimedia reporting. Students gain expanded opportunities to work one-on-one with news professionals, enhance global and multicultural skills, and access industry internships and jobs.
"It was amazing to have the opportunity to talk with people of color who have had huge roles at NBC, such as film directors, news correspondents, vice presidents and presidents," said Casillas, a Class of 2023 graduate. "I took away that I can't give up and that the industry of journalism and entertainment is moving in the right direction."
Communications major and NBCU fellow Alexis Rae Johnson-Fowlkes asked the panelists: "What qualities helped you in your career?"
"There's probably a theme you'll see from the leaders here: It's a desire to perform at a high level. Either you have that urge or you don't," answered Rashida Jones, president of MSNBC.
"I would add to that incessant curiosity," said Karen Irwin, president and COO of Universal Orlando. "I am continually looking for ways to learn and grow and understand more about all the businesses around me, not just mine. I think that's really elemental in progressing through a career."
Graduating this spring, Johnson-Fowlkes said she was inspired by the event and felt grateful to the industry professionals for sharing their journeys.
"I feel motivated and driven to go out and make my mark," shared Johnson-Fowlkes. "One of the quotes that stuck with me was from film producer Will Packer ('Straight Outta Compton,' 'Think Like a Man') during the 'Storytelling in Film' panel discussion. He said: 'Be fearless and relentless in the pursuit of your passion.'"
Increasing Representation in the Field of Journalism
"It's always been a dream of mine to work for NBC. Being able to receive advice, and be in the midst of trailblazing and pioneering journalists, has been super beneficial," said Johnson-Fowlkes, who received the NBC4-Vikki Vargas Broadcast Journalism Scholarship in 2022.
"Forming a close relationship with longtime NBC Orange County bureau chief and veteran reporter, Vikki Vargas '81 (B.A. communications), was the most valuable part of this experience," shared Johnson-Fowlkes. "It's been a true blessing having her support and receiving her advice as I navigate the field."
An aspiring journalist and businesswoman, Johnson-Fowlkes said her career goal is "to give people a voice who often don't have one in mainstream media."
Also passionate about boosting diversity in journalism, Casillas said she is impressed by NBC's commitment to hiring people of color.
"They are truly a company that pushes to have a diverse work pool, and I think it's really important for a company to have that," said Casillas, who plans to become a news producer.
"I always wanted to intern or work at NBC, so when I had the opportunity to participate in the NBCU Academy, it felt like a dream come true," said Casillas. "I am grateful they give these opportunities to students."