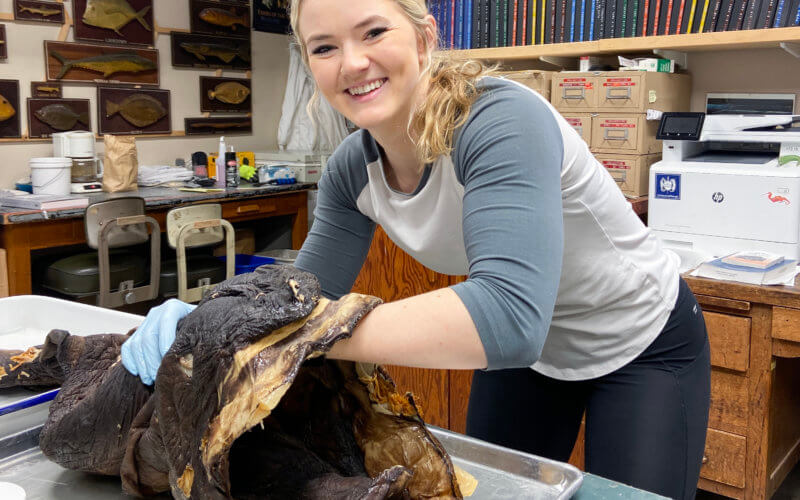 Known for its extra-large round mouth, biology graduate student Jordyn Neal is studying one of the rarest, most elusive sharks on the planet: the megamouth shark.
Since the deepwater shark's discovery in 1976, only 273 confirmed sightings have been recorded around the world. In an unusual sighting in September, two megamouths were seen swimming at the surface off the coast of San Diego.
Under the mentorship of Misty Paig-Tran, associate professor of biological science, Neal is focusing her thesis research on the megamouth's filter morphology and filtration mechanism.
To support her research, Neal is a 2023 recipient of the prestigious National Science Foundation Graduate Research Fellowship. The fellowship will pay for her next three years of graduate studies at Cal State Fullerton, which includes a $37,000 annual stipend and $12,000 cost-of-education allowance to the graduate institution.
"This fellowship is life-changing," she said. "This award has lifted a weight off my shoulders. I feel more financially secure and now my research can take precedence over my financial stability."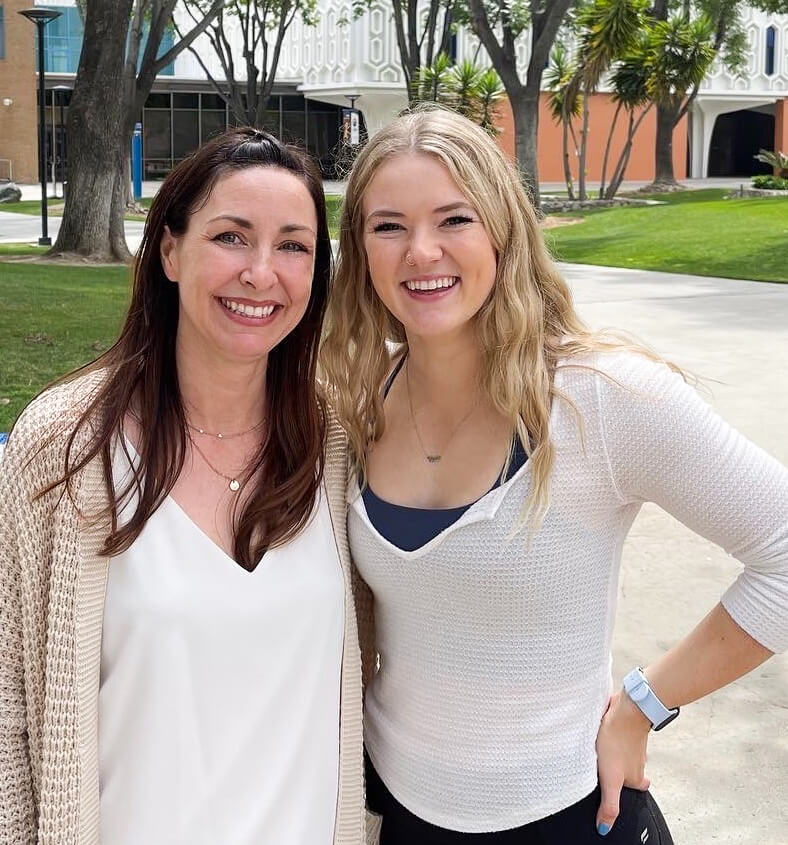 Neal also received the 2022-23 Violet Horn Graduate Research Fellowship in Ecology, Evolution and Conservation Biology from the College of Natural Sciences and Mathematics. She was among students recognized at the college's 40th annual awards reception on April 28. She also was awarded CSUF's Graduate Equity Fellowship and the 2022-23 Dr. Kenneth H. Coale Graduate Scholar Award from the California State University Council on Ocean Affairs, Science & Technology (COAST).
"Jordyn has already made leaps and bounds toward her research in her first year at CSUF. She has formed connections with local and international museums to arrange for loans of rare megamouth specimens," Paig-Tran said. "She has a bright future and is a great embodiment of what it means to be a Titan."
Graduate School Success
Since starting at CSUF in fall, Neal shared that she has struggled, questioning if she could succeed in graduate school.
"Being in a lab surrounded by amazing and talented scientists is extremely intimidating. Sometimes, I don't feel like I fit in or that I am worthy of being there. But receiving this fellowship reaffirmed that I deserve to be here."
She chose Cal State Fullerton specifically to work with Paig-Tran, an award-winning marine biologist who conducts innovative and transformative biomechanics research.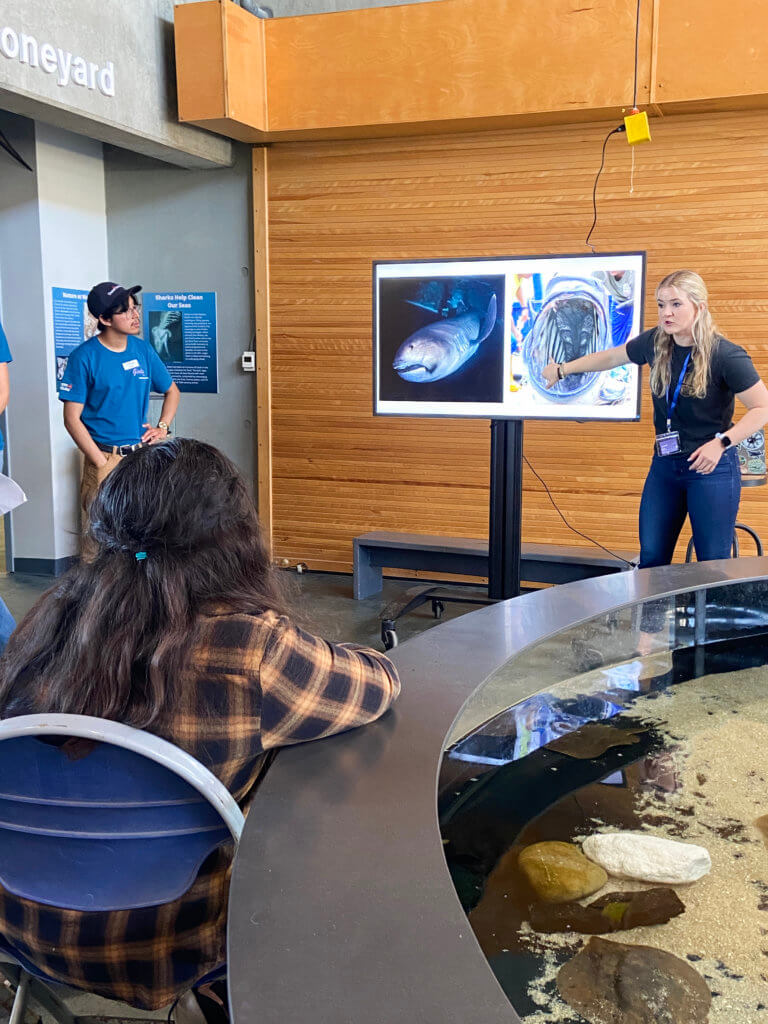 Paig-Tran's Functional Anatomy, Biomechanics and Biomaterials (FABB) Lab looks to nature for bio-inspiration. She uses an integrative approach that combines engineering and physics techniques to study the biology of marine organisms to create bio-inspired applications.
"I couldn't have asked for a better mentor. I admire Dr. Paig-Tran and aspire to be a great mentor and scientist like her. She has helped me become more confident in myself and my scientific knowledge and skills," Neal said.
"She balances being a scientist and professor with also being a mom and wife. In the future, I want a family of my own and she has shown me that I do not need to sacrifice my dream of being a mom or my dream of being a professor."
Studying Megamouth Morphology
One of the largest creatures in the sea, megamouths can reach over 17 feet long and live at varying depths — from the surface to as deep as 15,000 feet. The megamouth is a filter feeder and eats microscopic zooplankton, such as krill. Once food-laden water enters the shark's mouth, the food must be separated and retained while water exits out from its fine gill slits, Neal explained.
The feeding behavior of megamouths has never been directly observed, and much of their biology and feeding behavior remains a mystery.

"When the megamouth takes in seawater, the finger-like gill rakers filter the food from the water. We don't understand the mechanics behind this process. This is what I am trying to figure out," she said.
Neal earned a bachelor's degree in marine biology from Cal Poly Humboldt last spring, where she studied the morphology of the inner ears of sharks.
"This sparked my interest in anatomy, morphology and working with museum specimens," said Neal, who works with the "Girls in Ocean Science" program at the Ocean Institute in Dana Point to mentor a new generation of female scientists.
For her study on megamouths, she will use physical and computational modeling techniques. These high-tech tools will allow her to visualize the water flow around the gill rakers to understand the mechanics behind megamouth filter-feeding.
Neal will use museum specimens and is collaborating with the Natural History Museum of Los Angeles County, Scripps Institution of Oceanography in San Diego and the California Academy of Mathematics and Science to gather imaging data.
She also is working with Japan's Kanagawa Prefectural Museum of Natural History, National Museum of Nature and Science and Tokai University Marine Science Museum. In August, she plans to visit these museums, collaborate with experts and extract gill rakers and tissue samples from megamouth specimens.
"Understanding the feeding behavior of this species will fill in knowledge gaps that are pertinent for future conservation efforts," Neal said.