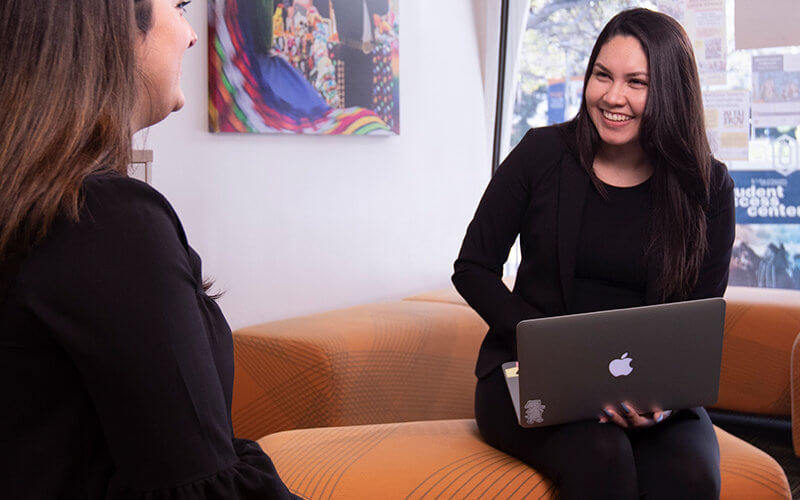 As a volunteer for Orange County's Child Abuse Services Team, Yuliana Fernandez has helped children feel comfortable before they provide testimonies to be used in court. The experience influenced her decision to pursue a career in providing culturally sensitive therapies for trauma survivors.
"Although it is difficult to hear everything these children have been put through, I'm more determined than ever to help this population by providing therapeutic services and researching new techniques that could benefit them," shared the Class of 2023 master's student in psychology and Alumni Association's Outstanding Graduate Student.
Fernandez plans to pursue a doctorate and become a clinical psychologist.
"I fell in love with the field of psychology, but I realized therapy stems from a Eurocentric perspective," she said. "I began to understand how important it is to tailor our practices to people of color. This motivated me to want to not only provide therapy, but also develop more culturally sensitive interventions."
In CSUF's Culture and Social Action (CaSA) Lab, directed by Lucía Alcalá, associate professor of psychology, Fernandez found a nurturing environment to explore her research passions.
"Dr. Alcalá's lab was a place where I was able to find a community and a safe space to talk about microaggressions we experienced. Simultaneously, I was trained to be a culturally sensitive researcher," shared Fernandez. "The lab provided me with the support I needed throughout my academic journey and continues to encourage me to aspire to bigger things."
In the lab, she co-authored "How Yucatec Maya Children Learn to Help at Home."
Advocating for Students of Color
As Fernandez became more involved on campus, she rose to such leadership roles as president of the Psychology Association of Graduate Students of Color and Allies and student representative for the National Latinx Psychological Association Mentoring Program.
"I have had the pleasure of learning from and working with incredible professors in the Department of Psychology like Dr. Angela-MinhTu Nguyen, Dr. James Garcia and Dr. Asya Harrison," said Fernandez. "I hope my work in the mentoring program will help other students find great mentors like the ones I have had."
Fernandez received CSUF's Graduate Equity Fellowship and Pa'lante Fellowship and was selected for the California State University Sally Casanova Scholars pre-doctoral program.
Her thesis focuses on the ethnic identity development of first-generation, Mexican-American college students studying abroad in their parents' home country.
Students in her study described feeling ashamed of speaking Spanish before studying abroad. However, exploration of their culture provided them with a stronger sense of ethnic identity, better relationships with their parents and advancement of their academic goals.
"I hope to use my findings to advocate for more funding for students of color who would like to study abroad in a country they share their heritage with," she said.
A Mentor for Fellow First-Gen Students
Beyond her research, Fernandez works on campus in the Humanities and Social Sciences Student Success Center, where she supports students through academic advising. She also was a mentor with the I Am First, Titan Scholars and Psychology Peer Mentors programs.
"The core of her work is from an equity mindset, ensuring all students receive access to the support needed to achieve their goals," said Brittney Swanson, director of Humanities and Social Sciences academic advising. "The students who have connected with Ms. Fernandez have received the optimal level of care."
Her passion for helping others succeed is rooted in her experience as a first-generation Latina.
"When I first started college, I had no idea what I was doing and oftentimes felt out of place," she said. "I did not have someone close to me that I could ask for help navigating college."
Adriana Sifuentes, a colleague in the HSS Student Success Center, shared: "She understands that each student's academic path is different and tries her best to understand their current struggles, whether they are financial, personal or mental. She was a transfer student herself, so she always puts in the extra work to make events, such as workshops for transfer students, as successful as possible."