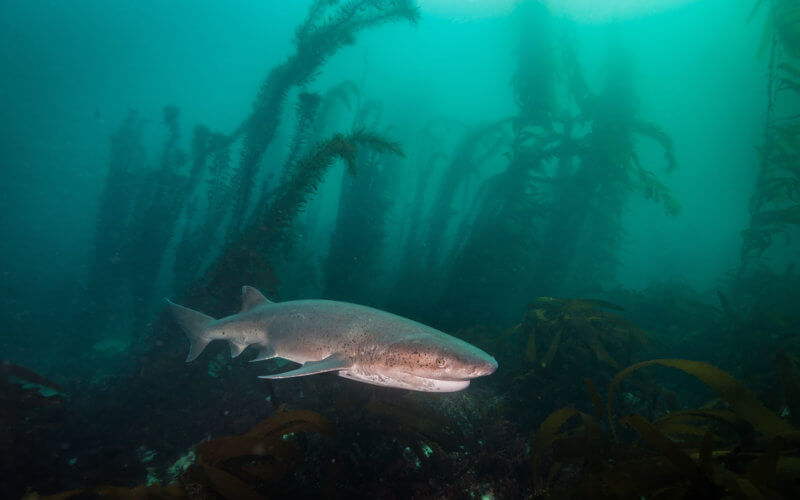 Biological science student Ryan Le is using DNA to study the broadnose sevengill shark to learn more about its genetic diversity and breeding population along Southern California's coast.
By the time Discovery Channel's Shark Week rolls around starting on July 23, which highlights conservation efforts and misconceptions about sharks, Le will be deep into his own research about the mysterious ocean predators. His research focuses on comparing genetics within populations of the species.
Le, a Cal State Fullerton senior, is working on his project under the mentorship of research advisers Misty Paig-Tran and Ryan Walter, both associate professors of biological science.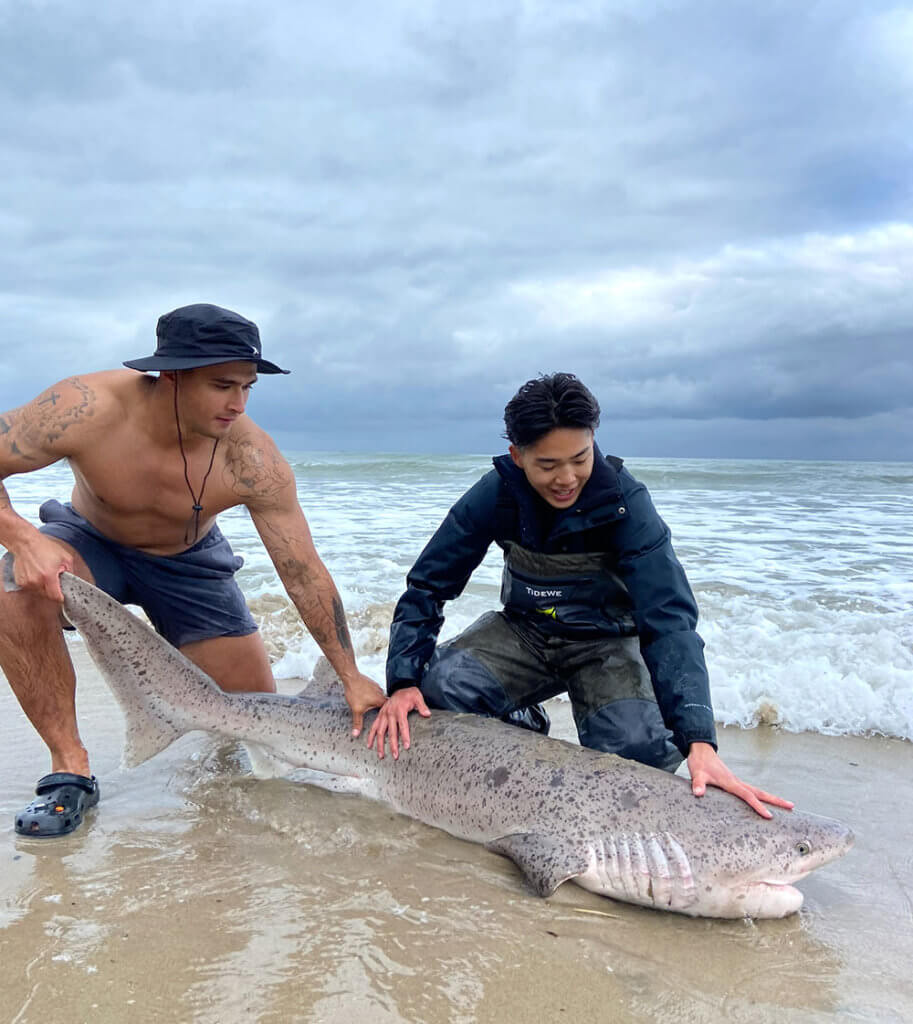 "It is clear that sevengill sharks migrate from deeper waters into more shallow areas during certain times of the year. I want to know the reason why they migrate," Le said. "Do they migrate to shallow waters to feed or to reproduce? Do they have a temperature preference?"
Limited research is available about the broadnose sevengill shark (Notorynchus cepedianus), noted Le, adding that his study will contribute to other researchers' work and lead to more research opportunities.
The sevengill shark has seven pairs of gill slits, while most sharks have only five. The shark has a broad head, blunt nose and only one dorsal fin — most have two — and mature adults can range from 6 to 10 feet in length. This species is related to sharks that lived about 300 million years ago during the Jurassic Period.
The sevengill is found off Orange County's beaches and up and down California's coastline, including San Francisco Bay.
Because these sharks are highly mobile and migratory, Walter explained that their DNA could be an effective tool because it provides a genetic "fingerprint" of individual sharks.
"This allows us to characterize sharks caught in California waters and examine genetic relationships among individuals at both contemporary and historical scales," Walter said.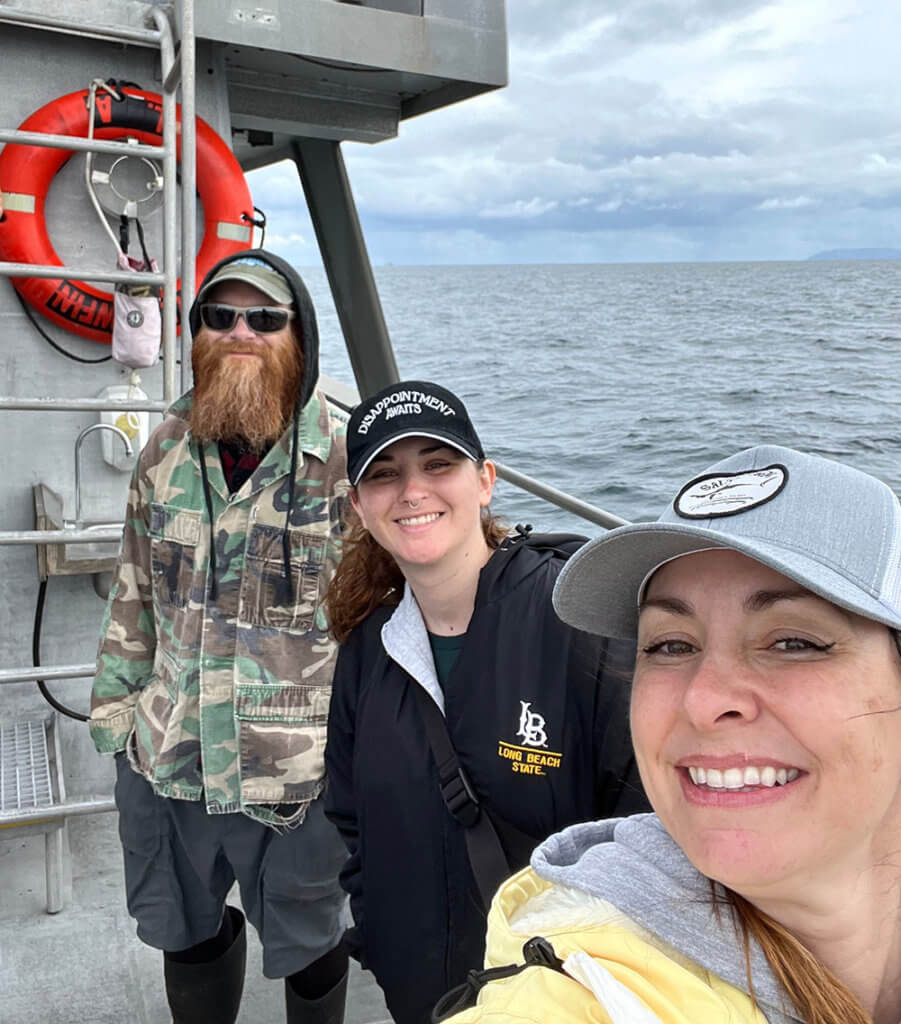 Le is working closely with local recreational fishers to collect shark tissue samples for genetic testing. After taking samples and measurements, he will release the sharks back into the ocean.
"The fishing community and scientists don't always see eye-to-eye," Paig-Tran added. "Ryan comes from the recreational fishing side and is very sensitive to enacting best practices for protecting sharks while allowing for reasonable fishing practices.
"It is important for future policymakers to be sensitive to the needs of the animals and the fishers who have a passion for the animal."
Paig-Tran relayed that undergraduate research allows students like Le to learn "how science is done" before entering the workforce.
"These students are our future government workers, policymakers and scientists," she said. "They become more equipped to perform and evaluate science with firsthand experience."
Le is a scholar in the university's Summer Undergraduate Research Academy (SUReA) and Southern California Ecosystems Research Program (SCERP), gaining undergraduate research experience in the field and learning genetics skills in the lab.
"Whether it is doing fieldwork or data collection, these skills will help me in my future career," said Le, a first-generation college student who aspires to become a shark researcher or work in fish farming.
Le became fascinated with the ocean and creatures of the sea as a child after watching the Pixar Animation Studios and Walt Disney Pictures animated film "Finding Nemo." A few years ago, he started shark fishing off the pier and at the beach and has caught and released sharks, including sevengill and leopard sharks.
He wanted to turn his hobby of recreational fishing and passion for marine biology into meaningful scientific and conservation research.
"Sharks are undoubtedly beautiful, and many people don't know much about the diversity of sharks," Le said. "There are sharks that swim fast, others slow. They have different teeth shapes, and some species eat other sharks or filter-feed on tiny organisms like plankton.
"I want to be the one exploring the ocean to learn more about sharks and other marine animals — and finding sea life we've never seen before."