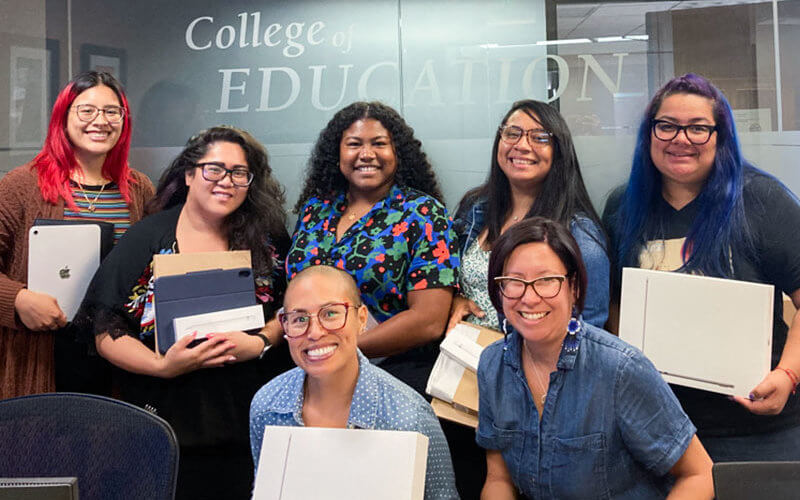 When educator Gilanie Thomas was a middle school student, she recalled how her teacher supported her in and out of the classroom, pushed her to go above and beyond, and gave her a sense of belonging.
"School was a safe space for me," Thomas said. "I was fortunate to have amazing relationships with many of my teachers from elementary school to college. My dream has always been to do the same and provide an inclusive education for my students."
As a Cal State Fullerton education graduate student, Thomas is now gaining a better understanding of creating inclusive classrooms for all students, including diverse students learning English and those with disabilities.
She is among four students — called inclusive fellows — in the College of Education's "Inspiring and Engaging Children and Families Through Innovative Practices" project, led by Rosalinda Larios, assistant professor of special education.
"An inclusive classroom is a safe space where everyone is respected and celebrated," said Thomas, working toward earning a master's degree in educational leadership. "It's a learning environment where students have a sense of belonging and receive support academically, socially and emotionally."
The university received a $113,158 grant for the project from the Global Hispanic-Serving Institution Equity Innovation Hub at Cal State Northridge. The funding is part of the first round of California State University Hispanic-Serving Institutions Community Grants.
The partnership between the CSU, state and California-based Apple aims to transform HSIs to increase student success and equip Latinx and other historically underserved students with skills for high-demand careers in science, technology, engineering and mathematics (STEM) fields.
For the project, the faculty and student team is partnering with Tomorrow's Leadership Collaborative Charter School in Orange and using technology to address the needs of the "whole child through a fully inclusive model of instruction."
The inclusive fellows collect and analyze data from the school's families, students and staff, which helps prepare them for their education careers. In the future, CSUF teacher candidates will observe culturally responsive practices by the school's teachers and participate in student teaching.
The fellows are embarking on a range of opportunities within the field of education, including becoming early childhood special education teachers, education specialists, administrators and researchers.
Promoting Innovative, Inclusive Practices
TLC is the only fully inclusive school in Orange County and has about 200 students in transitional kindergarten through sixth grade, Larios said. Nearly one-third of the students speak another language at home while learning English, and about 12% receive special education services.
"All students, regardless of ability, language, race, gender or ethnicity, are taught in the same classroom throughout the school day. Teachers meet the students where they are academically and see their value as individuals and community members," Larios said. "Our project will show that inclusion is possible and beneficial for all students."
Others spearheading the project are Maritza Lozano, assistant professor of educational leadership, and alumna Rohanna Ylagan-Nicanor '01, '03, '06 (B.S. child and adolescent development, multiple subject credential, M.S. education-elementary curriculum and instruction). Ylagan-Nicanor is a lecturer in elementary and bilingual education and the college's director of assessment and curriculum.
The project focuses on increasing family engagement and tapping into the culturally and linguistically diverse assets families bring to the school, including when preparing individualized education programs for students with disabilities.
To provide equitable access to technology and reduce barriers, Apple supplied laptops and iPads to TLC teachers and students and innovative educational technology and design support.
Thomas, an 11-year educator who has taught elementary and middle school grade levels, is also working on completing the credential program for school administrators. Last year she stepped out of the classroom to serve as coordinator of data and accountability at Scholarship Prep Public Schools, a charter school with several campuses, including in Orange County.
By assisting in research, data collection and analysis, Thomas is learning how to support her school community and empower families to have a voice and choice in their children's education.
"This project is allowing me to take what I am learning in my master's program and put it into practice," she said. "I am excited to share this new knowledge and skills from my classes and this project with my current job and school community."