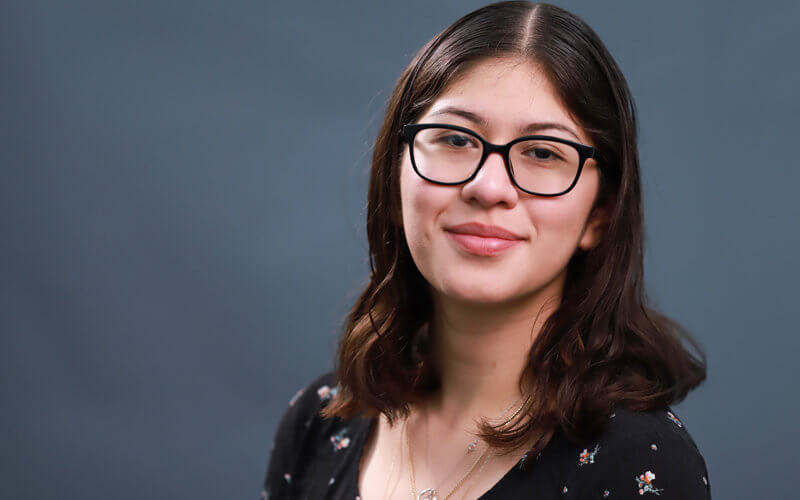 Growing up in East Los Angeles, Emely Espino Bardales was baffled by the stigmatization of mental health in the Latinx community. Espino Bardales noticed that therapy is taboo and vulnerability is masked behind machismo. Money and time are valuable, but wellness is often disregarded.
As a first-generation Latina student pursuing her bachelor's degree in child and adolescent studies at Cal State Fullerton, Espino Bardales' own mental health struggles inspired her to help others.
"I want to destigmatize mental health and support my community by providing professional assistance that is culturally aligned, so that kids and families are comfortable with accessing mental health resources," she explained.
For her dedication to advancing mental health resources within the Latinx community, Espino Bardales was one of eight across the nation students selected for the 2023-24 Latinas Excelling at Doctoral Degrees (LEADD) training program.
Hosted by Rutgers University-New Brunswick, the program provides mentorship, monthly workshops, resources and networking opportunities for Latina students interested in pursuing doctoral degrees.
In Espino Bardales' first workshop with LEADD, she shared the challenges of being a first-generation Latina college student.
"The eight LEADD mentors are teaching me about the power I hold as a Latina in higher education, which is fantastic because it influences me to want my doctorate even more," said Espino Bardales.
Building Confidence as a Researcher
When Espino Bardales enrolled in the Adelita lab, an independent study course directed by Guadalupe Díaz Lara, assistant professor of child and adolescent studies, she expressed her interest in pursuing a doctorate degree.
The Adelita lab focuses on the educational experiences of Latinx students, dual language learners/English learners, and on elevating Latinx families' strengths and needs. The lab's symbolic origins stem from the Mexican Revolution, where Adelita women defied societal norms and fought alongside men. They were strong, brave and smart, paving the way for women to fight for their achievements, Díaz Lara shared.
"My lab focuses on the Latinx communities' bravery, strength and resilience in education as well as Latinx parents' leadership development and access to familial resources. The concept of Adelitas is not only representative of my lab, but also of the students' bravery and strength," Díaz Lara said. "In my lab, I want students to have an authentic mentorship experience in which they are developing their own research interests and achieving their goals."
Initially terrified of delving into research as a freshman, Díaz Lara's mentorship increased Espino Bardales' confidence.
"Professor Díaz Lara has taught me how to code data, how to find good peer-reviewed articles, how to gather data in ethical ways and how to present my research projects," said Espino Bardales. "She has taught me the basics of research and is mentoring me to be the best I can become."
Beyond the classroom, Espino Bardales serves as a mental wellness peer educator for CSUF's Counseling and Psychological Services. In this role, she helps to promote mental health services available for students.
"She has a strong dedication for learning, gaining new skills and a strong passion for finding ways to support her community. She also has an understanding of the challenges that she might be faced with as a woman of color in a graduate program," said Díaz Lara.
As Espino Bardales explores career paths, she said she is considering becoming a professor, corporate research analyst or community development worker.
"I want to help the Latinx community through one of these roles, and the research I learn from LEADD can help improve their quality of life," said Espino Bardales.