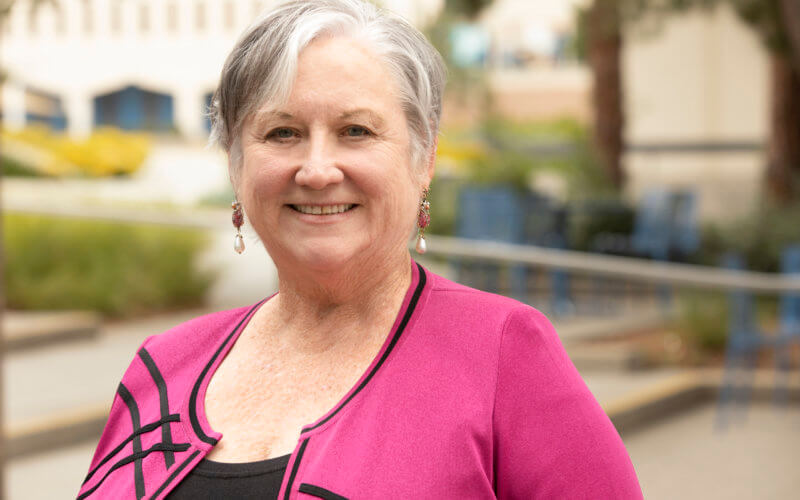 Eileen T. Walsh, professor of sociology, is stepping into her new role as Cal State Fullerton's associate vice president for academic programs. Her new appointment, effective Nov. 1, is for a limited term through December 2024.
"I'm passionate about the transformative power of learning and committed to developing programs that improve the student college experience," Walsh said.
Walsh, who grew up in a working-class family in East Los Angeles and was the first in her family to attend and graduate from college, joined the university in 2006.
During her tenure, she has served as chair of the Department of Sociology from 2013-19, as department graduate adviser, and developed four new courses for undergraduates and one for graduate students. She also initiated forming the Transfer Student Learning Community in 2018 for incoming sociology majors, which has dramatically improved graduation rates.
Since 2006, Walsh has served on a number of committees of the Academic Senate, including being elected to the executive committee six times. Walsh has been serving as chair of the Academic Senate for the 2022-23 academic year and is stepping aside to begin her new administrative position. Matthew Jarvis, chair and associate professor of political science and Academic Senate vice chair, assumes the role of chair on Oct. 31.
The Office of Academic Programs in the Division of Academic Affairs facilitates the planning and coordination of academic curriculum and programs for undergraduate education and general education. The office oversees curriculum changes and also focuses on graduate programs and ways to expand offerings to serve students better, Walsh noted.
The office includes Graduate Studies, Undergraduate Studies and General Education and the Faculty Development Center.
"Our office is laser-focused on reducing academic barriers that impede students' progress to graduation in a timely manner, reducing the equity gaps across the board and finding appropriate support systems to integrate students into their major programs," she said.
In her new role, Walsh looks forward to supporting the work of Academic Programs, including efforts to implement mandated programs by the California State University Chancellor's Office. These programs include the Program Pathways Mapper, a tool used to clarify the pathways to graduation for transfer students.
Walsh will assist in complying with other mandates and strategies to improve student retention and expansion of graduate programs. She also will help with the Faculty Development Center's plans for a leadership academy for college department chairs.
"There are a few other important initiatives that I will address in the short-term, including embedding equitable pedagogy in all Faculty Development Center training and improving the retention, tenure and promotion process for faculty as a strategy to reduce equity gaps," Walsh said.
In 2019, Walsh received the university's Leadership Award, which recognizes a staff or faculty member or administrator who demonstrates exceptional leadership qualities and motivates and inspires others to a high level of commitment by creating a compelling vision. She received the accolade for being an extraordinary role model and leader in the College of Humanities and Social Sciences.
Before entering higher education, Walsh had a 20-year career with the County of Orange as a research analyst and was promoted to several executive management positions. She has served on the board of several community organizations and as an elected member of the Laguna Beach Unified School District Board of Education.
Walsh, whose research interests include equitable and culturally relevant pedagogy and white supremacy, earned a bachelor's degree in English and a master's degree and doctorate in sociology from USC.