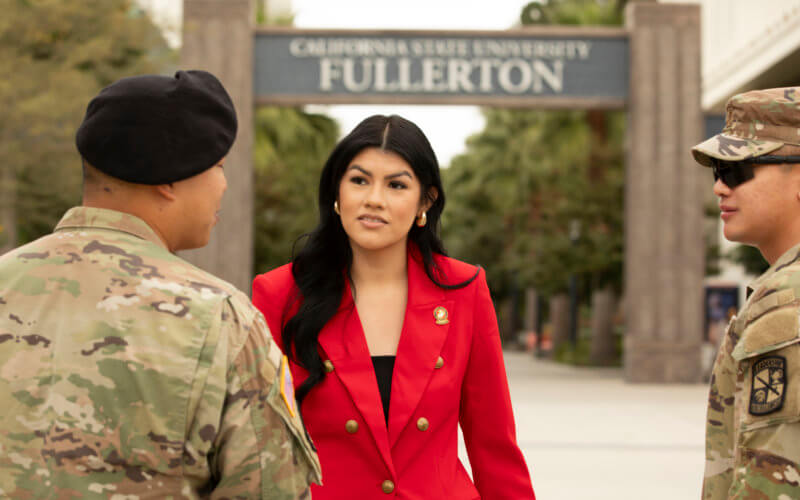 Senior year of high school was jam packed with career and job fairs, remembers Elizabeth Rocha.
As students planned for their futures and excitedly awaited graduation, Rocha found herself thinking about joining the military. She listened intently as different recruiters shared their experiences, going over every detail from benefits to specialized programs, but nothing inspired her — until she heard about the Marine Corps.
"The recruiter from the Marine Corps talked about leadership opportunities. He talked about how it was a worldly experience that helped him grow as a person. I knew it was a challenge I wanted to take on," said Rocha, a Cal State Fullerton transfer student studying business administration-operations and supply chain management.
During her time in the military, Rocha was stationed in San Diego at the Marine Corps Air Station Miramar where she supported military personnel who were getting ready to deploy by managing all shipping invoices and purchase orders. She was later stationed in Japan where she served as a supply platoon sergeant, overseeing a group of 25 marines and supervising all supply sections in the unit.
"I always reflect back on my service with such fondness," said Rocha. "My time in the Marine Corps really shaped me into the person I am today."
After completing four years and three months of service, Rocha returned to school, earning her associate degree from Santa Ana College before deciding to become a Titan. 
Thriving Through 'Community and Camaraderie'
"When I took the tour of Cal State Fullerton's campus, it really opened my eyes. The university was beautiful and had an amazing business college, but what really got me interested was the Veterans Resource Center," said Rocha.
Located in Gordon Hall 244, the Veterans Resource Center supports student veterans and military-connected students as they work toward their academic, personal and professional goals.
From the moment she entered the space, Rocha said it was apparent that the VRC staff cares about their students and wants them to succeed in and out of the classroom.
The inviting community, culture of care and growth opportunities were enough to convince Rocha that she was in the right place, but the center's women and family programs truly sealed the deal.
"People have this image in their heads of what a veteran is, and women don't really come to mind. When I tell people I'm a veteran, they usually assume I didn't do any physical training or wasn't stationed anywhere. It minimizes my role in the military," said Rocha. "Cal State Fullerton has programs specifically for women as well as women veterans on staff who made me feel seen and welcomed."
Working with the VRC, Rocha helped plan the Women Veterans in Higher Education Conference, which provides student veterans with opportunities to share their experiences, meet other veterans and network with professional mentors.
Giovanni Berdejo, a program coordinator in the VRC, added that Rocha plays an instrumental role in helping him manage the VRC's VetForward program, a career readiness initiative that helps veterans transition from students to working professionals.
"She has been pivotal in helping fellow veteran students find purpose, motivation and more importantly, community," said Berdejo '20 (B.A. business administration-information systems). "Rocha is the embodiment of leadership, personal courage and discipline."
Inspired by her work with the VRC, Rocha sought out other avenues of leadership. She joined CSUF's chapter of the Student Veterans of America organization, which advocates for student veterans in higher education.
"Student veterans benefit from the community and camaraderie that come with joining an organization like this. It helps us to know that when you have a low point, there is always someone to lift your spirits and help you keep going," said Rocha, who serves as the organization's president.
Advocating for Others
Through her work with the VRC and Student Veterans of America, Rocha has seen herself grow into a leader.
With plans to graduate in 2024, she has already begun a job as a caseworker for Irvine Valley College's veterans center. In this role, she helps student veterans and military-connected students by connecting them with resources, physicians, nurses, therapists and other professionals.
After graduating from CSUF, she plans to pursue her master's degree in social work or attend law school so she can continue working with veterans or advocating for bills and laws that extend aid to that community.
As the campus honors Veterans Day and National Veterans and Military Families Month in November, Rocha said it's "surreal" to think about how far she's come since she first decided to join the Marine Corps at 18 years old.
"To be able to celebrate my journey as a veteran at Cal State Fullerton is incredible. The university does so much for veterans and for women veterans. They care about us and they make sure we are heard and seen," said Rocha.