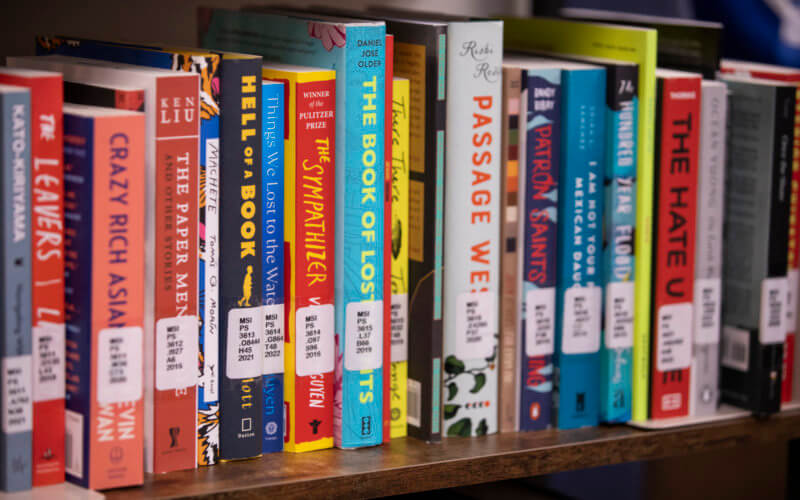 When Isaac Alferos heard that the Male Success Initiative Center was unveiling its new library collection, he jumped at the opportunity to return to his alma mater.
Supported by MSI and inspired by such writers as Toni Morrison and James Baldwin, Alferos '22 (B.A. business administration-finance) found his love for writing while he was an undergraduate student.
Now a research and data analyst for The Education Trust-West, Alferos' self-published book — "Prayer Song: Love, Healing and Ancestry" — is a part of MSI's Men of Color Collection. The collection houses more than 400 narratives that center on the experiences of men of color throughout history and across different disciplines.
The center unveiled the collection during a Nov. 8 ribbon-cutting ceremony, inviting faculty, staff and students to celebrate the curation of these stories. The collection is housed in the MSI Center, located in Gordon Hall 229, and is available to all campus community members.
"We often hear from students of color that they want to see themselves reflected in the curriculum and in what they learn and what they read," said Felipe Martinez, director of MSI. "That's really what this collection does for our students and for the entire campus community."
The project, which is a collaboration between the Division of Student Affairs and Pollak Library, is funded by a $15,000 grant from the California State University Chancellor's Office awarded through the Research, Scholarship and Creative Activity program. The collection has been in the works for years, with MSI community members, campus leaders and students working together to handpick titles that represent a diverse array of experiences.
"This not only helps our young men reach their full potential like our motto says, but also it gives them an opportunity to see faces and stories that look like them, and stories that they can relate to," said Rodney Anderson, assistant director of MSI.
"This collection invites the young men who read them to reflect and think — both in serious books and in funny books — about their value, why they're important and why they're going to graduate from this institution," said Emily Bonney, dean of the Pollak Library.
Copyright and policy librarian Anthony Davis said he remembers when the project idea was first brought to him. He was immediately excited because it aligned with MSI's four pillars of potential: mentorship; leadership, engagement, enrichment and development; career trajectory planning; and explorations of gender and masculinity.
"It took a community to get us here. When we were choosing the books, we got suggestions from faculty, staff and MSI brothers to create a special collection of narratives," said Davis. "As librarians, we want to extend our reach and know that our resources are making a difference in promoting diversity, equity, inclusion and social justice all across campus."
Martinez added that MSI is constantly searching for ways to help students "achieve the fullness of their potential," as it says in the MSI motto. As students access the collection, there are plans to develop more programming, such as a speaker series, that "brings the stories in the library to life."
"The Men of Color Collection is the first step, but the sky's the limit," said Martinez.